Aaron Rodgers Has a Powerful Message for 49ers Fans Which May Have Them Second-Guessing Trey Lance's NFL Future
Aaron Rodgers was the hottest story in the NFL this past offseason. Thus far, it appears the drama that's been following the Green Bay Packers quarterback is carrying right on over into the regular season.
Rodgers showed up completely out of sorts during the Packers' Week 1 loss to the New Orleans Saints, and further leaks and rumors continue to slip through the cracks regarding the standoff between him and the Green Bay front office.
It's no secret that Rodgers was extremely open to the idea of being traded during the summer. However, the latest nugget that's been revealed has a direct impact on another NFL team currently in the midst of their own respective QB controversy.
The San Francisco 49ers were Aaron Rodgers' top choice
According to NFL insider Ian Rapoport, the San Francisco 49ers were Rodgers' top choice this past offseason if a trade were to occur. Rodgers has long had an intriguing connection to the 49ers due to his California roots. However, this is the first time we've seen a concrete report stating his desire to play there.
…When Rodgers mulled an exit from Green Bay this offseason, amid frustration with the team's front office among other reasons, San Francisco was a key figure.

Sources say that the 49ers were Rodgers' top choice when it came to a new destination. And when the 49ers made their phone call to coach Matt LaFleur, it was done because they got word that Rodgers was more than into it.

In fact, LaFleur and Niners coach Kyle Shanahan did talk, with LaFleur quickly shutting the door on any possible trade as quickly as it was brought up. This was before San Francisco traded up to No. 3 to eventually take Trey Lance.

Ian Rapoport, NFL.com
That's quite the bombshell for Rapoport to drop on a quiet Sunday morning.
How this affects the 49ers, Trey Lance
It's not terribly shocking to hear that Rodgers wanted to play for the 49ers. This offseason, there was a point where it felt like Rodgers was open to playing for anyone and anywhere, as long as it wasn't Green Bay. Rodgers and the Packers ultimately hashed it out and agreed to coexist for one more year. However, a report like this still has a significant trickle-down effect.
The 49ers were interested in acquiring Rodgers this past summer. If 2021 doesn't go well for San Fran, who's to say they won't be interested in the Packers' QB again next offseason?
Rapoport highlights that the 49ers were pushing for Rodgers before making a move up for rookie Trey Lance. However, this is Aaron Rodgers we're talking about. It's hard to imagine Kyle Shanahan and the Niners' front office would turn him away next offseason if he wants to play for San Francisco. Just look at well the Tom Brady acquisition is working out for the Tampa Bay Buccaneers.
Lance looks like an exciting prospect, but the possibility of him playing better than Rodgers anytime soon is slim.
An Aaron Rodgers trade in 2022 feels likely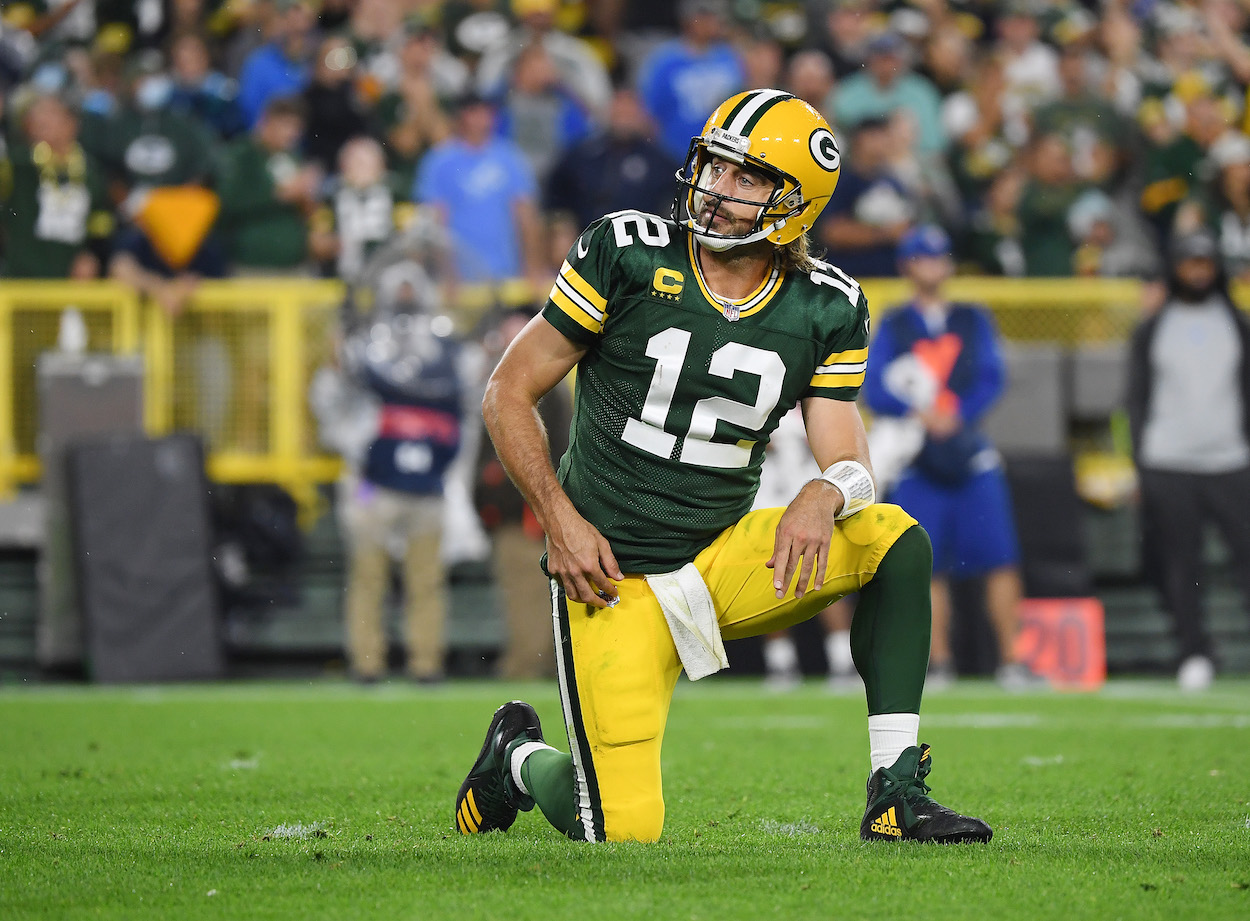 There's a "potential out" in Rodgers' contract after this season which could see him released at the cost of a $26.8 million dead cap charge. However, the Packers would presumably like to avoid that outcome and find a way to salvage value via the trade market.
Of course, Rodgers' trade value rests on his ability to perform this season (he's already off to a rough start). However, his name and overall presence will always command a high asking price. After all, he did win the league MVP last year.
For the 49ers, common logic suggests they will pivot off Jimmy Garoppolo soon and start Lance. However, the NFL can be a wild place at times. If Rodgers is once again made available, don't be surprised in the slightest if the 49ers revisit the idea.
Shanahan could use his own version of Matthew-Stafford-to-the-Los-Angeles-Rams to keep up with the hyper-competitive NFC West.
Like Sportscasting on Facebook. Follow us on Twitter @sportscasting19.
RELATED: The San Francisco 49ers Are Quietly Being Connected to a Future Hall of Famer Following a Devastating Injury to 1 of Their Most Important Players