Aaron Rodgers Praises Jordan Love and Proves He Might Be the Right Mentor After All
Green Bay Packers quarterback Aaron Rodgers hardly seems like an exemplary leader or mentor figure to Jordan Love with the moves he's made this offseason. Yet, his technical knowledge on the football field makes him the perfect teacher for Love.
The Packers are gearing up for what might be massive changes come the offseason. Rodgers could be at the center of those changes, as it appears increasingly likely he will no longer be in Green Bay in 2022. Thus, Love's ability to soak up information and learn from Rodgers is absolutely vital while the three-time MVP is still at the head of the franchise.
Aaron Rodgers refuted the notion he and Jordan Love had a tense relationship
Green Bay's decision to pick Love in the first round of the 2020 NFL Draft was thought to be the root of Rodgers' frustrations with the organization.
The Packers appeared to have needs elsewhere heading into that draft, notably at the wide receiver position. However, general manager Brian Gutekunst saw something in Love that made him the top player on Green Bay's board, even though Rodgers clearly had the ability to dominate.
Gutekunst's choice to prepare for the future seemed to hint at a lack of commitment to Rodgers, which in turn made Love a major figure of interest when the disgruntled star held out early in the offseason. Yet, Rodgers made it abundantly clear he has no issues with the former Utah State standout.
The 37-year-old told former SportsCenter anchor Kenny Mayne that he only had positive things to say about Love, instead pointing to systemic issues in the organization. By no means was this an adamant showing of support for Love, but it also dispelled a narrative about the youngster unfairly being lumped into Rodgers' situation.
Rodgers is back with the Packers, and his focus could still be very singular. Still, he offered specific praise of Love on Saturday, indicating why he is an ideal mentor figure for the second-year pro.
Rodgers lauded Love's preseason performance
Jordan Love put together some strong numbers during Saturday's preseason opener against the Houston Texans.
The 22-year-old completed 12 of 17 pass attempts for 122 yards and a score. He made some terrific throws, especially in the seams. Love left the contest after taking a hit to his shoulder, but an MRI Sunday morning came back clean.
Rodgers was quite complimentary of his backup immediately after the contest. He specifically pointed out the strides Love made in terms of his footwork in the pocket.
"The key for [Love], and any young quarterback, is footwork," Rodgers told Packers TV, per Ryan Wood of the Green Bay Press-Gazette. "And I think if you watched the footwork tonight on many of the plays where he threw the ball really efficiently, his feet are underneath him."
Rodgers also said Love did a "really nice job."
This analysis might not seem like much. However, it's a reminder of Rodgers' technical understanding of the quarterback position and how to have success in the NFL. Rodgers has exceptional arm talent, but his ability to move about in the pocket and make throws on the run have also been imperative to his success throughout his career.
Love is in a great position to take those subtle details and make them the fabric of his learning process. He'll have more opportunities to show Rodgers what he can do under center.
The Packers are likely to give Love the majority of preseason reps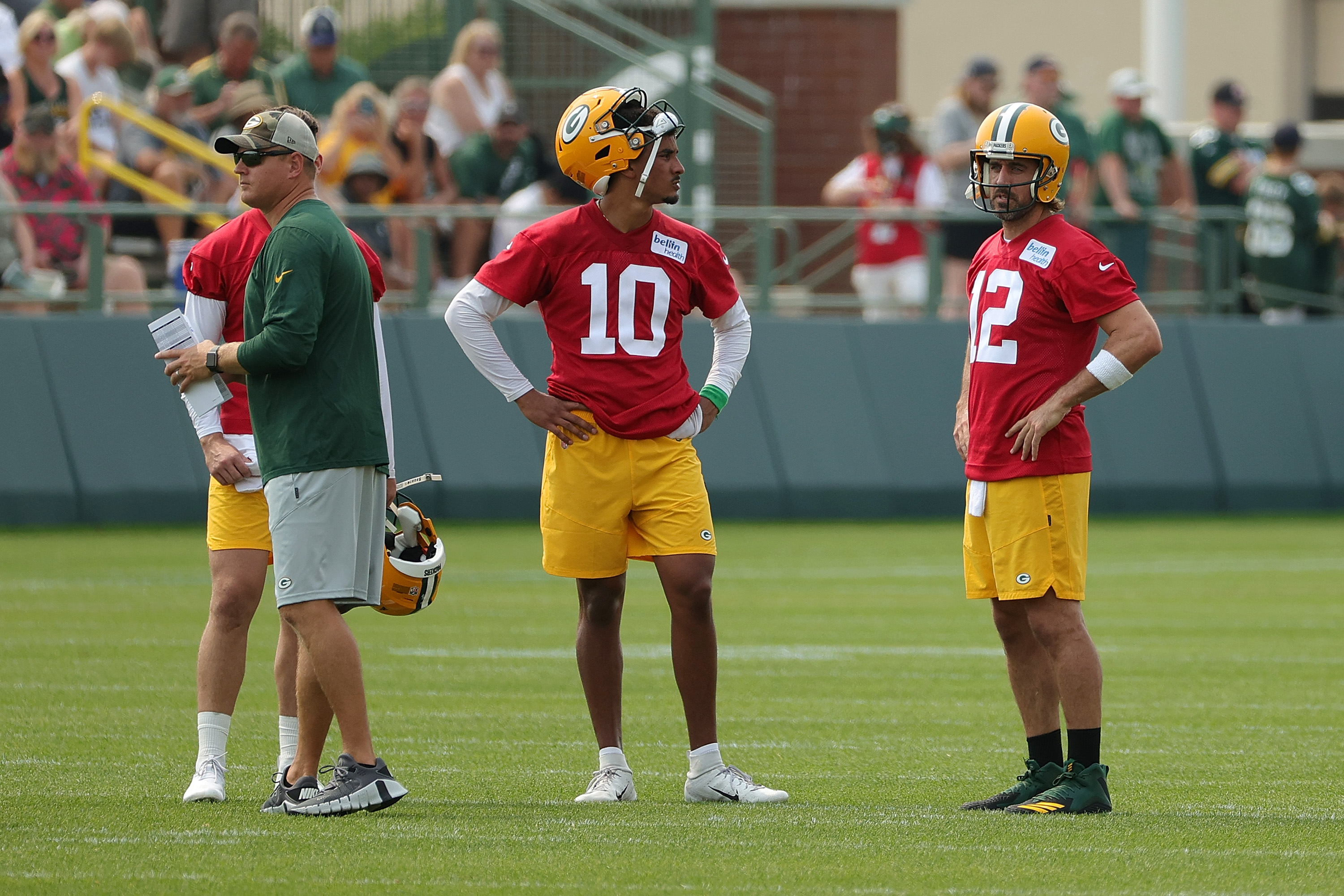 Aaron Rodgers will get more looks at Jordan Love this preseason.
Packers head coach Matt LaFleur has said Love will get the majority of preseason snaps. Rodgers might not play at all. Thus, the teacher can watch his pupil and impart more wisdom over the course of the next two games.
Rodgers might not feel like he owes Love much of anything. Yet, simple comments about footwork or reads could be massive to Love as he prepares to inevitably replace Rodgers in Green Bay.
Stats courtesy of NFL.com.
RELATED: Aaron Rodgers is Trolling the Packers on Social Media to Get Yet Another Ex-Teammate Back