Aaron Rodgers Gets Mystical and Predicts a Return to Greatness for a Struggling Patrick Mahomes: 'I Believe That's Pat's Destiny'
Aaron Rodgers and the Green Bay Packers have a massive game coming up against Patrick Mahomes and the Kansas City Chiefs. That's not stopping the three-time MVP from wishing well for his friend and fellow State Farm spokesman, though.
On the field, we'll see the 7-1 Packers take on the 4-4 Chiefs at Arrowhead Stadium. Green Bay will be looking to continue its seven-game win streak and the Packers have a decent chance of doing so against a Chiefs team that has just looked off this season. Mahomes and the Chiefs are coming off a win over the New York Giants on Monday Night Football, but they were only a few plays away from losing that contest and falling to 3-5.
On the field, it appears to be a matchup of two teams in different spots. One is hot, and the other is, well…not.
Off the field, Mahomes and Rodgers are friends, which led to Pat McAfee asking Rodgers his views on Mahomes' struggles this season in the latest edition of "Aaron Rodgers Tuesday."
Aaron Rodgers believes Patrick Mahomes has to stay true to his game
While some may want to see Mahomes dial it down a bit, Rodgers' approach to his own struggles provided the map for his advice to Mahomes.
Rodgers has won three MVP awards and a Super Bowl. Mahomes has one each himself. Both players accomplished what they have so far in their careers because of their incredibly unique skillsets. Rodgers thinks that's worth doubling down on.
"There have been stretches where I haven't played my best ball for sure, and you've just got to keep going back to what got you into the position you're in," he explained.
"He's been an MVP; he's won a Super Bowl; he's a talented player," Rodgers said of Mahomes. "There's going to be rough stretches throughout your career. Some of the stuff is out of your control, some of it isn't. You've kind of gotta release the stuff that isn't yours and own the stuff that's yours and improve."
Rodgers implied that it does not necessarily have to be a long, drawn-out process to rediscover yourself on the football field. Sometimes all it takes is one throw or a handful of plays to get back into the zone.
Getting back to an elite level of play shouldn't be all that hard for an elite talent like Mahomes.
"I have a lot of respect for him; I think he's a fantastic player. I love watching him play," Rodgers said.
Rodgers admitted that playing at a high level for a long time is very hard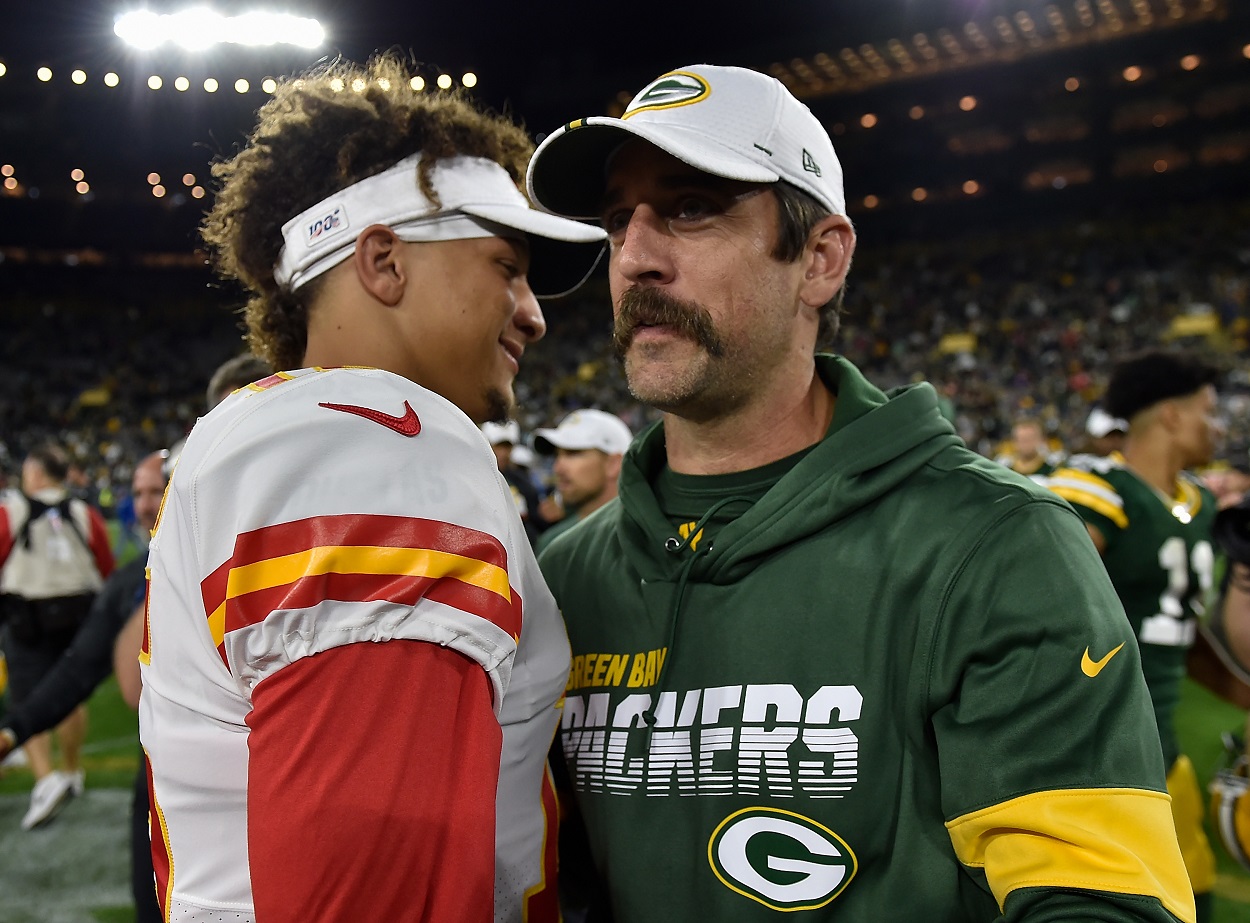 Rodgers has been in the league since 2005. He had the monumental task of replacing Brett Favre in Green Bay and somehow lived up to and in many ways raised the standard for the Packers.
Once he does hang his cleats up, hopefully later rather than sooner, he'll go down as one of the best to ever play the game of football. Some think that in terms of pure quarterback play, he is the best. Tom Brady has all the rings, but Rodgers easily has displayed the most talent.
Mahomes has shown similar star power in his relatively short time in the NFL, and with an MVP and Super Bowl under his belt at just 26 years old, he has plenty of time to catch up to the two GOATS in front of him.
At least this season, the issue is that Kansas City's quarterback has looked highly pedestrian.
He has thrown for 2,368 yards and 19 touchdowns so far, but he's also chucked ten interceptions. Mahomes has thrown at least one interception in each of his last seven games, and he's been picked off 18 times since the start of the 2020 season.
"The most difficult thing is sustained greatness in any sport," Rodgers admitted. "There's an idea of plateauing at your peak and being able to sustain an incredibly high level of play that puts you in the upper echelon."
In terms of being in that upper level of players, Green Bay's quarterback does believe that Mahomes belongs.
"I believe that's Pat's destiny," he said.
Rodgers sees these struggles for Mahomes as more of a blip on the radar than something to be worried about in the long term.
"He's already established an incredible level of play, and he probably will for the next 10 or 15 years, depending on how long he wants to play."
Rodgers and Mahomes will have the opportunity to show off in Week 9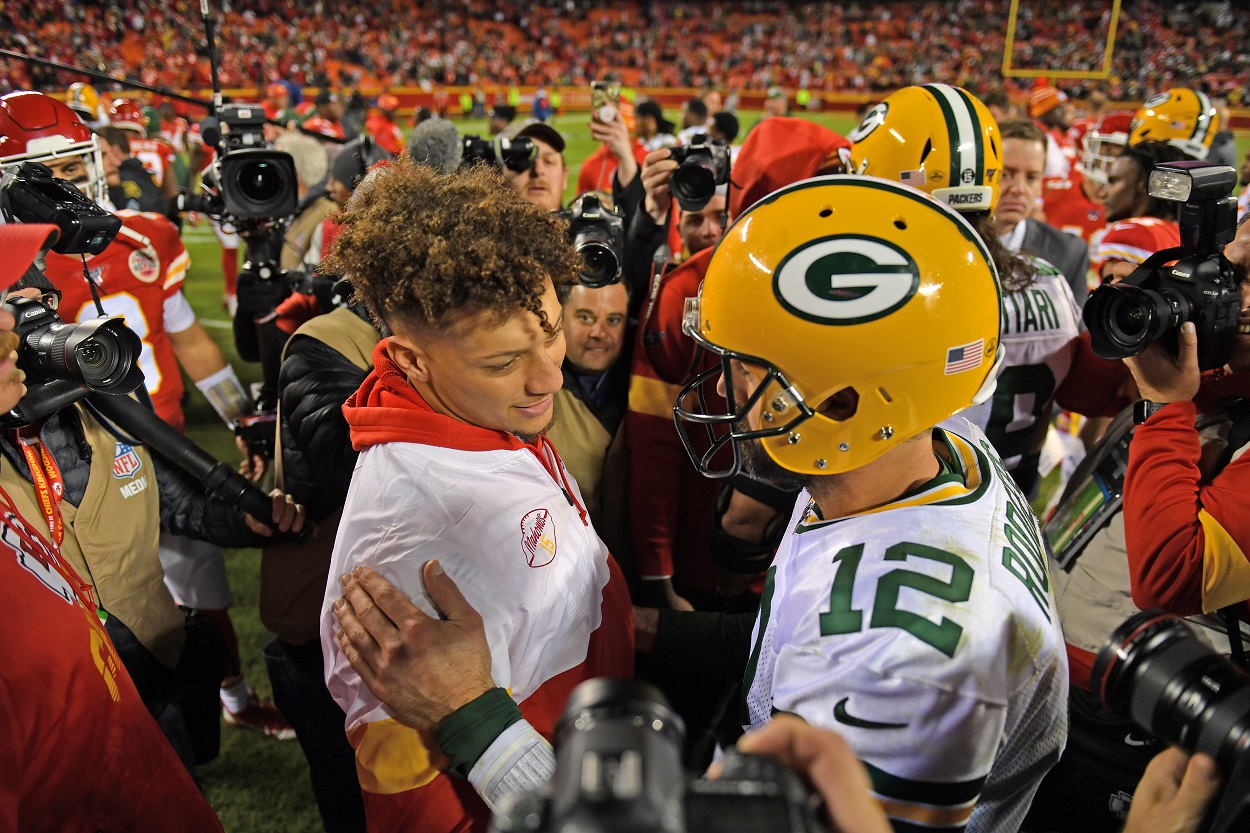 If Kansas City had a better record heading into this contest, it would probably be considered the most exciting game of the week. As it is, the Chiefs and Packers will get the primetime afternoon slot on FOX.
Just because Mahomes has been struggling, that doesn't mean fireworks won't go off in Kansas City.
Rodgers runs one of the best offenses in football, and he should be getting Davante Adams back off the COVID-19 list. Adams missed Green Bay's win over the Arizona Cardinals, but he's expected to hopefully be cleared to play on Thursday. Allen Lazard, who was also on the COVID list, has practiced this week, as has Marquez Valdes-Scanting, who has missed time since a hamstring injury in Week 3.
Rodgers and the Packers just went into the desert and beat the previously undefeated Cardinals without all three of those players, so if the Packers' offense can get back on track and close to full strength, they can be incredibly explosive.
For all of Kansas City's struggles in 2021, the Chiefs are still scoring 26 points per game (Green Bay averages 24), and any offense that features Mahomes, Travis Kelce, and Tyreek Hill can't be taken lightly. The Packers do boast a Top 15 defense at the moment, but this may be their biggest test yet.
Ultimately, for both Rodgers and Mahomes, Sunday will provide another chance to prove their doubters wrong. Even at the top of their games, both players have acquired their fair share of critics.
"That is definitely the most difficult thing because they are just waiting for you to show a chink in the armor, a slight fall off, so they can bury you," Rodgers said, specifically talking about the outside noise and scrutiny that comes along with being a superstar player.
"The greatest challenge and the greatest satisfaction occurs when you can continue sustained greatness and quiet down those naysayers time after time."
Stats courtesy of ESPN and Pro Football Reference.
RELATED: It's Time To Show Some Respect to the Green Bay Packers' Most Important Offensive Weapon…and It's Not Aaron Rodgers