Aaron Rodgers: Ranking the 5 Best Players Selected Before the Green Bay Packers Legend in the 2005 NFL Draft
Despite considerable hype entering the 2005 NFL Draft, top quarterback prospect Aaron Rodgers fell to the 24th overall selection. What eventually became the Green Bay Packers' fortune should still haunt many other teams.
Yes, Cleveland Browns fans, we're talking about your team.
Rodgers, for all of his controversies and drama, has solidified his place as one of the greatest quarterbacks in NFL history. He'll retire with at least one Super Bowl ring and should have an opportunity to win a second before he finally hangs up his cleats.
Although plenty of players selected before Rodgers were either busts or underwhelmed, some had excellent careers in their own right. Nearly 15 years later, let's look back at the best of those players.
For this list, we are only ranking players based on their on-field achievements and numbers. We did not consider any off-field issues, nor are players selected after Rodgers eligible. Based on consideration of the aforementioned prerequisites, the best players stack up as follows:
5. Antrel Rolle, DB (No. 8 overall)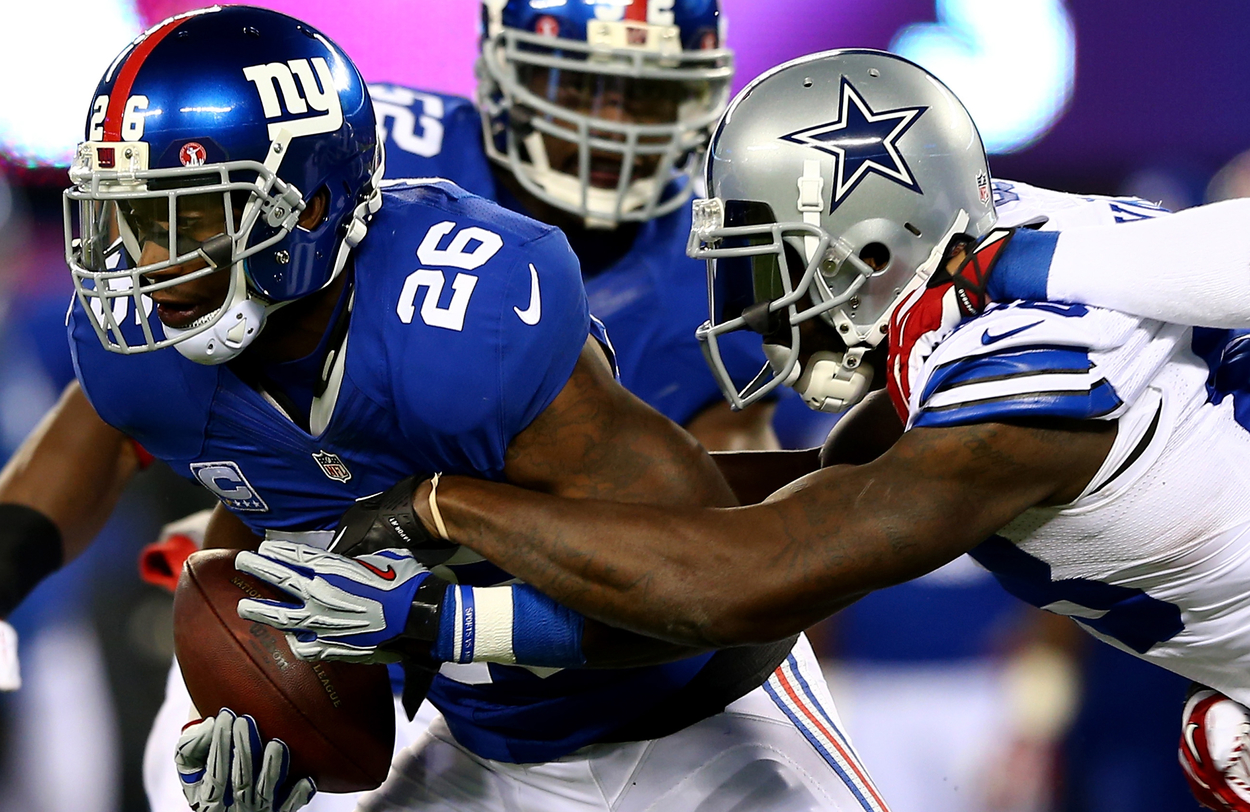 Rolle's spot on this list came down to him, former All-Pro linebacker Shawne Merriman (12th overall), and longtime Cincinnati Bengals cornerback Adam "Pacman" Jones (6th overall). Merriman burst onto the scene with 39.5 sacks in his first three seasons and appeared destined for enshrinement in the Pro Football Hall of Fame. However, a litany of injuries limited him to six sacks in the next five seasons, and he never played again after 2012.
After repeated legal issues early in his career, Jones found a home in Cincinnati and served as a pivotal piece of the Bengals' playoff teams in the early 2010s. However, we're giving the nod here to Rolle, who tallied 26 interceptions and made three Pro Bowls in 11 seasons.
A three-time Pro Bowl selection, Rolle won Super Bowl 46 as a member of the New York Giants and played in another with the Arizona Cardinals. He's earned his place here.
4. Thomas Davis, LB (No. 14 overall)
Before the Carolina Panthers had Luke Keuchly, they had Thomas Davis, who actually entered the NFL as a safety. Although he spent his rookie season alternating between safety and linebacker, Davis stayed at the latter position beginning in 2006. Multiple knee injuries limited the Georgia product to nine games from 2009-11, and it appeared his career might have been over before he turned 30.
However, Davis returned in 2012, the same year Keuchly arrived, and never had a significant knee issue again. From 2012-17, Davis made three Pro Bowls and totaled 10 interceptions, 10 forced fumbles, 17 sacks, and 48 tackles for loss. Carolina made the playoffs four times in that stretch and even reached Super Bowl 50.
The 2014 Walter Payton Man of the Year winner, Davis also played with the Los Angeles Chargers and the Washington Football Team before signing a one-day contract with the Panthers in March 2021.
3. Derrick Johnson, LB (No. 15 overall)
For as bad as the Kansas City Chiefs were at points in Johnson's 13 seasons with the team, the inconsistent franchise at least had the ex-Texas Longhorns star on defense. The four-time Pro Bowler totaled 1,154 tackles, 27.5 sacks, 22 forced fumbles, 14 interceptions, and scored four defensive touchdowns in 182 games with the Chiefs from 2005-17.
More than anything, Johnson left a favorable legacy in Kansas City, and he'll likely enter the Chiefs' Ring of Honor at some point in the coming years.
2. Alex Smith, QB (No. 1 overall)
For a time, it appeared Smith would go down as an NFL draft bust, especially after the San Francisco 49ers didn't extend him after the 2010 season. However, new head coach Jim Harbaugh gave the Utah quarterback one final chance, and Smith made the most of it, leading the 49ers to an NFC Championship Game appearance in January 2012.
From 2011-17, Smith completed 65% of his passes for 22,458 yards, 132 touchdowns, and 43 interceptions in 102 games for the 49ers and Chiefs. When we last saw the three-time Pro Bowler, he had recovered from a devastating leg injury and went 5-1 as Washington's starting quarterback in 2020.
He might not be a Hall of Famer, but Smith's story — every part of it — is an excellent reminder to keep fighting.
1. DeMarcus Ware, OLB (No. 11 overall)
If not for Rodgers, Ware would easily be considered the 2005 NFL Draft's greatest player. The Troy product totaled 138.5 sacks and forced 35 fumbles in 12 seasons, earning first-team All-Pro honors four times in that span. As of January 2022, he remains the Dallas Cowboys' all-time leading sacker (117) and won a Super Bowl with the Denver Broncos in February 2016.
The next stop for Ware is Canton, and that honor could be coming as soon as February 2022. He's earned his gold jacket, and Rodgers will eventually join him in the iconic building.
Like Sportscasting on Facebook. Follow us on Twitter @sportscasting19.