Aaron Rodgers Reacts To Former Packers Coach Mike McCarthy Smashing Watermelons With the Cowboys
If anyone knows Dallas Cowboys coach Mike McCarthy well, it's his former quarterback on the Green Bay Packers, Aaron Rodgers. From the 2008 NFL season until the 2018 season, Rodgers was the star QB for the Packers, and McCarthy was the head coach. So, when a story came out recently about McCarthy smashing watermelons for motivational purposes, Rodgers, naturally, had a reaction.
Aaron Rodgers and Mike McCarthy had a lot of success together
Mike McCarthy became the Green Bay Packers' head coach in 2006 when Brett Favre was still the team's quarterback. With McCarthy and Favre, the Packers went to the NFC Championship Game in 2007 after going 13-3 during the regular season.
Aaron Rodgers then became the starting quarterback of the Packers in 2008, and he and McCarthy ended up having a ton of success together. Individually, Rodgers became one of the best quarterbacks in NFL history. He won two MVP awards while playing under McCarthy and had great years, like in 2011 when he had 4,643 passing yards, 45 touchdowns, and only six interceptions.
Team-wise, though, McCarthy and Rodgers helped lead the Packers to a lot of wins. They made the playoffs every season from 2009 through 2016, and the Packers also ended up winning the Super Bowl in 2010.
Green Bay didn't make it back to the Super Bowl with Rodgers and McCarthy, but they made it back to the NFC Championship Game two other times. McCarthy's final season in Green Bay was in 2018, and he didn't finish out the season, as the Packers fired him after starting the year 4-7-1.
Mike McCarthy reportedly smashed watermelons with the Dallas Cowboys
McCarthy is now in his first season as head coach of the Dallas Cowboys, and Dallas got off to an atrocious 2-7 start. However, they are in a horrible NFC East Division, though, which means that they can still make the playoffs.
Prior to the Cowboys' Week 11 game against the Minnesota Vikings, a game in which they won, McCarthy reportedly smashed watermelons during a Saturday team meeting to "emphasize their objectives," according to NFL Network's Tom Pelissero.
"Mike McCarthy gets up at the front of the room and says, 'Guys, I want to apologize. I don't think I did a good enough job emphasizing our objectives for the week'—one of which was to hammer the ball out of [Minnesota running back] Dalvin Cook's hands," Pelissero said on Monday after the Cowboys' win. "At that point McCarthy pulls out a sledgehammer, not a prop, a full sledgehammer you could knock a wall down with, and someone rolls in a bunch of watermelons."
That's not all.
"McCarthy reads the objective—BAM!—smashes the watermelon. He goes down the row doing this," Pelissero said. "The players are roaring, McCarthy's pants are soaked. He finally gets to the watermelon with Dalvin Cook's picture on it, DeMarcus Lawrence jumps up and goes, 'I've got to get that one.'"
The gimmick worked, as the Cowboys won 31-28 and are now just a half-game out of first place with a 3-7 record.
So, what does his former QB think?
Aaron Rodgers gives his thoughts on the watermelons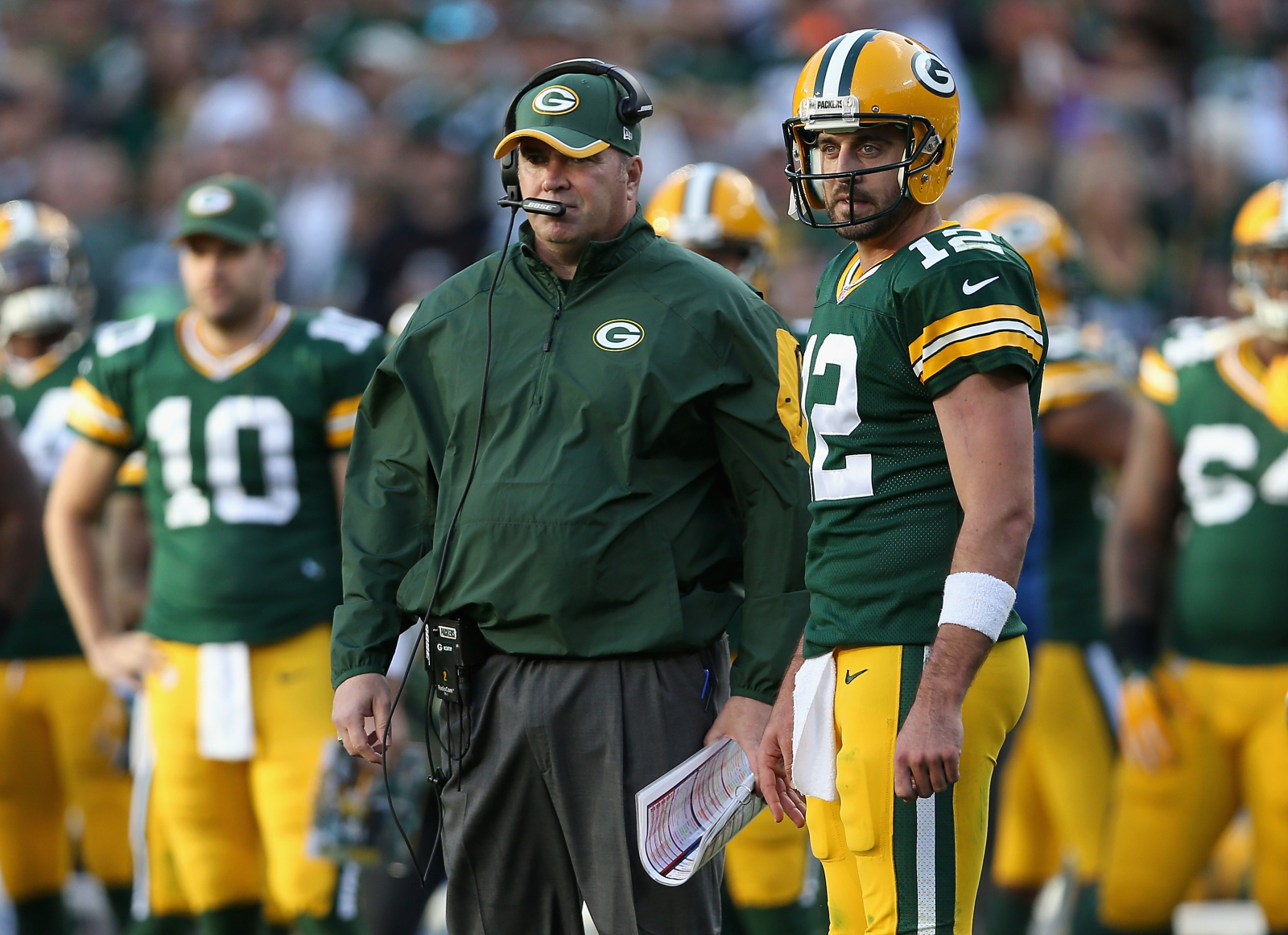 Rodgers recently appeared on the Nov. 24 episode of The Pat McAfee Show, and despite rumors flying around in the past about him and McCarthy potentially having a poor relationship, Rodgers had a positive reaction about the watermelons.
"I'm not surprised about the watermelons," Rodgers said. "I think it's awesome; Mike would mix it up from time to time. Never smashed any watermelons, but he was always switching up the messages from year to year, from week to week. Theme of the week, having different guys speak. Generals of the week, he would call them. So, I'm not surprised by that. I bet that was something to see for sure."
Rodgers continued: "I think a lot of people were confused at first but excited about what was going to go on. I'm hoping that big Mike smashed the first couple, though, to kind of set the tone. I hope he didn't pass it off to Rob Davis or Joe Philbin or somebody to smash the first one. I hope it was Mike willin' that thing and beating the hell out of it."
So, there you go. McCarthy's team responded in a positive way, and it appears that his former star quarterback approved of the move as well.
Stats courtesy of Pro Football Reference