Aaron Rodgers Receives Massive Public Praise From Superstar Comedian Kevin Hart Who Also Made a Strong Declaration About the Packers: 'What You Can't Do Is Ignore Moments of Greatness'
Aaron Rodgers and the Green Bay Packers recently sent a strong message to the rest of the NFL: They are a force to be reckoned with.
Following an offseason with a bunch of drama and speculation regarding Rodgers' future with the Packers, the three-time NFL MVP has his team sitting at 7-1, and they just beat the previously undefeated Arizona Cardinals in their Week 8 matchup.
The win over Arizona certainly impressed some people, and that includes superstar comedian Kevin Hart, who had a lot to say about Rodgers after the game.
Aaron Rodgers led the Packers to a win without his top receiver
Very few fans expected Aaron Rodgers and the Packers to beat the undefeated Cardinals on Thursday, as Vegas even had Arizona favored by 6.5 points, per Sporting News.
Green Bay played without Rodgers' top weapon, Davante Adams, who is arguably the NFL's best receiver. The Packers placed Adams and Allen Lazard on the reserve/COVID-19 list, which led to their absences in the Week 8 contest. Marquez Valdes-Scantling also missed the game, and tight end Robert Tonyan suffered an injury in the contest. So, the top receiver on the Packers against the Cardinals was running back Aaron Jones, who is second on Green Bay with 237 receiving yards this year.
But Rodgers still found a way to lead his team to victory.
The nine-time Pro Bowler didn't put up incredible numbers against the Cardinals, only throwing for 184 yards, but he tossed two second-half touchdowns and had no interceptions, which led to Green Bay's 24-21 upset win.
The Packers are now No. 1 in the NFC with a 7-1 record and have a strong hold on the NFC North standings, as the Minnesota Vikings are in second in the division with a 3-3 record heading into Week 8.
Rodgers and the Packers' play didn't just help their playoff chances, though. It also impressed a lot of fans, including Kevin Hart.
Kevin Hart praised the Packers' QB on 'First Take'
Kevin Hart is known for making people laugh. He's one of the most popular comedians in the world and is also a star actor. However, Hart is a massive sports fan as well, and he was completely serious when discussing Rodgers during an Oct. 30 First Take appearance.
"What you can't do is ignore moments of greatness," Hart said. "You can't also ignore stardom. What Aaron Rodgers is, he's a bona fide stud in this league and always has been. And when that bona fide stud shows you, 'with or without weapons, I can respond, meaning that I can get the job done. And I'm also good enough to get my troops in line that aren't my necessarily one and twos to understand the assignment and show up and show out.'"
Hart then went on to make a strong declaration about the Packers and their Super Bowl chances.
"I think that they're definitely in the top three teams in the NFL; I think that they're also Super Bowl contenders this year," he said. "I think that they're a threat; they're a real threat."
Kevin Hart's comments highlighted Aaron Rodgers' greatness with the Packers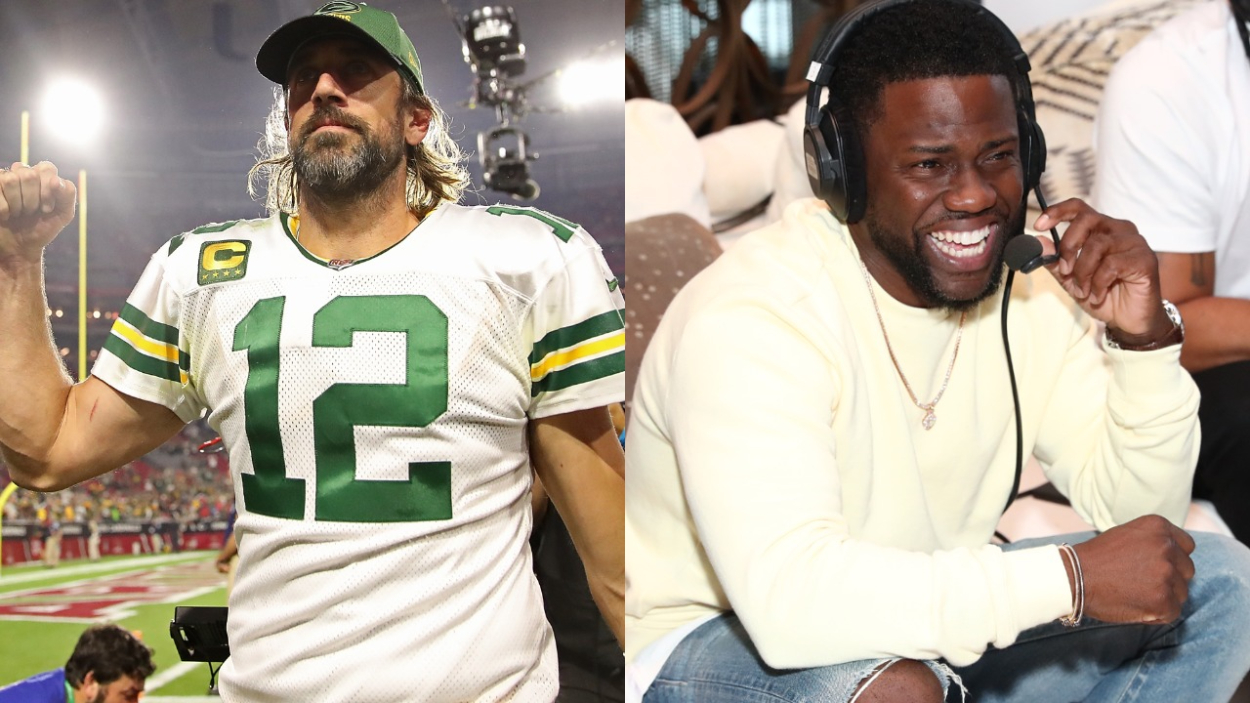 Whether Hart was right about the Packers' Super Bowl chances (which he is since Green Bay has been to the last two NFC Championship Games), his most accurate point was the one he made about Rodgers' ability to still succeed without other stars.
Rodgers' status as one of the greatest quarterbacks to ever play in the NFL was solidified years ago, and he did so without having an elite pass-catcher for most of his career. Until 2020, the Packers QB had never thrown to a receiver selected in the first round of the NFL draft since becoming the team's starter in 2008, per ESPN. And while Adams is now one of the best pass-catchers in the league, he was a second-round selection and didn't become one of the NFL's most dangerous weapons until 2018.
Rodgers, though, still won multiple MVPs and a Super Bowl without another "bona fide stud," and he led the Packers to multiple NFC Championship Games. He has proven his greatness throughout his entire career and continued doing so against the Cardinals on Thursday.
So, if Rogers' recent performance showed NFL fans anything at all, it was this: He's still one of the top quarterbacks in the NFL, and because of that, a healthy Packers offense has a great chance to lead Green Bay to a Super Bowl win.
Maybe, Kevin Hart should talk sports on ESPN more often.
Stats courtesy of Pro Football Reference
RELATED: ESPN Commentator Fires Shot at Aaron Rodgers and His Talk Show Host Buddy: 'The Worst Thing to Happen to the Packers This Year Has Been Pat McAfee.'