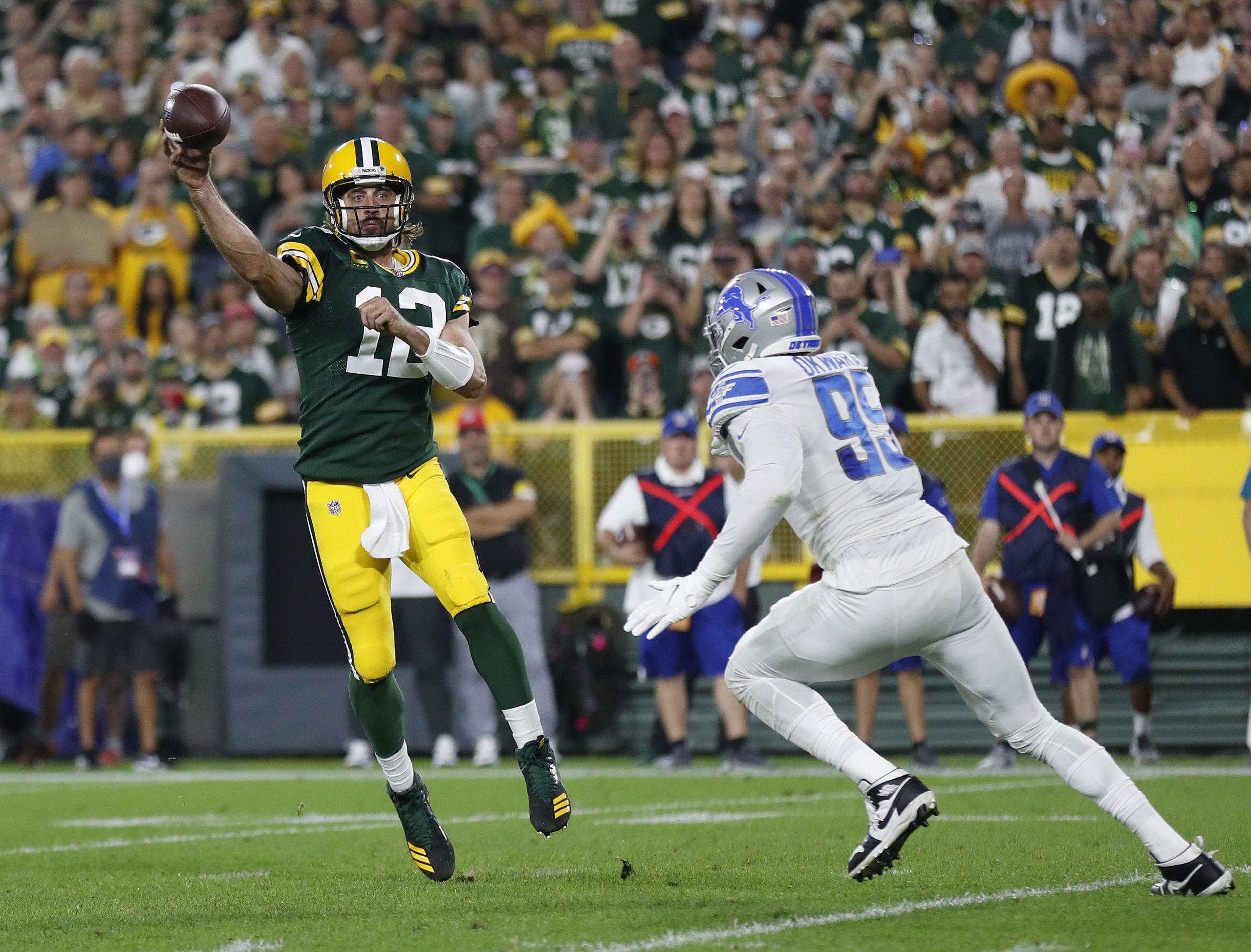 Aaron Rodgers Reflects on Late Packers GM Ted Thompson and the QB's Rumored Trade to the Raiders
Quarterback Aaron Rodgers reflected on his relationship with the late Ted Thompson, former GM of the Packers.
Ted Thompson and Aaron Rodgers formed a special bond. That bond began 16 years ago when Thompson, in his first year as general manager of the Green Bay Packers, selected Rodgers in the first round of the 2005 NFL Draft. Thompson, who died in January at the age of 68, was honored Monday night at halftime of the Packers game against the Detroit Lions. Earlier in the week, Rodgers reflected on the former GM and the quarterback's rumored trade to the Oakland Raiders.
The Packers honored Ted Thompson at halftime Monday night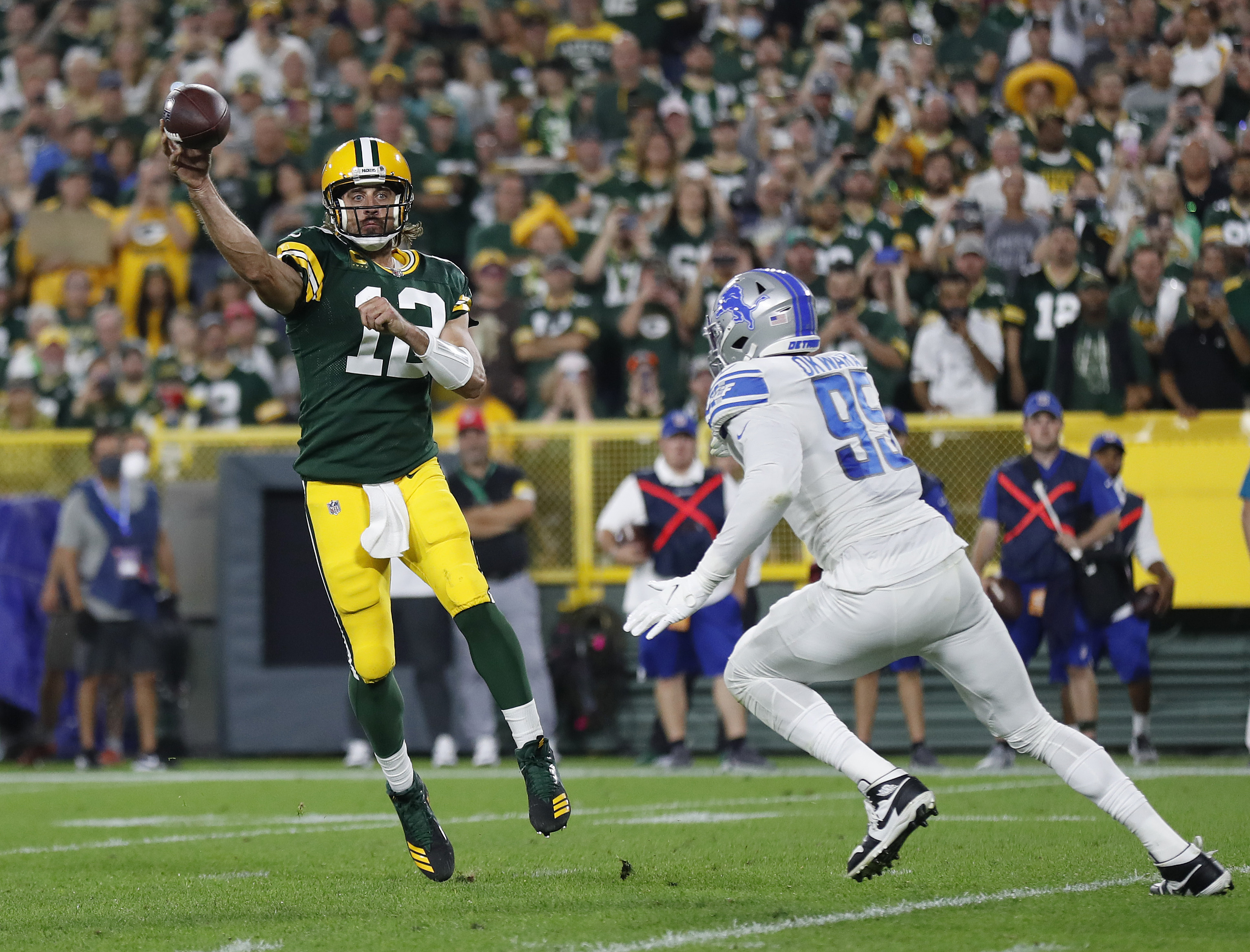 Thompson died on Jan. 20, 2021, four days before the Packers faced the Tampa Bay Buccaneers in the NFC Championship Game. He was the GM of the team from 2005-2017 before taking on an advisory role with the team. He put together the Packers team that won Super Bowl 45 after the 2010 season.
During halftime of Monday night's game with the Lions, the Packers held a tribute at Lambeau Field for Thompson. Packers unveiled Thompson's name on the north end zone façade inside Lambeau Field.
"He's probably the finest talent evaluator, specifically the draft, that I've ever been around," said current Packers General Manager Brian Gutekunst earlier this week, according to Packers.com. "He wouldn't like all this pomp and circumstance, but he certainly deserves it."
"I just had so much respect for Ted, so humble," said President/CEO Mark Murphy earlier this summer. "I don't think he's gotten the credit he deserves for what he accomplished with the Packers. So, I think this is very fitting."
Aaron Rodgers reflects on his bond with Ted Thompson
Earlier in the week, Rodgers spoke about his bond with Thompson that included a key phone call that helped the quarterback earn the GM's respect.
"I have a lot of love and appreciation for Ted," Rodgers said, according to the Wisconsin State Journal. "Because I was his first draft pick, there was always a special bond between us. There is something special about that feeling. You just kind of know the GM has got you and wants you to be here and wants you to be successful. I always appreciated that."
Rodgers received a call from Thompson to clear up any speculation that the quarterback was headed to the Raiders in a trade for wide receiver Randy Moss during the 2007 offseason. Thompson wanted to QB to hear it straight from his mouth that it was nothing but a rumor.
"Really, the first time he ever called me," Rodgers recalled. "I was in Portland visiting some friends, and that was when there were the rumors about Randy Moss. He called me personally, and with his accent, reassured me that wasn't going to happen, that it was just a rumor.
"I remember it was one of the slower conversations. You guys know Ted; Ted was very deliberate talking. I put him on speaker, so my friend who was in the car could hear Ted talking. It was a cool moment to get that phone call from him."
Rodgers recalled his final encounter with Thompson
Gutekunst took over as the Packers' GM after the 2017 season when Thompson was shifted to an advisory role. In 2019, Thompson revealed he was suffering from an "autonomic disorder." After Thompson's health issue became public, Rodgers saw him and was concerned.
"You knew he wasn't doing great," Rodgers said earlier last week to the Wisconsin State Journal. "It definitely tugged on the heartstrings to see him like that, because Ted was always the guy always active and always loving going on the road and the scout at heart.
"To see him as a little bit a shell of himself was tough. But I went over and gave him a big hug and told him I loved him. That was a cool moment. I didn't think that was going to be the last time I saw him, but ultimately, it was."
Rodgers and the Packers must've been moved by the tribute Monday, rallying from a 17-14 halftime deficit to defeat the Lions 35-17.