Aaron Rodgers Regrets Blowback to Others Because of COVID-19 Rants
Aaron Rodgers won the NFL MVP award for the second-straight season and his fourth time overall. He had his Green Bay Packers positioned to make a run at the Super Bowl, having secured the No. 1 overall seed in the NFC and a first-round bye. The Packers lost in embarrassing fashion to the San Francisco 49ers, completely falling apart and falling well short of their lofty expectations.
A lot happened on the field for Rodgers and the Packers in 2021, but he made the biggest ripples off the field, going on long-winded and controversial rants about COVID-19 and vaccinations.
Speaking recently on The Pat McAfee Show, the MVP quarterback did admit some regret. It wasn't about his diatribes but rather how they impacted those around him.
Aaron Rodgers pulled off a misdirection on The Pat McAfee Show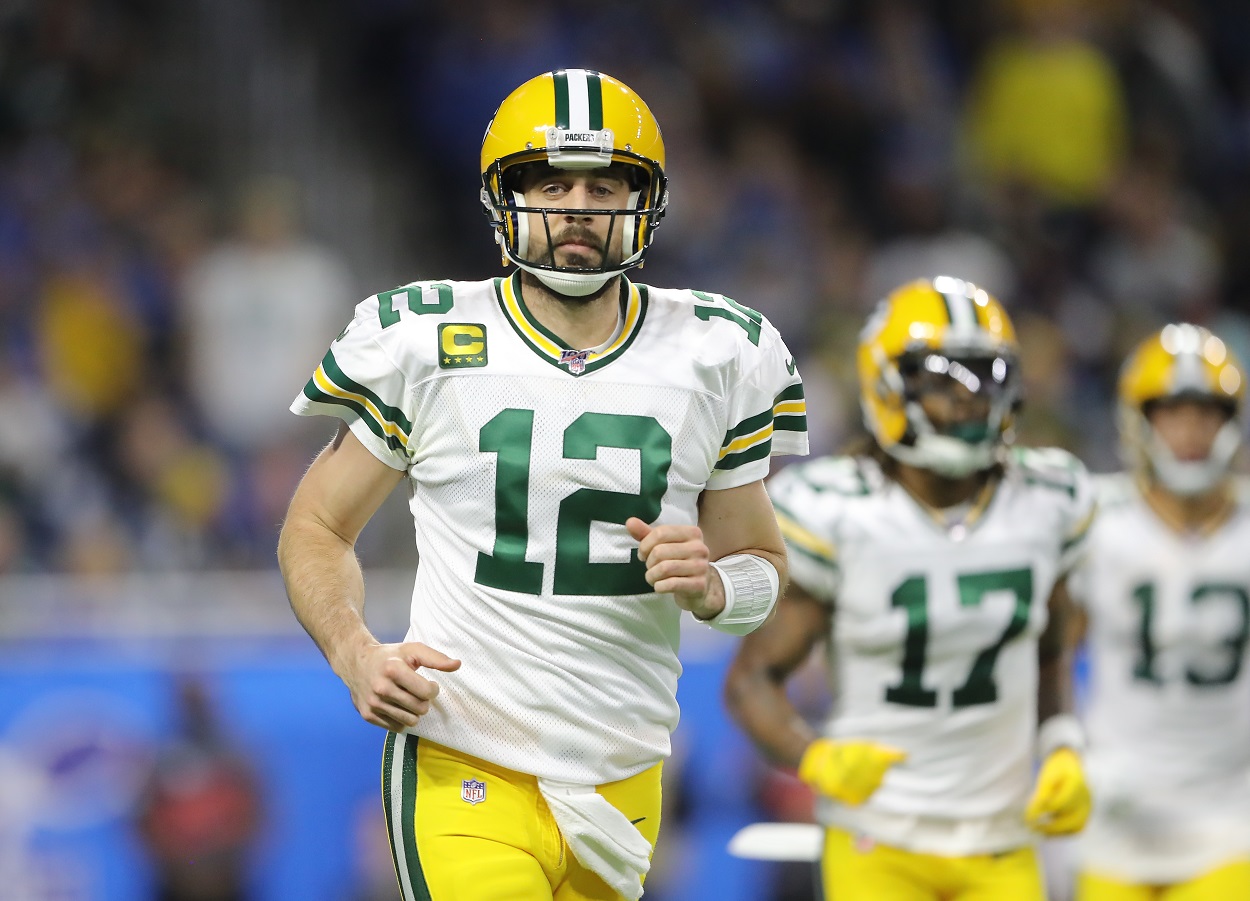 Many thought Rodgers was going to announce his retirement. Others thought that perhaps he'd be announcing his desire to be traded away from Green Bay.
Either way, it appeared almost certain that some sort of announcement was going to be made.
McAfee hyped up the show on Twitter saying that a "big guest" was going to be on the show for a "big convo". Hours before late on Monday evening, Rodgers put out a lengthy and somewhat cryptic Instagram post thanking everyone from his supposed ex-fiance Shailene Woodley, to the quarterbacks he's worked with over the last year, to his friends and everyone who has supported him.
It sure seemed like a farewell post, but Rodgers nixed that idea almost immediately upon joining McAfee on Tuesday.
"There will be no news today. No decision on my future," Rodgers said.
"There's nothing cryptic about gratitude," he later added.
Rodgers has had time to get space and "re-center"
While he didn't talk about retirement or any other possible decision, the four-time MVP did talk a lot about a 12 day cleanse he just got out of called a Panchakarma. He explained that he's been doing this cleanse in the offseason, and he was literally just getting out of it. In fact, he was on the cleanse while he won the MVP award just a few days before the Super Bowl.
"It's kind of a re-centering. It not only heals your physically, but I think it takes away mental stress. The spiritual part allows you to enjoy the meditations a little more," Rodgers explained.
He then went on to explain his social media post.
"My first thought is just intense gratitude for the people in my life. I was going through some old pictures from the last year and felt an intense amount of gratitude for the life that I have, the lessons that I've learned, the growth that's happened over the last year, and the people that have been a part of that journey," he said.
Speaking of people and the journey Rodgers went on over the last year, later on in the conversation, the quarterback did express regret that many people were caught in the crossfire of the coronavirus debate he became the center of.
"One thing that I am sad about and definitely apologetic [about] is I didn't realize in the midst of the COVID conversations how much my situation was affecting my loved ones and my people," Rodgers said. "I didn't realize the shrapnel that was being flaked off what I felt like were the bullets coming at me because I was too locked in on me and defending myself and trying to get a message out."
Rodgers expressed regret that people around him got sucked into the debate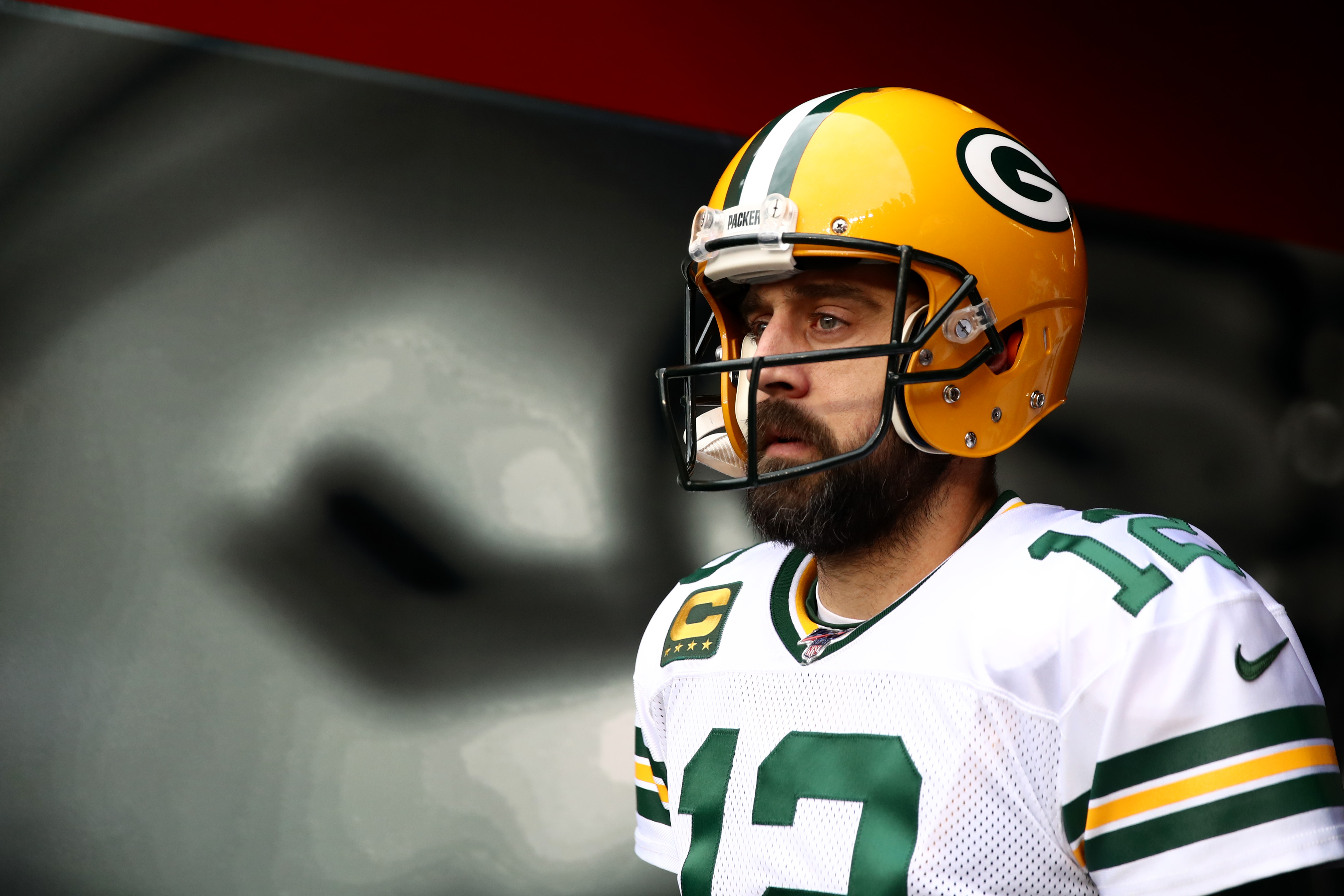 Rodgers knew what he was doing when he gave his opinions on a global pandemic. Not only was it something that impacted, literally, everybody in the world, but the coronavirus and things associated with it like mask-wearing, vaccines, mandates, and politics, became arguably the most divisive topic of our time.
The quarterback said he wasn't trying to be a force for division.
"I never wanted to be divisive in this whole thing. The issue is polarizing, I get that, and I know there's a lot of fear around it, but my intention was to never be divisive," he told McAfee.
Frankly, Rodgers is smart enough to know better. He had also said in the past that he didn't want to be political, but he never had any problem using political buzzwords like "cancel culture" and "woke mob".
Still, it seems that the time away and perhaps the cleanse has at least led Rodgers to a place of self-awareness. It's worth noting that he hasn't retracted any of his ideas, and he doesn't have to. He did express regret to his loved ones, his agents, his close friends, his teammates, his sponsors, and even the Packers for the way things went down, though,
"Understanding the entire gravity of the situation I was thrust into and decided to speak on multiple times had an effect on a lot of people," Rodgers said, talking about the revelations he's come to recently. "To those people, I just say I'm sorry. I never meant to get you in the middle of it, but you got into it by proxy because of your relationships with me. I love you guys. I appreciate the support."
On the one hand, he's one of the greatest quarterbacks to ever play the game. On the other, he painted a picture of someone who clearly got in over his head.
Rodgers has said in the past that he's a quarterback, not an activist. Unfortunately, he became one with his many heated rants and conversations expressing doubt in vaccines, general scientific conclusions surrounding the pandemic, and even the NFL.
He made his decisions and he had every right to express his opinion, but ultimately, his choices and stances led to blowback for others.
"I do have a lot of feelings of remorse for that," the quarterback said.
According to the Centers for Disease Control and Prevention (CDC), "Over 547 million doses of COVID-19 vaccine have been given in the United States from December 14, 2020, through February 14, 2022. COVID-19 vaccines are safe and effective."
Stats courtesy of ESPN and Pro Football Reference. Contract information via Spotrac
RELATED: Aaron Rodgers Decision: 3 Distinct Paths for the Green Bay Packers QB