Aaron Rodgers' Retirement Thoughts Likely Played a Role in His Atrocious Week 1 Performance, According to a Pro Football Hall of Famer: 'If You're Talking About or Thinking About Retiring, You're Already Retired'
After all the offseason drama between Aaron Rodgers and the Green Bay Packers, many fans hoped we would get an angry Rodgers and a massive performance from him in Week 1. The complete opposite happened, though, as the New Orleans Saints dominated Green Bay, 38-3.
The blowout loss was surprising, given the fact that the Packers went 13-3 and went to the NFC Championship Game each of the last two seasons. So, many fans have been looking for an answer as to why it happened. But Pro Football Hall of Famer Michael Irvin thinks he knows the reason for Rodgers' atrocious performance; he believes it has something to do with that aforementioned offseason drama.
Aaron Rodgers and the Packers were horrible in Week 1
The Packers never even seemed to have a chance in their Week 1 contest with the New Orleans Saints, as it was a truly pathetic performance by them.
New Orleans led 17-3 at halftime and then outscored Green Bay 21-0 in the second half to earn the 38-3 blowout W. Saints quarterback Jameis Winston got to eat that W, too, as he looked fantastic in the game. Winston completed 14-of-his-20 passes for 148 yards, a whopping five touchdowns, and no interceptions.
Rodgers, on the other hand, had an uncharacteristic atrocious performance, only throwing for 133 yards, no touchdowns, and two interceptions. So, after just one game, he has already almost thrown half as many interceptions as he threw all of last year (five) when he won the NFL MVP.
So, why did the nine-time Pro Bowler and three-time MVP play so poorly? Michael Irvin thinks it has to do with his retirement thoughts this past offseason.
Michael Irvin thinks the QB's retirement thoughts led to his ugly performance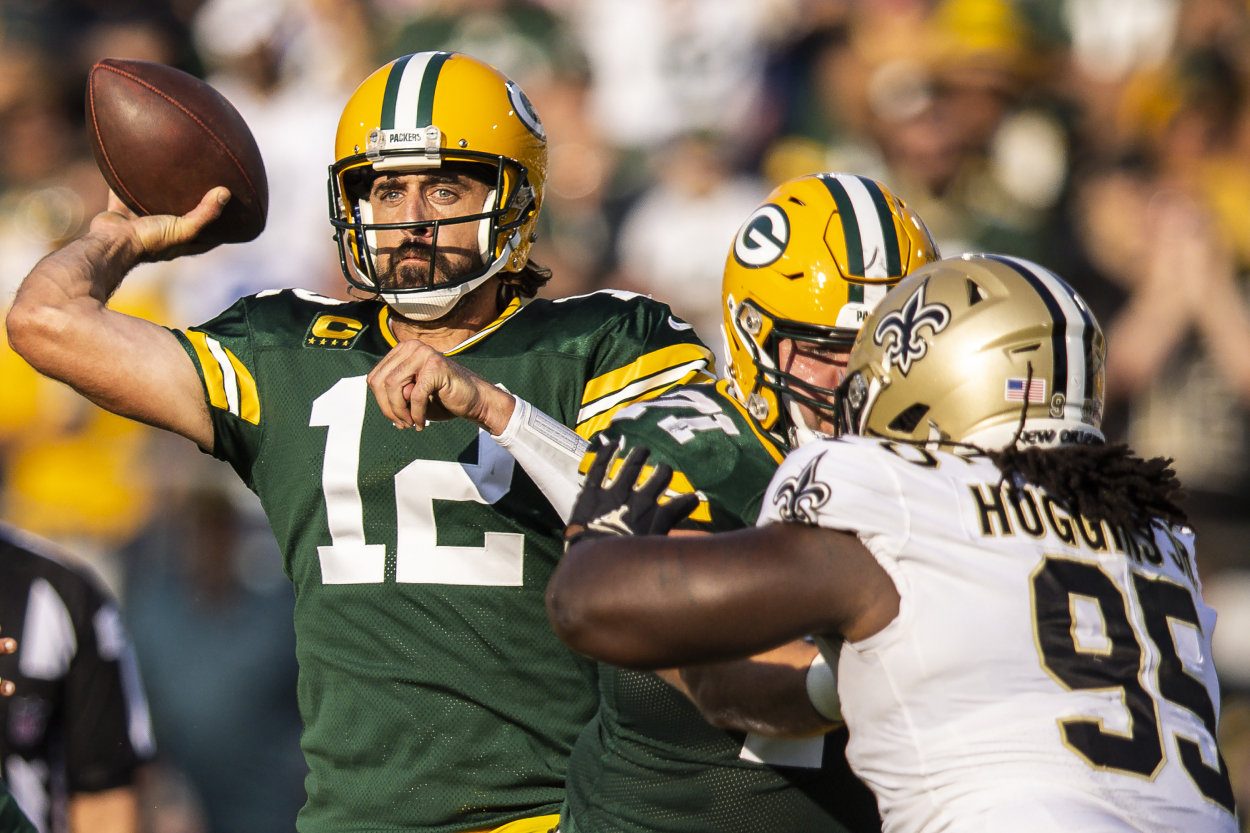 There was a lot of drama with Aaron Rodgers and the Packers this offseason, as no one knew whether Rodgers would actually suit up for Green Bay in 2021. There were even whispers of him possibly retiring.
The 37-year-old QB then essentially confirmed once he showed up to training camp that retirement crossed his mind.
"I was really working on myself and my own mental state throughout the summer and at various points (pondered) if I wanted to even keep playing," he said, per the Packers' team site. "But the fire still burns and I wanted to be on the football team."
Those retirement thoughts, though, may have been why he had a horrible game in Week 1.
"This game is too hard; that's why you hear people say, 'If you're talking about or thinking about retiring, you're already retired,'" Irvin said to TMZ Sports. "So, Aaron Rodgers was thinking about retiring or thinking about not playing, and it showed up, man."
However, Irvin, like many others, thinks Rodgers will turn it around.
"I expect him to play much better; that's not something he will be doing all the time," Irvin added.
But is the former Dallas Cowboys receiver right? Can Rodgers turn things around and get back to playing at an MVP level?
Aaron Rodgers has a great opportunity to bounce back for the Packers in Week 2
If Aaron Rodgers and the Packers want to have a nice and easy game to try and bounce back in, they have the perfect opponent to do just that in Week 2. Green Bay plays the Detroit Lions, who posted an impressive 33 points in Week 1 but also gave up 41 to the San Francisco 49ers.
On top of those 41 points, they reportedly lost cornerback Jeffrey Okudah to a season-ending injury as well, per NFL Network's Tom Pelissero.
So, with the Lions' defense already being one of the worst in football and the Packers' offense having elite weapons, and with Rodgers having big games against Detroit in the past, Green Bay has a perfect opportunity to have a huge game in Week 2. You can also likely expect a dominant performance from the California product that may even put him back in the MVP conversation.
He may have considered retiring, but if Rodgers has taught us anything throughout his legendary career, it's to not bet against him. In the words of Stephen A. Smith: He's a bad man.
Stats courtesy of Pro Football Reference