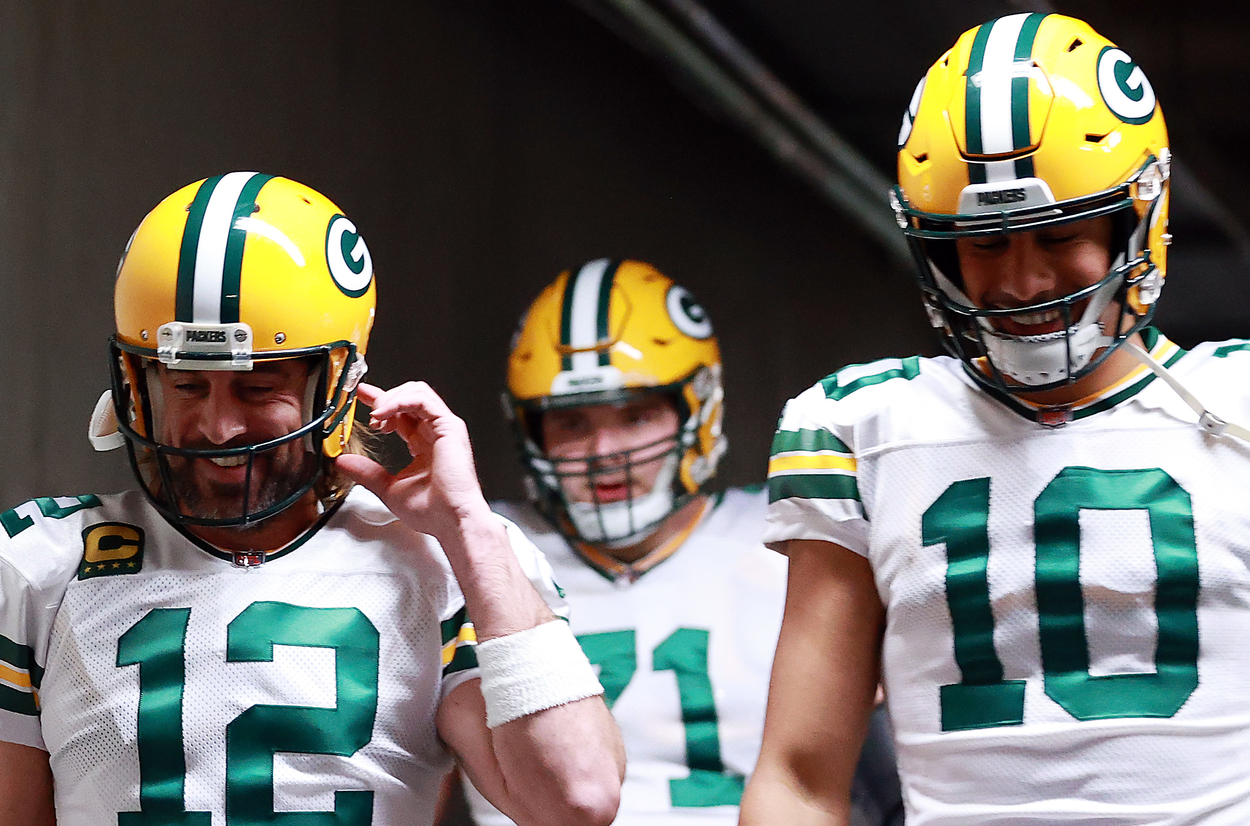 Aaron Rodgers' Return Means the Packers Must Compromise and Finally Do Right by Jordan Love
The Green Bay Packers have remained steadfast in their desire not to trade Jordan Love, but the team must strongly consider compromising after Aaron Rodgers announced his intention to return.
Article Highlights:
The Green Bay Packers must finally compromise and start listening to trade offers for Jordan Love after Aaron Rodgers announced he'll return for the 2022 season
There is no reason the Packers should have Love sit behind Rodgers for a third straight season
If Green Bay intends on trading the Utah State product, the four-time Super Bowl champions would be wise to get a deal done before the 2022 NFL Draft
Aaron Rodgers is here to stay, at least for 2022, and Jordan Love might want to start looking for a new place to live, sleep, and watch film.
After nearly two months of lingering rumors and false alarms, Rodgers announced on Tuesday, March 8, that he would return to the Green Bay Packers next season. The four-time NFL MVP is expected to sign a new contract in the near future that could keep him in Wisconsin through the end of his career.
What does that mean for Love, the Packers' backup quarterback and 2020 first-round pick? Although the four-time Super Bowl champions might not want to admit it, the time has come to finally give in and trade the Utah State product.
The Packers must finally consider trading Jordan Love after Aaron Rodgers announced his return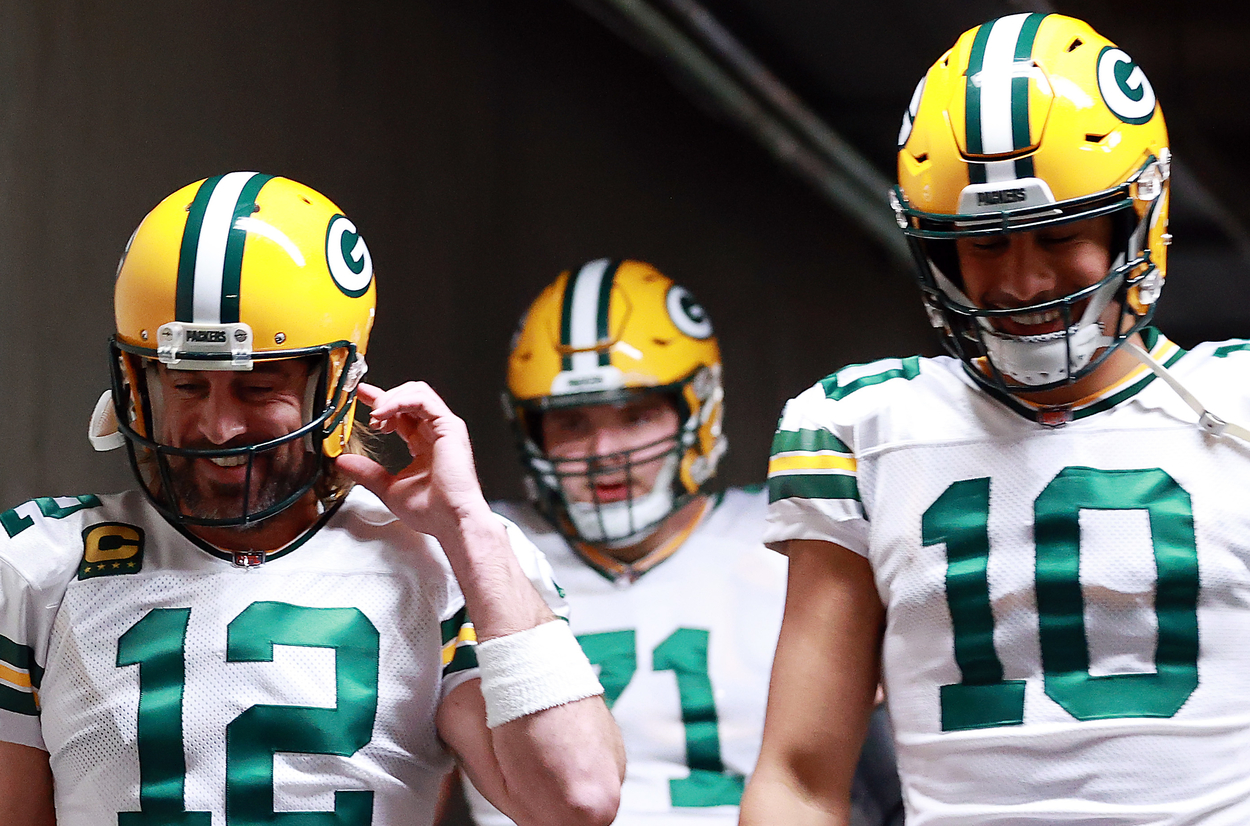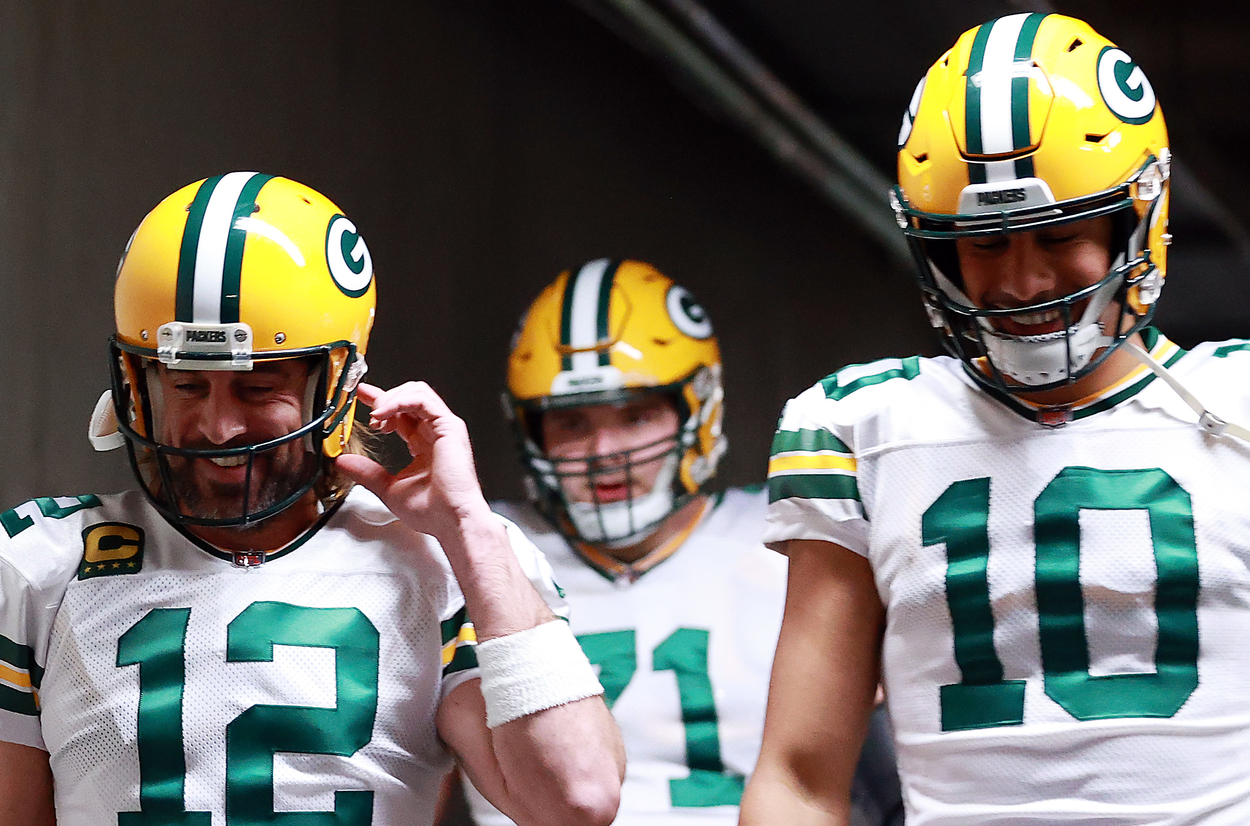 Enough has been said about the Packers' foolish decision to trade up for Love in the 2020 draft, so we won't waste your time. The point is that rather than add a receiver or an offensive lineman in the first round, Green Bay moved up to select a quarterback who the team almost certainly knew wouldn't play significant snaps until 2022 at the absolute earliest.
Then came Rodgers' drama last year, both before and during the season, and Love had an opportunity to prove himself. Instead, he completed 58.1% of his passes for 411 yards, two touchdowns, and three interceptions in 131 snaps last season and likely didn't inspire hope among the Packers faithful.
However, he's also a 23-year-old quarterback who has up to three years of team control remaining. The Packers — or any team that potentially acquires the 6-foot-4, 219-pound quarterback — would need to decide next spring if they want to pick up Love's fifth-year option or allow him to hit free agency following the 2023 campaign.
Although Rodgers could realistically evaluate his future on a year-to-year basis the way Brett Favre did in the late 2000s and in 2010, that shouldn't stop the Packers from compromising and letting teams know they're willing to take calls on Love.
The Packers have been stubborn, but there is no reason to have Love sit behind Rodgers for a third straight year
When he spoke with reporters in late February, Packers general manager Brian Gutekunst said he was "very doubtful" he'd take any calls about trading Love during the 2022 offseason.
Why?
Let's assume, as dangerous as that is, that Rodgers has another stellar campaign in 2022 and decides he wants to return in 2023. If the Packers keep Love through next spring, they'd need to decide if picking up his fifth-year option and guaranteeing his 2024 salary is the right move. But in that scenario, they'd either be locking Love into a fifth year without having seen him receive extensive regular-season action. Conversely, the Packers would acknowledge they wouldn't have enough reason to keep him around if they pass on the fifth year, which is never ideal for a first-round pick.
The smartest play, then, is to trade the 23-year-old quarterback. There are likely numerous teams still willing to give up a mid-round pick for a young player who has multiple years of team control and was widely considered a first-round prospect in 2020 for a reason.
When the New York Jets traded Sam Darnold to the Carolina Panthers in April 2021, they received a 2021 sixth-round pick plus second- and fourth-round selections in the 2022 draft. Suppose Gutekunst can get a 2022 fourth-rounder and a 2023 sixth-rounder for a quarterback with 131 career snaps to his name. He would be foolish to remain stubborn and not take any calls on Love.
Which teams should try to swing a trade for Love this offseason?
The quarterback market certainly changed quickly. Russell Wilson now plays for the Denver Broncos, and Drew Lock, the Broncos' second-round pick in 2019, will have an opportunity to restart his career with the Seattle Seahawks. Embattled Indianapolis Colts quarterback Carson Wentz will suit up for the Washington Commanders next season.
The recent flurry of transactions leaves the Colts and Pittsburgh Steelers among the potential 2022 contenders needing a long-term answer at quarterback. Love certainly makes sense for both, especially if the Colts don't believe they can find a franchise quarterback in the upcoming draft.
The Steelers have repeatedly insisted they intend to give Dwayne Haskins and Mason Rudolph a chance of replacing Ben Roethlisberger. However, the six-time Super Bowl champions have also been linked to multiple draft prospects, including the University of Pittsburgh's Kenny Pickett, for several months.
As for the NFC, could Love wind up with the Tampa Bay Buccaneers if Tom Brady doesn't return? Theoretically, sure, but in reality, the odds are likely against the Packers trading a quarterback within the NFC.
Or, the Packers could be stubborn, ignore us, and keep Love around until his rookie contract expires. Something tells us that's the route Gutekunst will take, which is unfortunate for all parties.
Like Sportscasting on Facebook. Follow us on Twitter @sportscasting19.