Aaron Rodgers Is Right. Matt LaFleur of the Green Bay Packers Should Be in the Coach of the Year Conversation
When you think of the Green Bay Packers and why they've been so good over the past few seasons, you likely think about Aaron Rodgers, Davante Adams, Za'Darius Smith, Jaire Alexander, Preston Smith, and as of late, Rashan Gary. In short, you think about the players. The Packers are stacked. There's no doubt about it. For that reason and likely for that reason alone, head coach Matt LaFleur does not get a ton of credit.
Rodgers, for one, thinks that should change.
Aaron Rodgers says Matt LaFleur should be in the NFL coach of the year conversation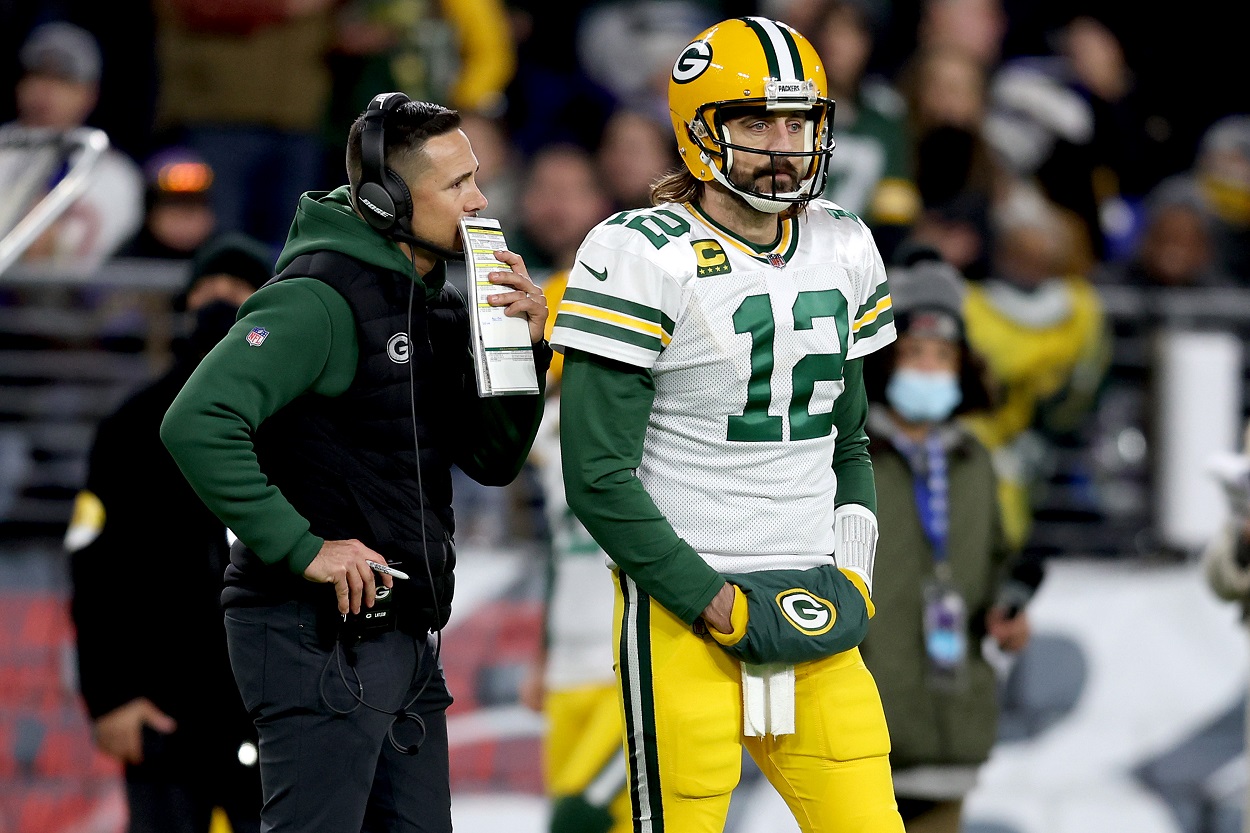 While talking about his own successes on the Pat McAfee Show, specifically beating Brett Favre's regular-season touchdown record as well as the record he set with Adams, Rodgers did take some time to give LaFleur credit.
There are NFL talking heads that will tell you the Packers are where they are simply because they have the three-time MVP at quarterback. He is playing like he wants to win his second straight and fourth overall. It is also hard to deny that Rodgers' play is a huge reason why Green Bay is in the running to lock up the top overall seed in the NFC playoffs. Still, it can't be denied that LaFleur has been incredible since taking over from Mike McCarthy as head coach in Green Bay. He's been so good, in fact, that it's easy to forget that this is actually his first head coaching job in the NFL.
Not only has he been able to rejuvenate what had become a stale offense for Rodgers under McCarthy, but he's also done a great job of collaborating with the legendary quarterback.
"It's both of us. It's us learning to work with each other," Rodgers said, explaining why his partnership with LaFleur works so well. "He didn't have to adjust to me and my personality and my way of playing. I had to adjust to his scheme and system and his way of calling plays. That's the beauty of when a quarterback and play-caller get on the same page.
All LaFleur does in Green Bay is win
Since taking over the Packers in 2019, LaFleur has a 38-9 overall record. He's won the NFC North 3-of-3 years and has two straight NFC championship appearances. Especially if the Packers can get healthy and get players like David Bakhtiari and Alexander back from injury in time for a playoff run, there's an excellent chance LaFleur can take the Packers to three straight.
The key for LaFleur, Rodgers, and the Packers is actually getting over the hump, and they may have what it takes to do just that this season. Green Bay, of course, also has its flaws, but overall, Rodgers believes that LaFleur is not getting enough due in the coach of the year conversation.
Yes, he has a ton of talent at his disposal, but he's the one moving the players around the board.
"Matt wouldn't probably want me to say this because he doesn't get into these types of things, but for him to not be mentioned in coach of the year conversations, and maybe he's starting to get a little bit, I think it's a disservice to him," Rodgers said.
"Great coaches have great players, but great coaches can still be great coaches without great players. When you have great coaches and great players combined, you can do something special. We won 13 games the first two years, and we've won 12 so far this year with two games to go. Matt's ability to adjust for sure has been a big part of that."
At the time of this writing, the Packers are 12-3. They're currently ranked in the middle of the pack on offense and defense and have suffered injuries to multiple star players. Four of Green Bay's seven returning Pro Bowlers from 2020 have missed all of most of this season.
Still, all LaFleur does is win. Credit to him.
LaFLeur is the archetype of the modern NFL coach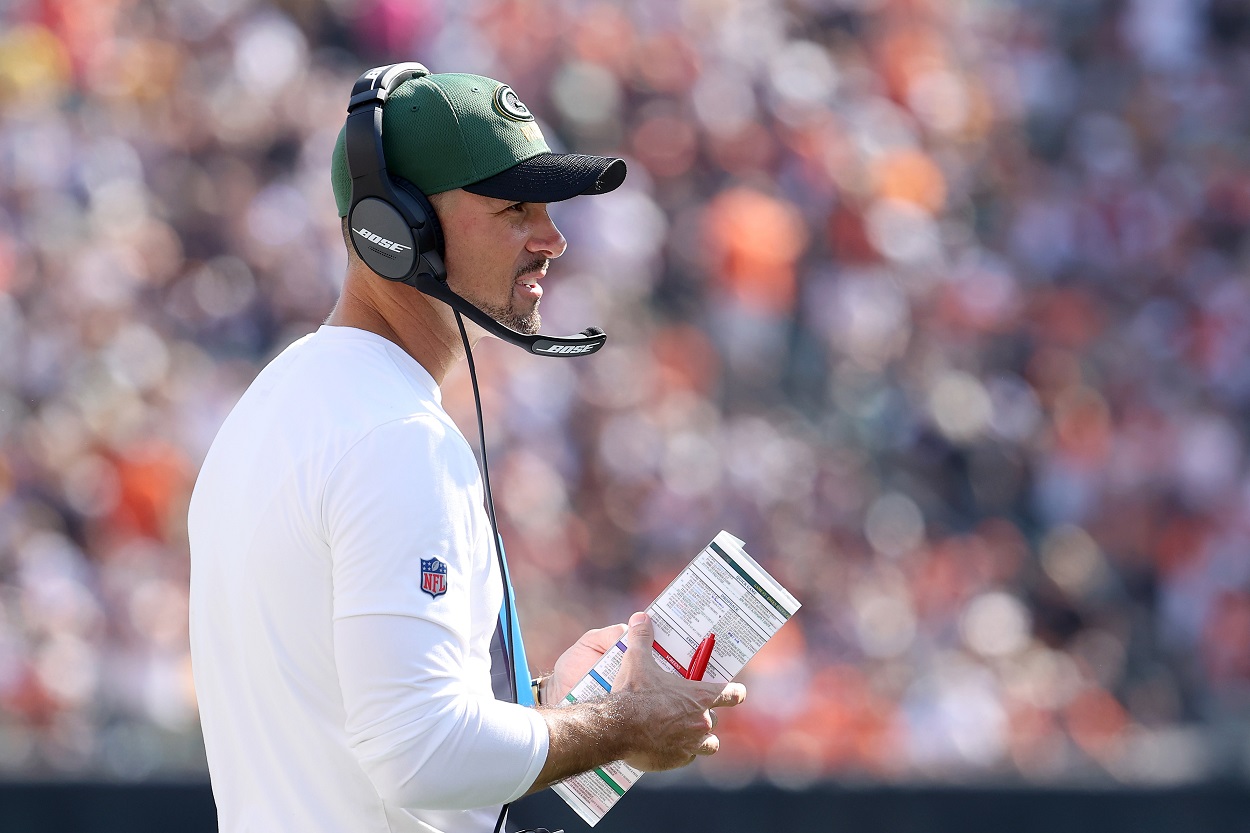 There were a lot of questions about LaFleur when he was hired by Green Bay initially. He didn't have any head coaching experience, and in fact, he only had one season of true play-calling experience under his belt.
He was the offensive coordinator with the Rams in 2017, but really, it was Sean McVay who called the plays in LA. LaFleur took the offensive coordinator gig in Tennessee the next season and put together a so-so campaign, which caused many to wonder what the Packers saw in him as a head coaching candidate.
Was it just because he had a cup of coffee with McVay in LA? Were the Packers simply just hiring a coach because he was young and inexperienced enough to bow down to the will of Rodgers and the front office?
Those were all legitimate questions at the time, but LaFleur has proven to be the right coach for the job. He's taken a collaborative approach with Rodgers that has seemingly found the best in both his scheme as well as Rodgers' experience and ability to wing it. Rodgers also related that LaFleur's openness actually goes further than his relationship with his quarterback, though. The three-time MVP believes that one of LaFleur's strengths is delegation.
"He's empowered all of his assistant coaches to give presentations week to week; to own their rooms; to own specific parts of the game plan," Rodgers explained. "You have to empower these guys, and when you do that, you create an incredible collaborative environment where everybody feels like their opinion matters, they matter, their coaching philosophy, their focus, their weekly preparation matters.
"The entire whole is elevated by the ability to not be a dictator and say, 'It's my way that goes, and I have to have a hand in everything; otherwise, I'm not okay with this.' He's created an environment with a lot of good collaboration and great conversation," Rodgers said. "Guys feel empowered in their roles, and it really shows up in the way they coach their players and the way they get their players prepared. "
Whether it's LaFleur's offensive scheme, his ability to delegate, or even just the fact that he's willing to pump up the crowd on the sideline when the defense is looking for a big stop, LaFleur has fit in perfectly in the Packers organization. He seems to be a home run hire.
He's gone from a relative unknown to one of the best coaches in the NFL rather quickly. Sure, a lot of that has to do with the fact that he has a three-time MVP helping him run the show, but without a doubt, Rodgers is right.
LaFleur should be in the NFL coach of the year conversation.
Stats courtesy of ESPN and Pro Football Reference.