Aaron Rodgers Reportedly Wants to Send Patrick Mahomes 'to the Wild Card Every Single Year' by Following Peyton Manning's Blueprint
The biggest storyline in the NFL right now is whether Aaron Rodgers will be on the Green Bay Packers in 2021 or not. At one point, it was unfathomable to think Rodgers could ever play for a different team. Now, it seems somewhat likely.
The recent drama has led to speculation about what teams Rodgers could play for, if not the Packers. In fact, one report suggests that he would like to send Patrick Mahomes "to the wild card every single year" by following Peyton Manning's blueprint.
Rodgers could potentially do this by taking his talents to the Denver Broncos.
Aaron Rodgers and the Packers reportedly have some problems
RELATED: The Irony of the Packers' Handling of Aaron Rodgers and Jordan Love Is Staggering
There had been whispers all offseason about Rodgers' future with the Packers. Would 2021 be his final season in Green Bay? Is there a rift between him and the team after it drafted Jordan Love in the first round last year?
Well, last week, reports came out, saying Rodgers told people in the Packers' organization that he doesn't want to return to Green Bay, according to ESPN.
There have been more reports to come out since then, as Charles Robinson of Yahoo Sports said the reigning NFL MVP doesn't want to be on the team if general manager Brian Gutekunst is still there. Rodgers was also reportedly pretty upset when the Packers released receiver Jake Kumerow prior to the 2020 season. The move occurred shortly after Rodgers publicly spoke highly of him, too, per NFL Network's Ian Rapoport.
So, based on all the reports by Rapoport and others, it appears Rodgers wants the Packers to prove they are committed to him long term, and would also like more say in personnel decisions. 
However, if Green Bay stands its ground, could Rodgers actually go to a different team? It appears so, and one team he is reportedly interested in is the Denver Broncos.
He reportedly wants to join the Broncos and send Patrick Mahomes to the wild card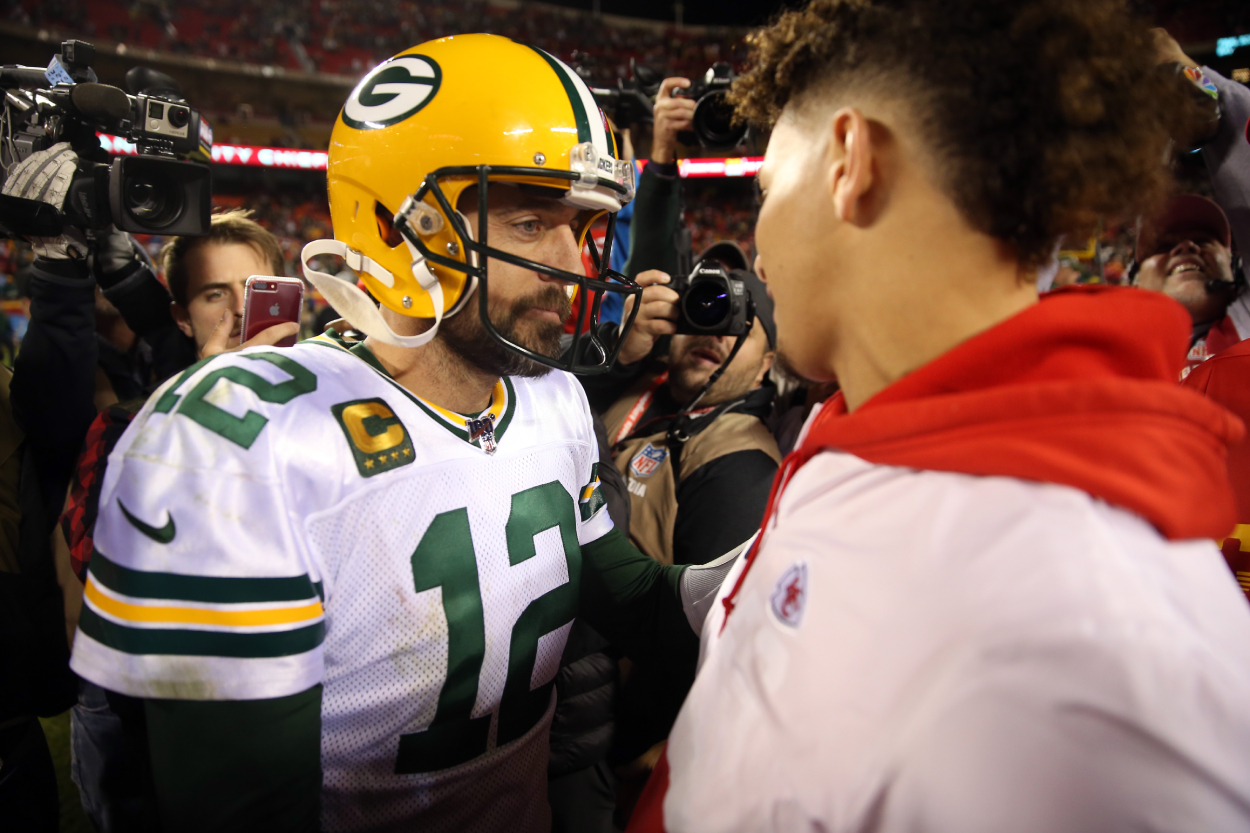 RELATED: The 'Death Knell' of the Aaron Rodgers, Packers Relationship Was Reportedly Over a Released Player
According to ProFootballTalk, Rodgers' wish list for his next team reportedly includes the San Francisco 49ers, Las Vegas Raiders — and the Denver Broncos.
In fact, Rich Eisen recently shared an interesting report on the Rich Eisen Show about Rodgers and the Broncos.
"I heard he would happily go to Denver because they've got the weapons; they've got the spot," Eisen said on the May 3 episode. "He doesn't care that it's in Mahomes' division. He would actually love to personally beat Mahomes. He would love to send Mahomes to the wild card every single year; this is what I've been told."
Mahomes and the Chiefs have become the kings of the AFC West. Kansas City has won the division every year since 2016, and Mahomes has led the team to two consecutive Super Bowl appearances, including one win in 2019.
However, a Broncos team led by Rodgers could be dangerous.
Denver has Melvin Gordon III at running back and two excellent receivers in Courtland Sutton and Jerry Jeudy. Sutton only played one game last year but was a Pro Bowl selection in 2019. Jeudy, on the other hand, led Denver with 856 receiving yards in his rookie season in 2020. This is in addition to tight end Noah Fant, who had 673 receiving yards last year, and receiver Tim Patrick, who had 742 receiving yards.
All these weapons with a three-time MVP could be explosive. It could also be worrisome for Mahomes and the Chiefs, though, especially if Rodgers were to follow Peyton Manning's blueprint.
Aaron Rodgers wouldn't be the first older QB to move to the Broncos
RELATED: Terrell Owens May Ignite a Rivalry With a New QB After Shooting His Shot With Aaron Rodgers' Ex
Rodgers going to the Broncos would kind of be deja vu, as a legendary, but aging, QB just went to Denver about 10 years ago. They even won a Super Bowl together, too, as Manning went to the Broncos in 2012 after spending 14 years with the Colts.
He ultimately earned three Pro Bowl selections and an MVP while in Denver. Manning also led the Broncos to two Super Bowl appearances and won one in his final season in 2015.
Manning didn't have to worry about playing a divisional foe like this current Chiefs team, but he had to worry about the Patriots, and he defeated New England twice in the AFC Championship Game while in Denver. If Rodgers could just emulate some of Manning's success, he would solidify himself as one of the greatest quarterbacks to ever play.
However, we really have no idea where this Rodgers-Packers drama is headed. Rodgers may never even come close to becoming a Bronco. If he does, though, we could be in for some legendary Aaron Rodgers-Patrick Mahomes battles.
Let's hope for the best.
Stats courtesy of Pro Football Reference