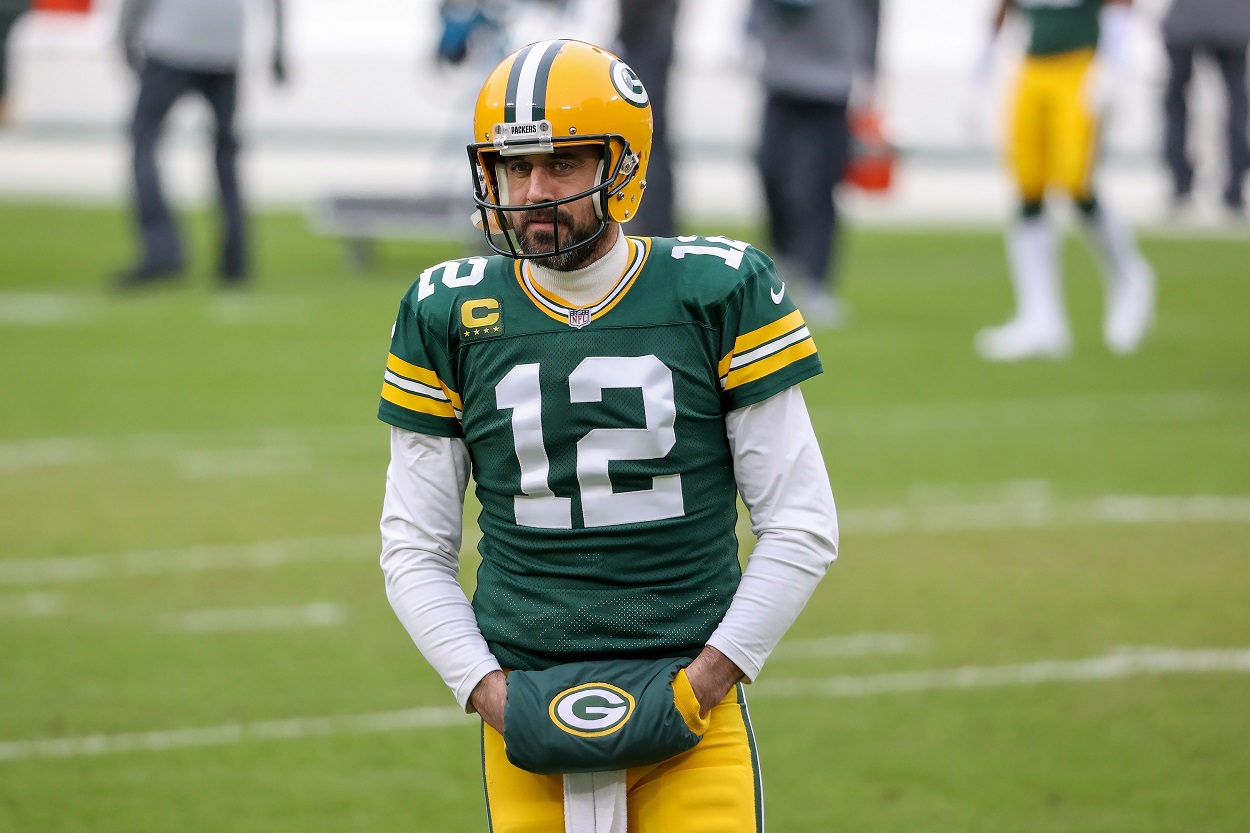 Aaron Rodgers Set an NFL Record in the Packers' NFC Championship Loss but It's Not the Good Kind
Green Bay Packers QB Aaron Rodgers made some NFL history in the NFC Championship loss to the Tampa Bay Buccaneers but not the good kind.
Aaron Rodgers and the top-seeded Green Bay Packers hosted the first NFC Championship Game at Lambeau Field in 13 seasons on Sunday but didn't get the result they were hoping for as Tom Brady punched a ticket to his 10th Super Bowl by leading the Tampa Bay Buccaneers to a 31-26 victory.
The loss certainly can't be pinned on Rodgers as he delivered yet another solid performance in the final game of what will likely turn out to be an MVP season. Unfortunately for Rodgers, however, while he joined an elite club of quarterbacks to start five conference championship games, he made some NFL history that he certainly never wanted to make.
Aaron Rodgers is the clear favorite to win NFL MVP
Despite the Green Bay Packers' loss to the Tampa Bay Buccaneers on Sunday, Aaron Rodgers is still the frontrunner to win his third NFL MVP as the award is voted on before the postseason gets underway.
Rodgers had one of the best seasons of what will undoubtedly be a Hall of Fame career in 2020. He completed a career-high (and league-leading) 70.7% of his passes (372-526) for 4,299 yards with an NFL-best 48 touchdowns against just five interceptions in leading the Packers to a 13-3 record, also adding 149 yards and three scores on the ground.
In Green Bay's 32-18 win over the LA Rams in the divisional round, Rodgers completed 23 of 36 passes for 296 yards with no interceptions to send the Packers to the NFC title game for the second consecutive season.
He gave another solid performance in the NFC Championship Game
Heading into Sunday's matchup with the Buccaneers, Aaron Rodgers didn't have the greatest track record in the NFC Championship Game. In his four previous appearances, the nine-time Pro Bowler had averaged 259 passing yards, which certainly isn't terrible, but had thrown just six touchdowns against seven interceptions and had an average quarterback rating of 75. That's not the Aaron Rodgers that Green Bay Packers fans (or anyone for that matter) are used to seeing.
On Sunday, however, Rodgers put on a solid performance, completing 33 of 48 passes for 346 yards with three touchdowns and one interception (it's crazy that three of his six picks this season came against the Bucs). His quarterback rating was 101.6, marking the first time in five NFC title game appearances that he surpassed the century mark.
So with as well as he was playing, it's completely baffling that Matt LaFleur would choose to kick that field goal with just over two minutes remaining instead of putting the ball in Rodgers' hands. Granted, Rodgers had just thrown three consecutive incomplete passes but LaFleur certainly took plenty of heat for the call and Aaron Rodgers himself didn't seem too happy about it either.
But that's just the way things go sometimes and Rodgers now holds an NFL record that no quarterback wants to have.
Aaron Rodgers is the only NFL quarterback since the 1970 merger to lose four consecutive conference championship games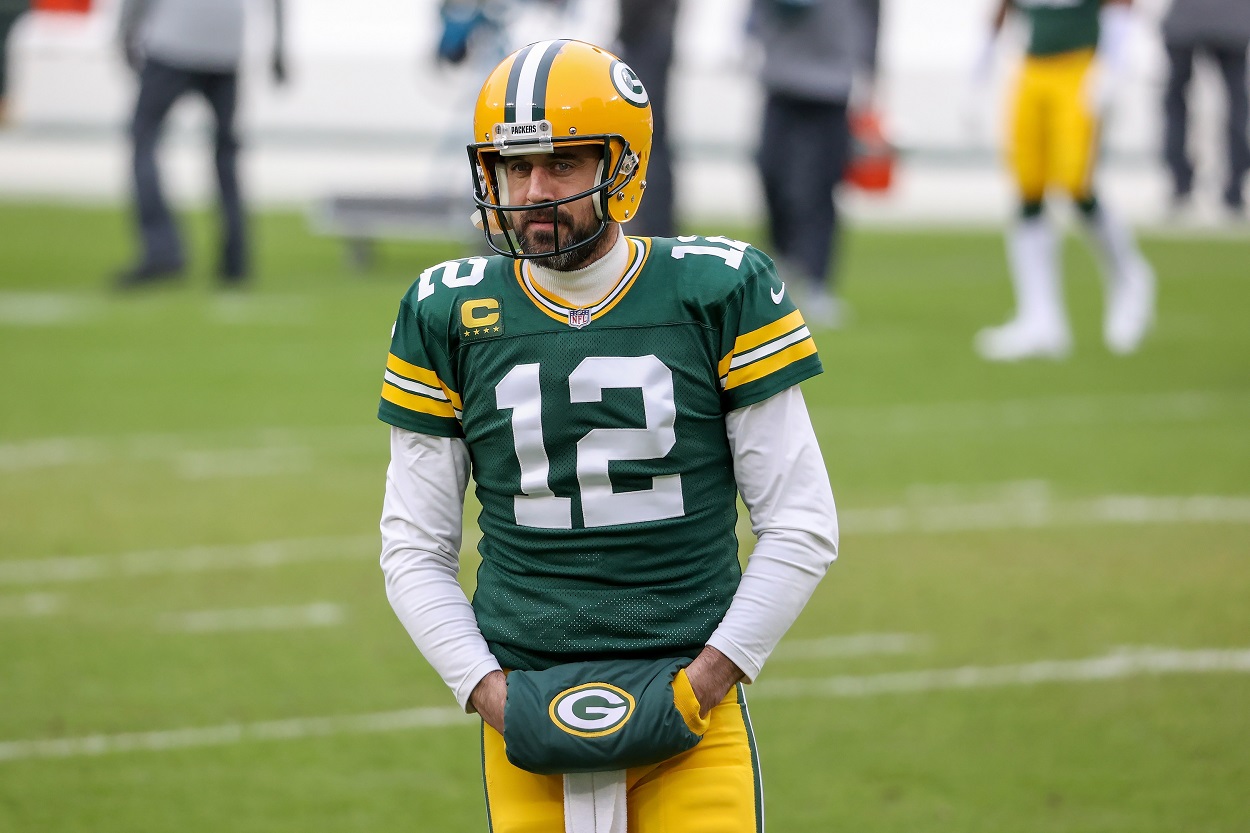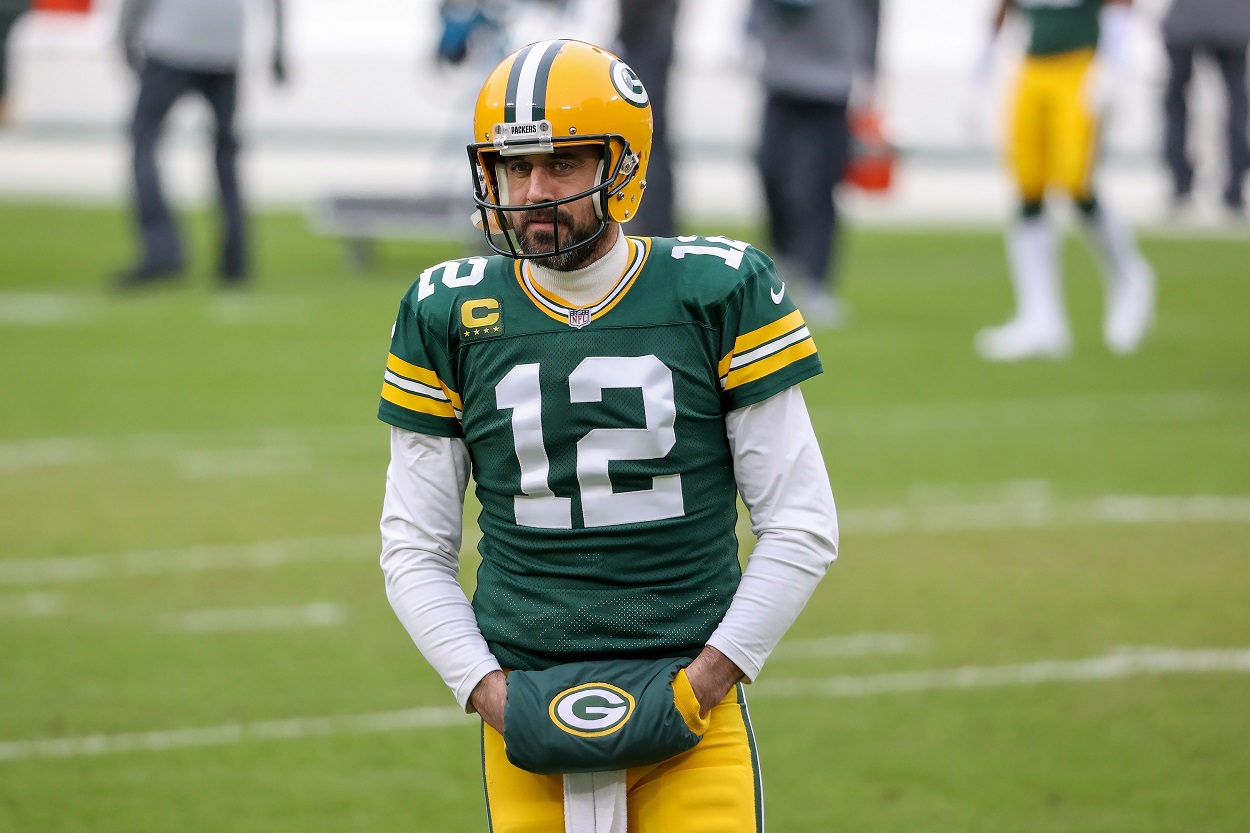 By starting Sunday's matchup with the Bucs, Aaron Rodgers became the 12th quarterback since the NFL-AFL merger in 1970 to start five conference championship games, a list that obviously includes Tom Brady, who started his record 14th conference title game.
With the Packers' loss, however, Rodgers made NFL history by becoming the first quarterback since the merger to lose four consecutive conference championship games. Since winning his first start in the NFC title game against the Bears en route to winning his only Super Bowl following the 2010 season, Rodgers has lost to the Seahawks, Falcons, 49ers, and now the Buccaneers.
That's not the kind of history Aaron Rodgers was looking to make this season. And now we'll just have to wait and see how much more history — good or bad — he makes in a Green Bay Packers uniform.
Stats courtesy of Pro Football Reference