Aaron Rodgers Wants To Set the Record Straight Before His 'Cancel Culture Casket' Is Closed: 'I Realize I'm in the Crosshairs of the Woke Mob'
Green Bay Packers quarterback Aaron Rodgers is telling his side of the story. Whether that helps clear the air around him depends on your interpretation of his thoughts. He has plenty of them, and he's not afraid to share.
Rodgers, who's at the center of a media firestorm because of a positive COVID-19 test he received earlier this week and the ensuing reveal of his unvaccinated status after he stated in August he had been "immunized," is also being rather defensive. That is ultimately his own prerogative, but for a guy who has been the face of one of the most followed franchises in professional sports, let alone the NFL, whining about being misunderstood is a bit of a bad look.
Rodgers believes the "woke mob" is out to get him. He said as much on his recent appearance on The Pat McAfee Show.
Green Bay Packers quarterback Aaron Rodgers thinks the 'woke mob' is coming after him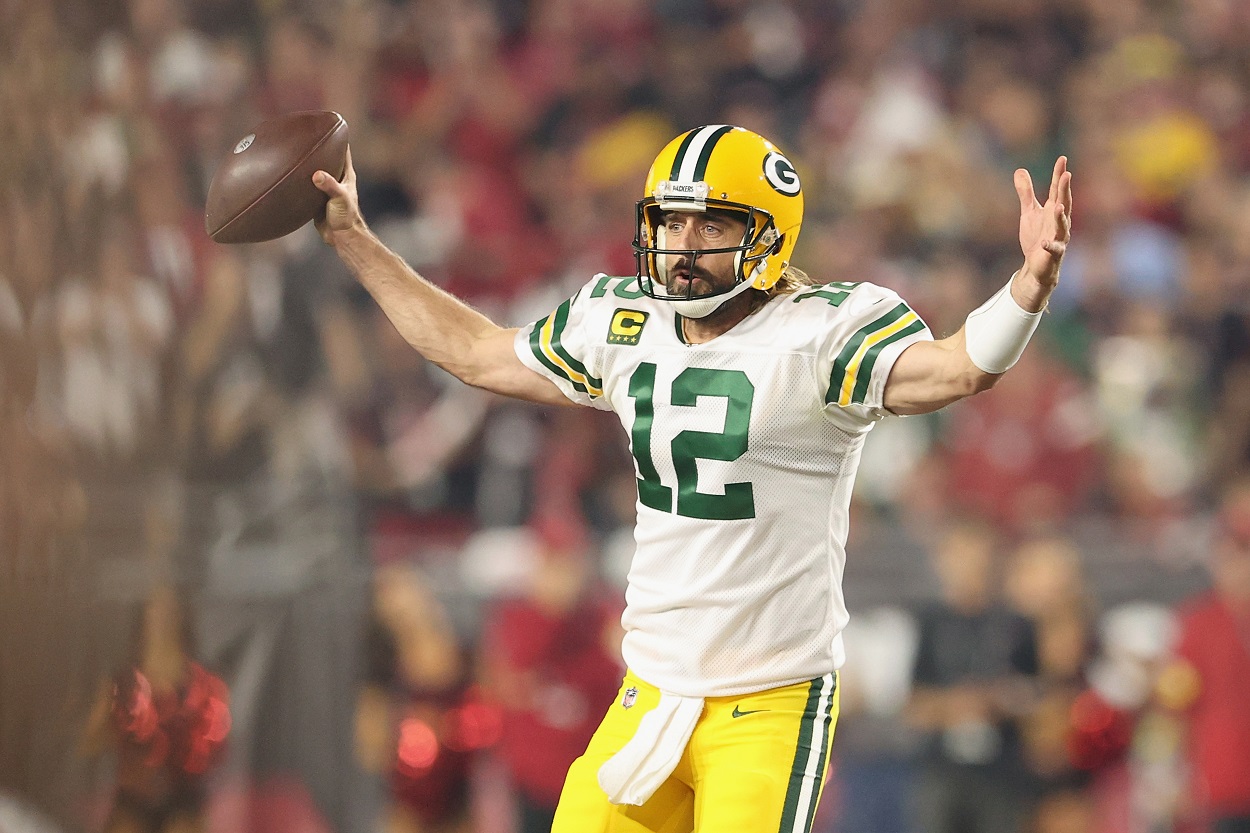 Rodgers has been a regular guest on McAfee's podcast for some time now. His "Aaron Rodgers Tuesdays" segments have become popular because of the laid-back nature of the quarterback, as well as his willingness to have open and honest conversations.
McAfee invited him back for a second time this week to give his side of the story regarding his positive test and the fact he'll be out for this weekend's game against the Kansas City Chiefs. It was probably supposed to be a chance for Rodgers to do some damage control. He instead took time to blame "cancel culture" and the NFL media for misunderstanding him.
"I realize I'm in the crosshairs of the woke mob right now, so before the final nail gets put into my cancel-culture casket, I think I'd like to set the record straight on so many of the blatant lies that are out there about myself right now," he said in his opening statement.
"First of all, I didn't lie in the initial press conference," he went on to say. "During that time, [there] was a witch hunt that was going on across the league where everybody in the media was so concerned about who was vaccinated, and who wasn't, and what that meant, and who was being selfish, and who would talk about it. What it meant if they said it was a personal decision and they shouldn't have to disclose their own medical information and whatnot."
Back in August, Rodgers was asked about his vaccination status by members of the media. The four words he used seemed nondescript at the time, but at this point, they've become infamous.
"Yeah, I've been immunized."
Rodgers says he's not an 'anti-vax, flat-earther'
At the time of the press conference, the Green Bay quarterback was not actually vaccinated by the letter of the NFL law. He had not received one of the three approved vaccines (Moderna, Pfizer, or Johnson & Johnson) but still felt he had protection against the coronavirus because of a homeopathic treatment he received.
Even supporters of Rodgers have to admit that his answer at the press conference was deceiving, but Rodgers does not see it that way.
"It wasn't some sort of ruse or lie; it was the truth," he told McAfee.
The quarterback blamed the miscommunication on a lack of follow-up from the media, but it's worth noting that there was added context to his immunization comment, and it actually came from him. He expanded on his own answer and used the word "vaccinated" multiple times during the August press conference.
"I think I like to learn about everything that I'm doing, and there was a lot of research that even went into that. But like I said, there's been people that have tested positive, and I think it's only vaccinated people here," Rodgers said at the time, per ESPN. "It's going to be interesting to see how things work moving forward. Obviously there could be some issues with vaccinated people only testing every couple weeks and then non-vaccinated testing every day."
During Friday's interview with McAfee, the quarterback went into a long diatribe in which he tried to explain what he would have said had there been a follow-up question. Again, even his line of thinking is a bit misleading.
"I would have said, 'Look, I'm not some sort of anti-vax, flat-earther. I'm somebody who's a critical thinker. You guys know me; I march to the beat of my own drum.'"
Rodgers then took another shot at what he clearly feels is an unfair groupthink that has come against him.
"I believe strongly in body autonomy and the ability to make choices for your body," he said. "Not to have to acquiesce to some woke culture or crazed group of individuals who say you have to do something. Health is not a one-size-fits-all for everybody.
Rodgers took a shot at the NFL's coronavirus safety protocols
Perhaps the most shocking part of Rodgers' interview with McAfee is that the long-time NFL quarterback took a shot at the league.
He clearly wanted to make it known that his decision to seek alternate treatment had nothing to do with being an "anti-vaxer" and more to do with his own research. It does feel helpful to point out here that Rodgers is a professional quarterback and not a scientist, but that didn't seem to stop him from trusting his research.
"For me, it involved a lot of study in the offseason. Much like the study I put into hosting Jeopardy! or the weekly study I put into playing in the game. I put in a lot of time and research and met with a lot of different people in the medical field to get the most information about the vaccines before making a decision," he said.
Rodgers relayed that because of an allergy he has to an ingredient in mRNA vaccines, he was only able to get the Johnson & Johnson shot if he wanted to receive any vaccination. He knew "multiple people who had adverse side effects," though, so he decided against the J&J shot. The Centers for Disease Control and Prevention (CDC) has documented the rarity of various adverse reactions to the Johnson & Johnson shot, noting that "in clinical trials, side effects were common within 7 days of getting vaccinated and were mostly mild."
In his mind, the only option was an immunization protocol that he felt was the best way for him to protect himself and his teammates. The league was aware of the treatment method he chose, but the NFL did not approve his petition to accept his immunization status.
That rubbed Rodgers the wrong way, and it's evident that he took the NFL's stance as another example of "woke" culture.
"If you weren't in the vaccinated category, you were in a different category that involved some draconian measures and protocols that you would have to adhere to," Rodgers said. "Which in my opinion, were not based on science and more based on a shame-based environment to try to get as many guys vaccinated as possible so that the league looks better to the rest of the world. That was the focus of these protocols."
Rodgers then listed out many of the protocols the NFL has asked him to follow as an unvaccinated player. That includes the fact that he has to be quarantined for at least 10 days due to his positive test. He did admit to having some symptoms earlier in the week but claimed to be feeling "really good" at the time of the interview.
According to Rodgers, the measures the league has asked unvaccinated players to take amount to "propaganda." He also stated that he believes the media has it out for unvaccinated people.
"That is what the media has been trying to do. They're trying to shame out and cancel all of us non-vaccinated people [and] call us selfish," he claimed.
Rodgers meant to give his side of the story, which he did. Rather than do damage control, though, the quarterback may have just turned himself off to a massive chunk of the population, including his own fans.
According to the Centers for Disease Control and Prevention (CDC), "Over 423 million doses of COVID-19 vaccine have been given in the United States from December 14, 2020, through November 1, 2021. COVID-19 vaccines are safe and effective."
RELATED: Jordan Love Can Prove the Packers Right by Dealing Unexpected Blows to a Foolish Aaron Rodgers and Struggling Patrick Mahomes