Aaron Rodgers Shoots Back at Critics Who Say He's Not All-In for the Green Bay Packers: 'I'm Invested Completely in This Season'
It was a long offseason for Aaron Rodgers and the Green Bay Packers, but the drama of the summer seems far away now that the colder weather has rolled around
The Packers are 6-1 on the season and have won six straight games. Rodgers' leadership has been a big part of that.
Considering his near-fall out with the team and the fact that he even considered retiring, there have been some critics that have suggested that the MVP quarterback won't be invested in Green Bay's success this season or in the long term.
The couldn't be anything further from the truth, as Rodgers explained during his weekly segment on the Pat McAfee Show.
Aaron Rodgers is having fun and he's invested in the Green Bay Packers' success
Rodgers has been visibly amped up on the sideline multiple times this season, and his passion has translated to a higher level of play for his team. The Packers have been missing multiple players due to injury, remember, but they're still winning games. Without Pro Bowl left tackle David Bakhtiari, Pro Bowl pass rusher Za'Darius Smith, elite cornerback Jaire Alexander, and even all-world guard/tackle Elgton Jenkins (though he's now healthy), it's truly incredible just how steady the Pack has been.
Rodgers has been visibly happier on the field than what we've seen in recent years, even to the point of chuckling with defenders who are trying to take his head off after they've pushed him down to the turf. McAfee wanted to know what the quarterback's secret is in 2021. How is he having so much fun?
"I love football. I'm invested completely in the season," Rodgers said.
Rodgers is happy with who he has around him in Green Bay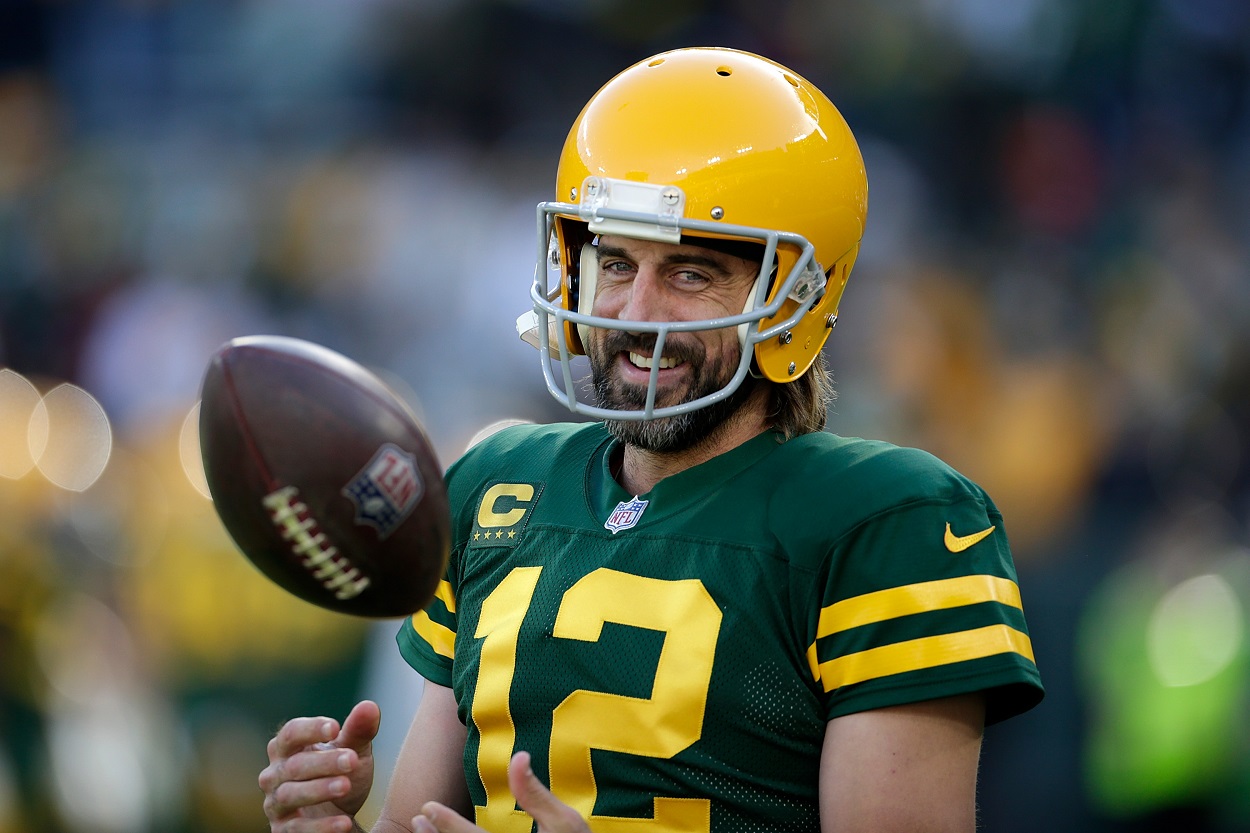 While Rodgers may have had some serious issues with the Packers' front office, it's worth keeping in mind that he's never had anything bad to say about any of his teammates or coaches. In fact, his gripe with Green Bay's leadership seemed to be the fact that they had no qualms letting veteran players go rather than giving them contracts they may not be able to finish at a high level. While that's good team management, Rodgers seemed to suggest that those moves were breaking up team chemistry in favor of saving a few dollars.
While former teammates have criticized him in the past, far many more have openly talked about the type of leader and teammate Rodgers is in Green Bay. When listening to him speak about his level of happiness this season, it's striking that Rodgers spoke a lot about the people around him in Green Bay.
"It's been fun to have some new guys in the mix, new teammates," Rodgers said. "Getting to know them, getting to know some of the older ones a little bit better, to build those friendships."
The quarterback also had high praise for head coach Matt LaFleur and his staff.
"I love the staff. It's such a great group of guys to work with every week. They make things fun and they reinvent themselves every single week with presentations and jokes, and things to keep guys interested."
Does that sound like a guy who wants to leave Green Bay in the offseason?
Winning cures a lot of ills for the Rodgers and the Packers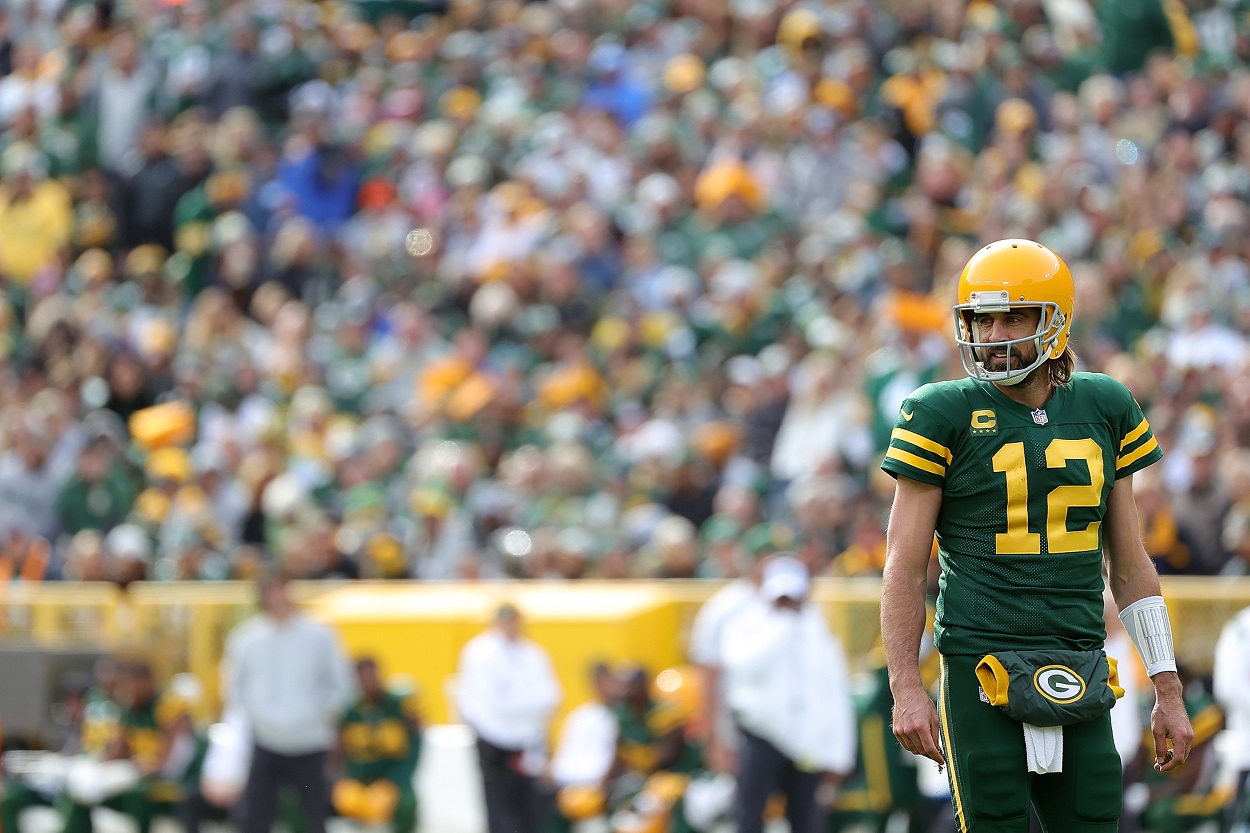 Rodgers is having a good time in the midst of a huge winning streak for Green Bay. Were the Packers struggling or perhaps on a losing streak, maybe things could be different.
To his credit, the quarterback acknowledged that. Their Week 1 loss to the New Orleans Saints notwithstanding, Green Bay has been arguably the hottest team in the entire NFL. It's easy to have fun when you're winning.
Again, instead of boasting about his play or shrugging the importance of the winning streak on his mood, Rodgers did give credit to his teammates.
"We had a rough first week and the world outside of the facility was kind of on top of us. I'm just so proud of our guys to stay the course, and to not panic, and not start pointing fingers or any other bull*** that usually happens when you have a dud like that maybe in other places," the quarterback said.
At the end end of the day, Rodgers and the Pack are just focused on having fun.
"It's a game, man. You gotta have fun with it. You gotta enjoy it," he said.
The fun times for Green Bay as well as the Packers' hot streak will be put to the test this week on Thursday Night Football against the undefeated Arizona Cardinals. The Packers will likely be without star wide receiver Davante Adams and defensive coordinator Joe Barry due to positive COVID-19 tests on Monday.
RELATED: The Green Bay Packers Are Finally Giving Aaron Rodgers What He's Always Needed