Aaron Rodgers Shuts Down Boomer Esiason's Claim That Packers QB Is Reportedly Considering Boycotting Super Bowl 56 over COVID-19 Protocols: 'Dumbest F****** Story Ever'
Article Highlights:
Green Bay Packers quarterback Aaron Rodgers is displeased with CBS Sports' Boomer Esiason
The Cincinnati Bengals great shared a report on Friday, Jan. 7, suggesting the three-time NFL MVP will boycott Super Bowl 56 if the Packers make it that far
Rodgers responded strongly on Twitter and mocked Esiason in the process
Green Bay Packers quarterback Aaron Rodgers has waited over a decade to play in another Super Bowl — and make no mistake, he fully intends on trying to win a second Lombardi Trophy before he retires.
In theory, this isn't even a conversation football fans would expect to have. However, CBS Sports' Boomer Esiason recently shared a report that the three-time NFL MVP will consider skipping Super Bowl 56, assuming the Packers make it that far.
Suffice to say, Rodgers wasn't exactly pleased with Esiason, and he made his frustrations clear on Twitter.
Boomer Esiason shared information from a 'source' regarding Aaron Rodgers' possible Super Bowl 56 status
Rodgers spent his first 16 seasons alternating between rivals. Some years, the Minnesota Vikings presented the greatest threat to his chances of winning a Super Bowl. At other times, the San Francisco 49ers attempted — and often succeeded, especially when Colin Kaepernick started at quarterback — to be an insurmountable object in the Packers' road.
However, Rodgers settled on a new rival over the last year: the media.
In recent months, Rodgers has already feuded with the "woke mob" and Chicago sports media figure Hub Arkush, who said the Packers star isn't deserving of winning his fourth NFL MVP Award because of his reputation as the "biggest jerk in the league" and his unvaccinated status.
Next up is Esiason, who shared a text on the Jan. 7 episode of WFAN's Boomer and Gio from a supposed source. The CBS Sports analyst had co-host Gregg Giannotti read the text, which claimed Rodgers would consider skipping Super Bowl 56 in protest of the league's COVID-19 protocols. 
"[Rodgers] has told Jordan Love to be ready. Like you said, he's got to make it first, but Super Bowl week will be set on fire and send [NFL Commissioner Roger] Goodell in a frenzy navigating the situation."

Gregg Giannotti, reading a text sent to Boomer Esiason
Giannotti asked Esiason if the person who texted the former NFL MVP is "someone that we should be trusting with their information." Esiason responded affirmatively. 
Giannotti later shared an unedited clip of Friday's show in which he and Esiason decided the text in question was a prank. 
Rodgers quote-tweeted the original tweet and included multiple hashtags, including #boycottfakenews. One of the hashtags also featured the phrase "dumbest f—— story ever," albeit without the dashes.
As of publication, Esiason had not responded to Rodgers' tweet.
This isn't the first time Esiason has run into issues with Rodgers this season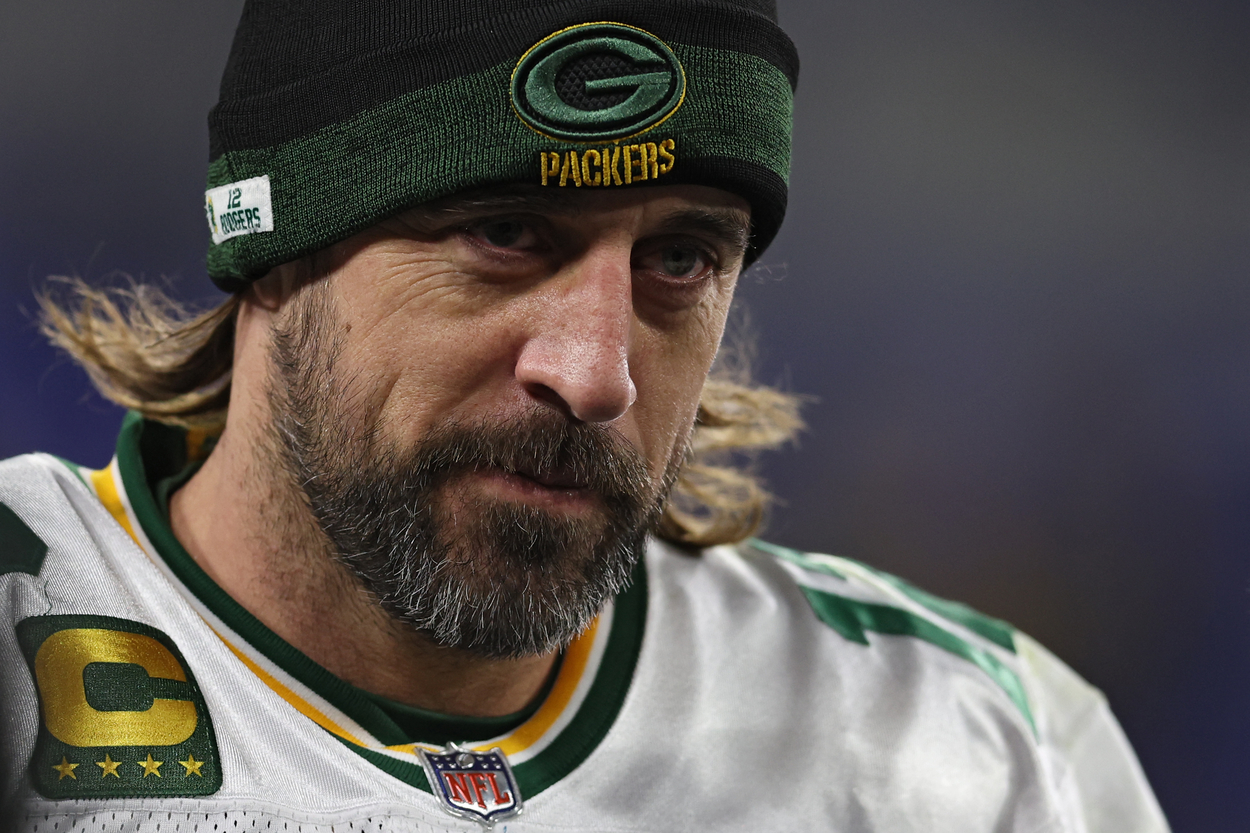 Even if the Esiason-Rodgers incident comes down to miscommunication via @BackAftaThis and an edited clip, don't expect the three-time NFL MVP to be so forgiving. Rodgers has expressed his frustration throughout the season with the traditional media, a group that Esiason — a four-time Pro Bowl quarterback in his own right – falls under.
It is worth noting, though, that this isn't the first kerfuffle involving these two quarterbacks. Back in November, Esiason torched Rodgers on CBS' The NFL Today in the days after the latter's infamous rant on The Pat McAfee Show regarding his vaccination status.
"I love Aaron Rodgers as a player, but I am sick of Aaron Rodgers off the field. And he really let his Green Bay Packers down. … So whether you're upset about Jordan Love being drafted, or whether you're upset because your way of immunizing yourself wasn't looked at as a vaccination, you have let down the Green Bay Packers."

Boomer Esiason
Rodgers did not address those comments following his return to the Packers or in subsequent appearances on McAfee's show.
The thought of Rodgers using another platform to share his COVID-19 beliefs isn't exactly unrealistic
Although Esiason and Giannotti decided the text in question was a prank, don't be surprised if Rodgers uses any potential Super Bowl platform to share his beliefs — and potential misinformation — about the coronavirus, vaccines, science, or anything else on his mind.
Rodgers already established he doesn't care what people think of him or his outlook on certain topics. McAfee's show provides the three-time NFL MVP with a safe space to profess his beliefs about how "if science can't be questioned, it's not science anymore" and why the league must consider alternative COVID-19 treatments.
Now, imagine what will happen if Rodgers takes the stage during Super Bowl media week. Few, if any, will be able to stop him from criticizing anyone in his path on the world's biggest stage.
If you're the NFL, the thought of Rodgers boycotting all media obligations during Super Bowl week might not be a bad idea after all.
According to the Centers for Disease Control and Prevention (CDC), "Over 423 million doses of COVID-19 vaccine have been given in the United States from December 14, 2020, through November 1, 2021. COVID-19 vaccines are safe and effective."