Aaron Rodgers Slams the 'Woke Mob' and 'Cancel Culture' While Explaining His Tirade Against Bears Fans: 'I Don't Regret It at All'
Aaron Rodgers broke the internet in Week 6 of the NFL season when he rushed for a touchdown to put the Green Bay Packers (5-1) up two scores on the Chicago Bears (3-3) and proceeded to mock the crowd.
The "I own you" game, as we'll forever call it from this point on, will go down in history as one of the greatest, and most heated, moments in the rivalry between the two iconic franchises. It will also go down as one of the greatest moments in trash talk history. Rodgers' profanity-laced tirade against the Chicago crowd goes right up there Terrell Owens celebrating on the Dallas Cowboys star, or Randy Moss "mooning" the crowd at Lambeau Field in the 2004 NFL Playoffs.
Rodgers caused a ruckus, and whether for or against his rant, the whole NFL world talked about it.
The MVP got a chance to discuss the moment in-depth on his weekly appearance on the Pat McAfee Show. Not only did he go into the reasons behind his taunt, but he believes the reaction to his rant says a lot about our culture as a whole.
Rodgers went deep.
Aaron Rodgers explained that his trash talk was completely spur of the moment.
It was truly the biggest play of the game. With the Packers up only three after Bears' rookie quarterback Justin Fields led his team to a touchdown on the drive before, Rodgers led the Packers on a massive fourth-quarter drive of their own. With 4:30 to go in the fourth, Rodgers broke the pocket, made a pump fake, and scampered to the front of the end zone for an absolute dagger of a touchdown. The Packers went up 24-14, which ended up being the final score.
Rodgers knew how big the play was for his team. He also was greeted by some understandably upset Bears fans in the stands directly above the corner of the end zone. That's what led to his comments.
"I get down to my knee and I looked up, and all I can see and hear were obscenities. I don't know, it just spur of the moment hit my mind," Rodgers told McAfee. "I talked about the 'blacking out' idea. I did not plan on telling the crowd that I owned them. Based on the statistical reference of my career win percentage down there and against them, definitely, our teams have done some good things."
"I don't regret it at all," Rodgers went on to say.
Rodgers thinks any negative reaction to his smack talk is due to 'woke, PC culture'
Fans of the Packers obviously loved the moment from Rodgers, as it showed just how bought-in he really is. The MVP's trash talk didn't go over well with everybody, though, and it certainly didn't go over well in Chicago.
For his part, Rodgers wasn't worried about any negative reactions. In fact, he thinks that they're actually an indictment on the current state of things.
"That is the state of our media and really our culture. This woke, PC (politically correct) culture," Rodgers ranted. "There's a PC, woke culture that exists and there's a cancel culture at the same time, and it's based on people's own feelings of maybe [being miserable] or a distaste for their own situations or life. Or just the enjoyment of holding other people down under their thumb."
Rodgers has clearly felt some frustration over how he's been covered over the years. Some critics say that perhaps he's not a great leader or that he's not fully engaged, especially after the offseason he and the Packers just had. The quarterback opined on that topic, and largely took shots at lazy narratives in the media. He called storylines about his leadership and family "ridiculous".
He also spoke at length about his show of emotions, or lack thereof, at times.
"I have been there unfortunately before in a few dud games, and people think I don't have enough passion or I don't care about what's going on. That I'm passionless and not all in," Rodgers explained. "When I make a statement after a touchdown run that puts us up two scores, now I'm not a sportsman? Now I'm making this s*** about me?"
Rodgers does think he can remain above the fray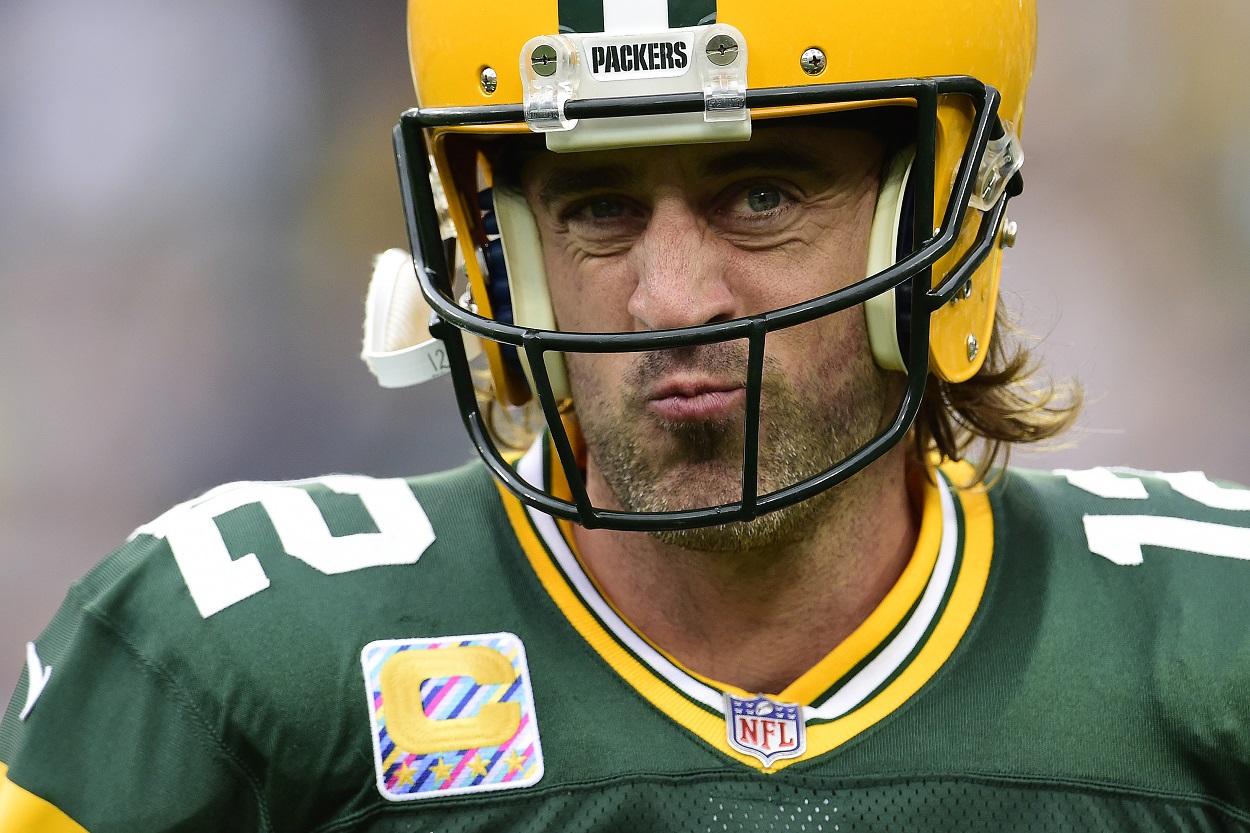 "Ultimately there's a game within the game, right? And in this game, there's a player and there's a game. And if the player abides by the rules of the game he's a part of the game," Rodgers went on to say, getting almost too philosophical.
That's been his aura over the past few seasons, but he's especially dipped into a mystical mindset lately. After the Packers lost in the NFC Championship last season, the quarterback called his future with Green Bay a "beautiful mystery".
"The rules of the game are that you must acquiesce with the woke mob at all times. You must," Rodgers continued. "However, when you live above the game the game does not exist, and that's where I'm at."
Rodgers relayed that he's happy to be able to speak in a long-form discussion with McAfee on a weekly basis and, that he thinks it allows people to see him in a bit of a different light. That he doesn't just speak in cliches and that he does actually have a personality, thoughts, and opinions.
Throughout the years, quarterbacks have been asked to be the faces of NFL franchises, and they've often been asked to act almost as public relations agents. Rodgers has never really brought Green Bay much bad publicity, but there has been a shift in the quarterback since this offseason. He's been more open and honest, and that's not something most people are used to from NFL quarterbacks.
"I don't look at myself as a victim. I don't want people to feel bad for me because of the spotlight that I'm in, and the platform that I have, and the scrutiny that comes with it. I accept all of it, I really do," Rodgers said.
"I don't have a problem with it. I just think for me, it helps me to keep sane when I can recognize and point out that there is this culture that exists that gets off on shrinking people, keeping them small, keeping them in a box, quieting them through cancellation or demeaning comments. I also exist outside of that in a different realm where I do feel confident in the things I say. I do stand behind in the things I do, and I like to speak the truth."
"I'm not a part of this woke cancel culture that gets off on trying to silence people all the time," the MVP quarterback said.
Some might tell Rodgers to "stick to football" upon hearing his thoughts on our culture as a whole, but Rodgers is right in the fact that his opening up on a weekly basis has made him more vulnerable and real.
Perhaps instead of hosting Jeopardy when he retires, a career in politics is in order for the three-time MVP.
Stats courtesy of ESPN and Pro Football Reference.
RELATED: Aaron Rodgers Drops a Major Hint About His Future With the Green Bay Packers After He Broke the Hearts of Bears Fans