Aaron Rodgers Gives Subtle Hint About Retirement: 'I Like What This Feels Like'
Green Bay Packers quarterback Aaron Rodgers often gets compared to Tom Brady, but truthfully, the two quarterbacks couldn't be any more different.
Brady eats, sleeps, and breathes football. He wants to play until the day his body gives out, which at this point may be when he's an actual senior citizen. Rodgers, on the other hand, clearly has interests outside of football. He's also already made peace with the thought of his life after the NFL. This, according to what he had to say on the latest edition of "Aaron Rodgers Tuesday."
Green Bay Packers QB Aaron Rodgers has been away from his team quite a bit this season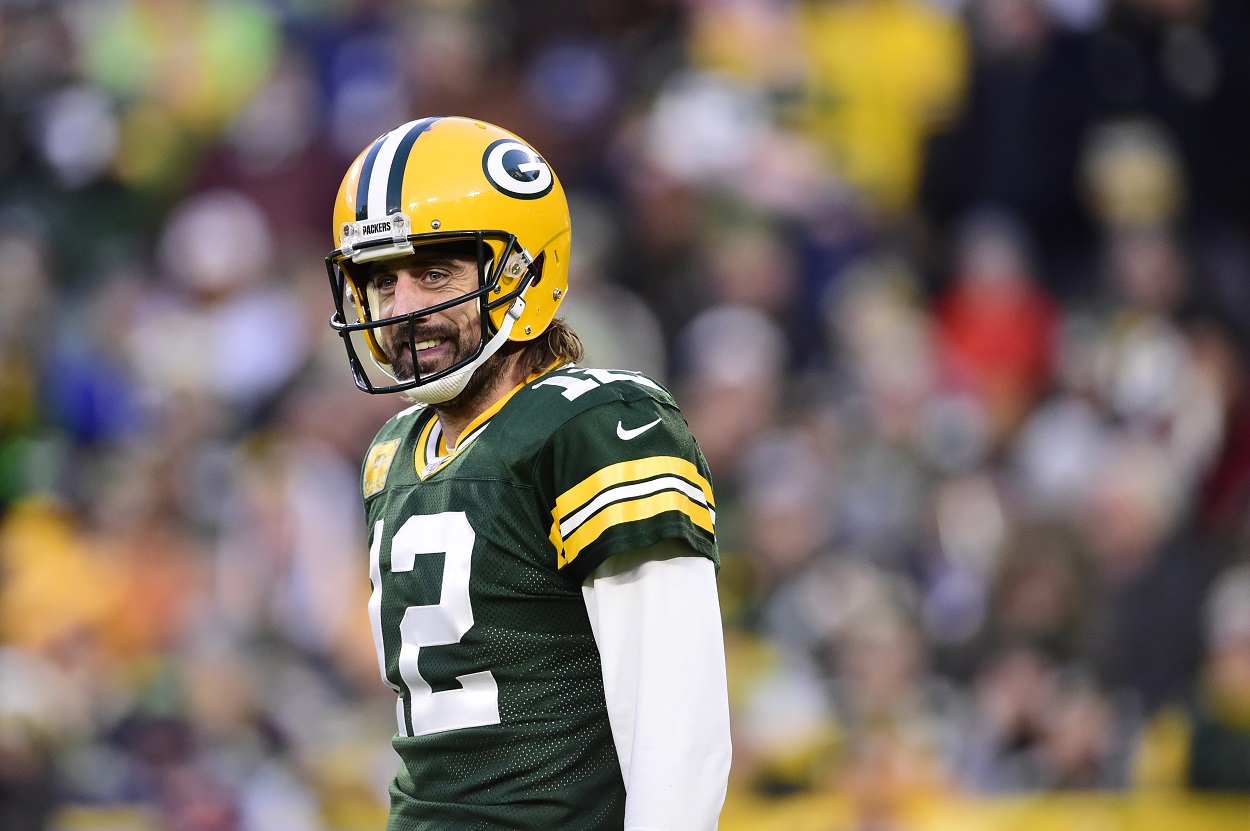 Making his usual appearance on The Pat McAfee Show, Rodgers was pretty blunt about the fact that he gave life without football a good hard look. He's also had a less than conventional experience with the team this season.
He was, of course, the center of an offseason storm that featured rumors of him wanting to be traded and even considering retirement. He confirmed many of those rumors to be true upon his return to Green Bay for training camp.
Rodgers recently also had to quarantine for ten days due to receiving a positive COVID-19 test while being unvaccinated. That caused the quarterback to miss Green Bay's game against the Kansas City Chiefs and a whole week of practice leading up to the Packers' game against the Seattle Seahawks. He took part in meetings virtually before the Seattle game but couldn't get back to the facility until the Saturday before the game. He's also missed most of the practices leading up to Green Bay's loss to the Minnesota Vikings this past weekend with an injured toe.
In general, Rodgers has spent more time away from the team than with the team as of late.
Rodgers has stared down a life without football
McAfee wanted to know what Rodgers took away from his time away from the team.
"When I spent time this offseason working on myself and away from the team, enjoying my time off, it kind of started to feel like what retirement might be a little bit," Rodgers explained.
Speaking to McAfee and his former Green Bay teammate A.J. Hawk, both retired NFL players in their own right, Rodgers felt that they could relate to missing teammates and the camaraderie part of football while still enjoying no longer being in the league.
"I got to feel that, he said. "Regardless of who we are, there's at least a minimal level of fear about what that next chapter looks like. I think this offseason, I faced that down and said, 'It feels pretty good. I like what this feels like.'"
"I'm not worried about life after football, Rodgers went on to say.
Though he's not worried about a football-less future, it is worth noting that even though the quarterback mulled leaving the game, he did ultimately come back to the Packers for at least one "last dance."
"I was still training and dedicated to coming back if things looked the right way, and I'm so glad I did," he said. "I've had a blast with these guys."
Rodgers is still in it for his teammates but will his other interests pull him away from football?
Though it does sound like he'll be comfortable retiring from the NFL one day and he won't be one of those players who hang on far past their prime, Rodgers is still at least enjoying himself.
It helps that he's coming off an MVP season and can still play the game at an extremely high level, but you get the sense that interacting with his teammates is really the draw for the 37-year-old.
"I really missed the guys. I really missed the locker room," he said, looking back on his quarantine.
Rodgers mentioned that joking around with his teammates and having fun while still preparing to be one of the top teams in the NFL is a highlight for him.
"[It's] all the little things that make the week passable as you're getting ready for the most important and fun part, the game," he said. "There's soo many great things. I missed those a lot. Continuing to cherish those and have a lot of gratitude to still be doing this. To get to play."
Rodgers has at times been criticized for being aloof or even for being a bad teammate, but the way he spoke to McAfee and Hawk about missing his teammates shows a different side of the three-time MVP.
He's invested in the team around him, and there's no doubt that he wants to help Green Bay win another Super Bowl this season.
The question is whether or not he'll be invested in continuing his football career once the offseason rolls around and that good feeling of not being in the NFL comes back.
The fact that he's already made peace with no longer playing football has to be concerning for fans that want to see Rodgers play for many more years to come.