Aaron Rodgers Suspects Members of Packers Coaching Staff Are Leaking Rumors About Him
Green Bay Packers quarterback Aaron Rodgers was considering getting surgery on his ailing toe. Then he wasn't. Now he's going to wait to see how the toe heals. Who can keep it all straight?
Rodgers is no stranger to internet speculation. He's a superstar quarterback and one of the biggest names in sports, not just in the NFL. There are going to be rumors about him. Perhaps for the first time publically, though, Rodgers has revealed that he has a suspicion about where some of those rumors are coming from.
Aaron Rodgers suspects rumors are coming from inside the Green Bay Packers
Rodgers' injured toe is the talk of the town. So much so that he even stuck it right in front of his webcam in one of the more memorable press conferences you'll ever see.
The problem for those following along is that Rodgers' plans regarding his toe during the bye week are scattered. Is he getting surgery? Is he going to let it heal? Reports and rumors have swirled around the NFL's most famous pinkie toe. Speaking on The Pat McAfee Show, Rodgers has an idea where some of that info could be coming from.
"With these reports, I don't know where they're coming from. I don't know who's talking. [It] seems like there are certain coaches that may have friends in the media that they don't realize are actually just trying to report things," Rodgers said.
A.J. Hawk, Rodgers' former teammate in Green Bay, asked the quarterback to clarify that he thinks the leaks are coming from the coaching staff.
"Yeah, A.J, you've known about that," Rodgers said. "There are guys for a while who've had their people they would leak stuff too."
The facts: Rodgers was to avoid surgery on his toe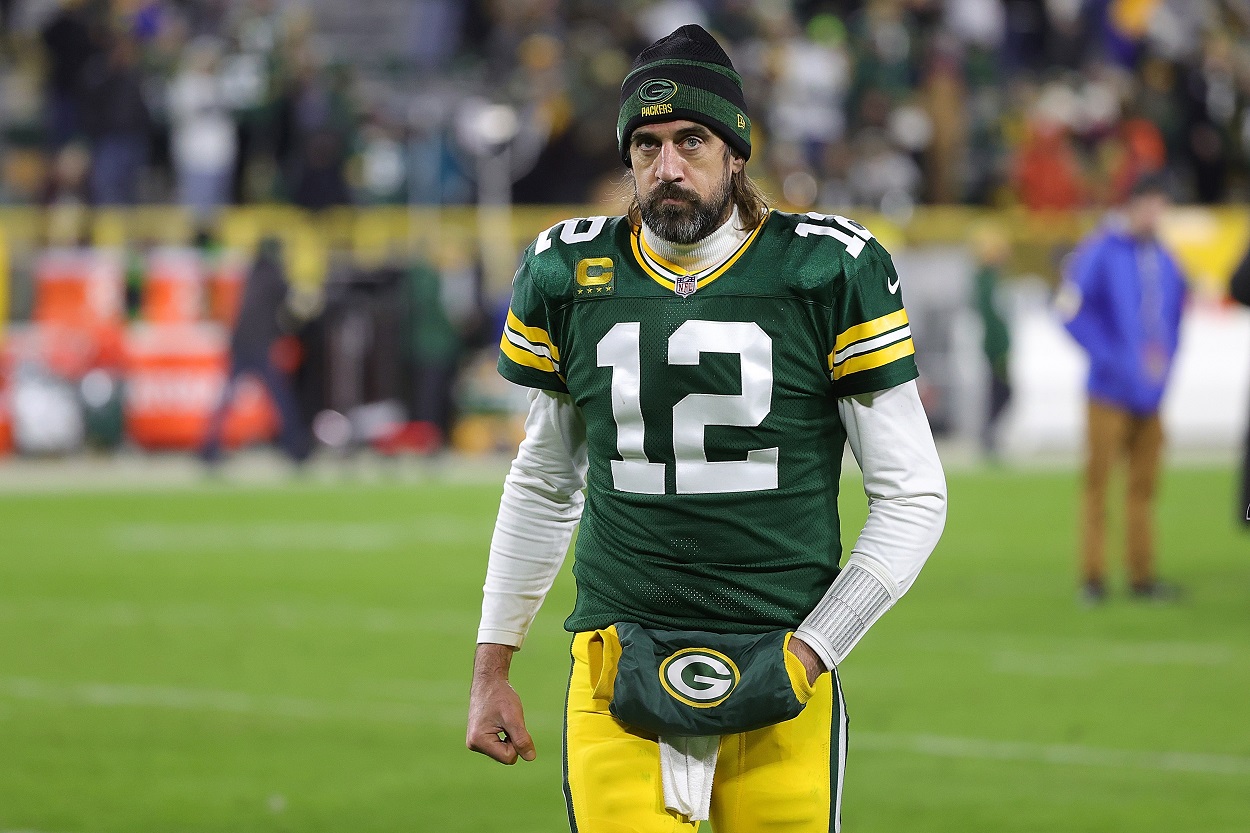 Taking it from Rodgers himself, he would like to avoid getting surgery on his toe. Though it would help him avoid any further injury, it sounds like the quarterback is not sure that would be worth it.
"The surgery would immobilize the toe, and that would be an issue the entire season. That would avoid any further displacement, but it would immobilize the toe," he explained. "We're hoping that with a couple of weeks here we can get enough healing that maybe we can avoid doing that."
Frankly, the bye week has come at a perfect time for Rodgers. He was injected with a pain killer before the win over the Los Angeles Rams, but by the end of that contest, he was visibly hobbled. Rodgers said that some of that was because his foot was stepped on, but as McAfee and Hawk pointed out, the toe is now a known vulnerability the reigning MVP is dealing with. Defenses may try to take advantage of that information.
The best thing for Rodgers and the Packers long-term this season is for that toe to get to a spot where it no longer bothers him in the game.
It sounds like staying off of it and allowing it some time to heal is Rodgers' preferred method of getting back to 100%.
"We'll assess later this week and early next week, but the ultimate goal is not to have to do surgery," he said.
Can Rodgers win another MVP for the Packers?
Getting Rodgers back to full strength is going to be key to a Packers Super Bowl run.
Without him, Green Bay may have struggled to make the playoffs this season, let alone have bigger aspirations. Just look at the measly seven points Jordan Love provided in Rodgers' absence.
With Rodgers, though, Green Bay is undoubtedly a contender.
He doesn't have the most yards or touchdowns thrown this season, but he is in the midst of another campaign that is seeing him play elite football.
He completed 28 of 45 passes against the Rams for 307 yards, two touchdowns, and no interceptions. He also ran in a touchdown, making one of the best athletes in the NFL look silly in the process.
In total this season, Rodgers has completed 247 of 373 passes for 2,878 yards, 23 touchdowns, and just four interceptions. He's connected on 66.2% of his passes, which is one of the best marks of his career to date. He's also rushed 24 times for three touchdowns and has picked up eight first downs for the Packers with his legs.
There's little doubt that Rodgers is among the group of players vying for MVP in 2021.
Not bad for a guy who is about to have his 38th birthday. Now he's just got to get those pesky coaches in check and tell them to stop blabbing to the media.
Stats courtesy of ESPN and Pro Football Reference.