Aaron Rodgers Thought His Packers Days Were Over Long Before the 2021 Offseason
Green Bay Packers quarterback Aaron Rodgers just made a surprising admission that informs his actions this offseason.
Rodgers put up some tremendous stats during the 2020 campaign en route to his third NFL MVP Award. He led the Packers to the NFC Championship Game, where they eventually fell to the Tampa Bay Buccaneers. That postgame press conference is when Rodgers first hinted at the blowing winds of change.
It all makes sense now, as Rodgers came into the 2020 season thinking it would be his last in Green Bay.
Aaron Rodgers thought his Packers tenure would be over after 2020
The Aaron Rodgers offseason drama dominated headlines. He had spent his entire career in Green Bay but suddenly seemed determined to leave the Packers while taking shots at the front office.
Rodgers sometimes seemed narrow-minded and obstinate in his approach to the whole situation. That's probably because he came into the 2020 campaign with the notion it would be his final season with the Packers.
Well, that statement seems pretty telling. In many ways, that mindset makes Rodgers' spectacular 2020 season all the more incredible.
Rodgers easily could have been timid or checked out, given his feeling he was not long for Green Bay. Instead, he had perhaps the best season of his career.
The Packers signal-caller completed 70.7% of his passes for nearly 4,300 yards and 48 touchdowns against just five interceptions. He led the NFL in adjusted net yards per pass attempt (8.89) and total quarterback rating (84.4). Essentially, Rodgers made the gridiron into his own personal showcase every time he stepped on the turf.
However, Green Bay couldn't put a stamp on a terrific season after losing a nail-biter to the Tampa Bay Buccaneers. Chaos ensued, with Rodgers openly expressing his discontent with Packers management.
Months and months of drama came to an end when Rodgers and the Packers reached an agreement on a new contract that could allow Green Bay's quarterback to seek an out at the end of the 2021 season.
Rodgers' future remains incredibly uncertain. Still, he now appears as content and comfortable as ever.
Rodgers is leading by example early in camp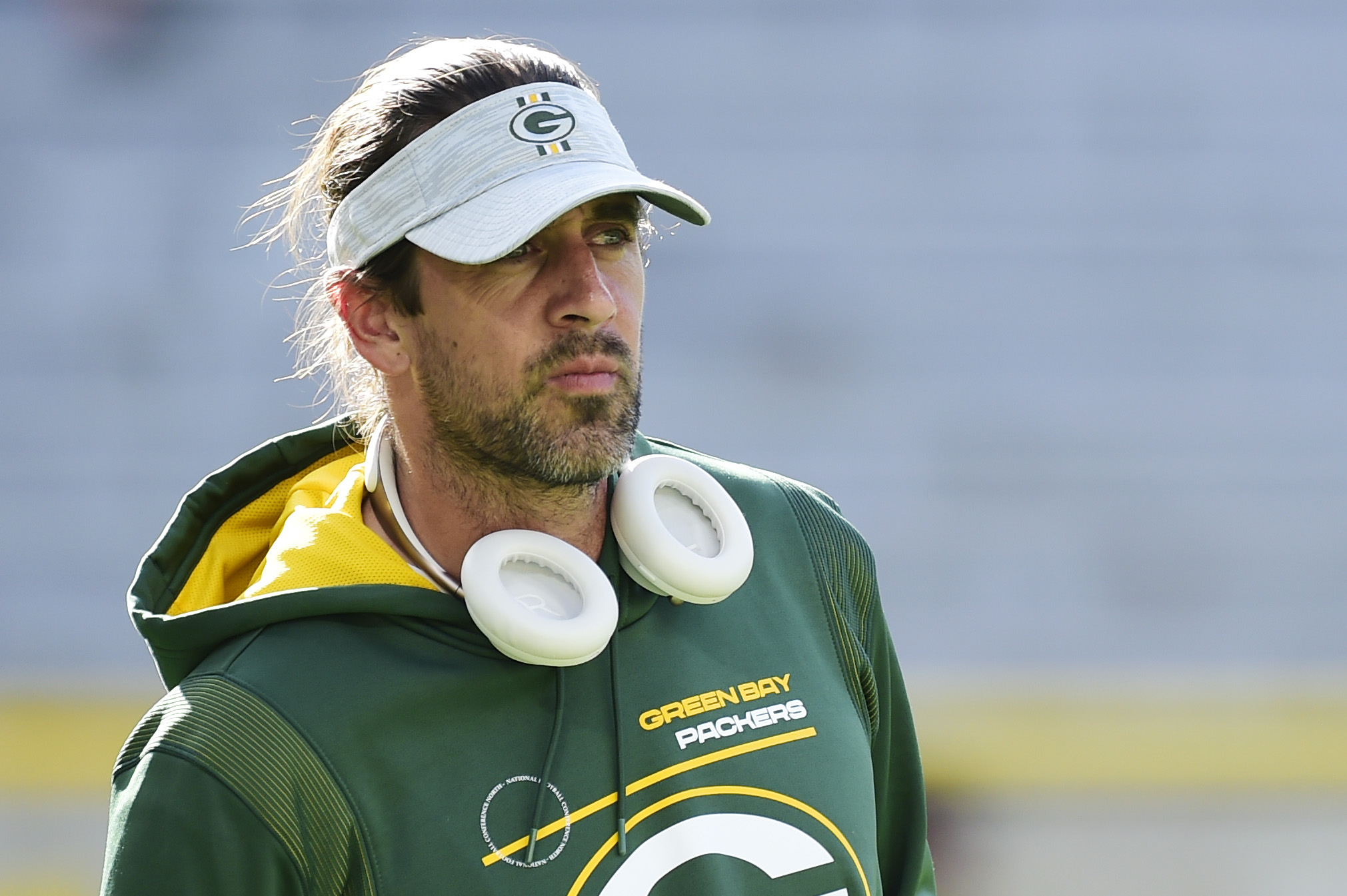 Packers head coach Matt LaFleur sees a version of Rodgers who is anything but disgruntled.
LaFleur's relationship with Rodgers grew exponentially in their second season together. While Rodgers' holdout and absence during mandatory minicamp might not have been stellar examples of leadership, LaFleur understood his quarterback still had the best message for his team as camp began.
Alas, LaFleur asked Rodgers to address the team after the first practice. Rodgers told King he spoke about enjoying the present moment.
"I talked about a positive mindset," Rodgers told King about the speech. "I did want to assure the guys how special it was to be back, how committed I am to the team, how special the relationships are to me, how focused I am on this season and accomplishing all of our goals. But I talk a lot about positivity, about a mindset, about manifestation, about embracing the journey. That stuff that's really important to me. Be present. This is a great time in our lives."
Is that the tone of someone preparing for his own "Last Dance" of sorts? Perhaps, but Rodgers is still embracing the journey and elevating his Packers teammates as he goes.
"This is the best Aaron's been around the team since I've been here," LaFleur told King. "I turn around at practice sometimes, and I see him with his arm around [rookie center] Josh Myers or maybe [right guard] Lucas Patrick, explaining everything they need to know."
Green Bay's fiery leader is dialed in. Can he lead the Packers to a Super Bowl?
Can the Packers win the Super Bowl?
Rodgers' return to the Packers galvanized the team's Super Bowl odds. Is Green Bay built to dethrone the Buccaneers in the NFC?
The Packers should have one of the best offenses in football with Rodgers back under center and Aaron Jones in the backfield after agreeing to a new contract with Green Bay this offseason. Davante Adams might have his own contract dispute with the team, but it's unlikely to impact his performance on the field. General manager Brian Gutekunst also heeded Rodgers' wishes to bring back veteran wideout Randall Cobb.
What about the defense? Jaire Alexander is one of the best cornerbacks in the NFL. Adrian Amos and Darnell Savage form what might be the best safety combination in football. Za'Darius Smith is fresh off back-to-back Pro Bowl seasons.
Green Bay has the defensive personnel, though it could use better performances at the other outside corner and slot corner. The Packers will also need more from the defensive line. Still, the 2021 team should be every bit as good as the 2020 squad that went 13-3.
Rodgers thought he was done at Lambeau Field. But Green Bay's quarterback gets another chance to lead the franchise to a Super Bowl, an opportunity he won't take lightly.
Stats courtesy of Pro Football Reference.