While Aaron Rodgers Threatens To Overshadow His First NFL Start, Jordan Love Has Confidence That Will Calm the Storm for the Green Bay Packers
Green Bay Packers quarterback Jordan Love is set to get his first-ever NFL start. He'll be taking on Patrick Mahomes and the Kansas City Chiefs in a game that he'll undoubtedly remember for the rest of his life. It's also a game that's quite important for the Packers.
Green Bay is 7-1 and on a seven-game win streak. The Packers have earned that record much in part because Aaron Rodgers has been playing like an MVP again, but he's going to miss this matchup because he's quarantined from the team due to a positive COVID-19 test while being unvaccinated.
Haven't you heard?
The Rodgers news, and the fact that he had previously misled the media about his true vaccination status, had been the talk of the week around the NFL. His unhinged follow-up interview on the Pat McAfee show then proceeded to set the internet on fire.
Amid the distractions, Love is trying to prepare for the most significant moment of his young career.
Aaron Rodgers took an already big story and turned it into a circus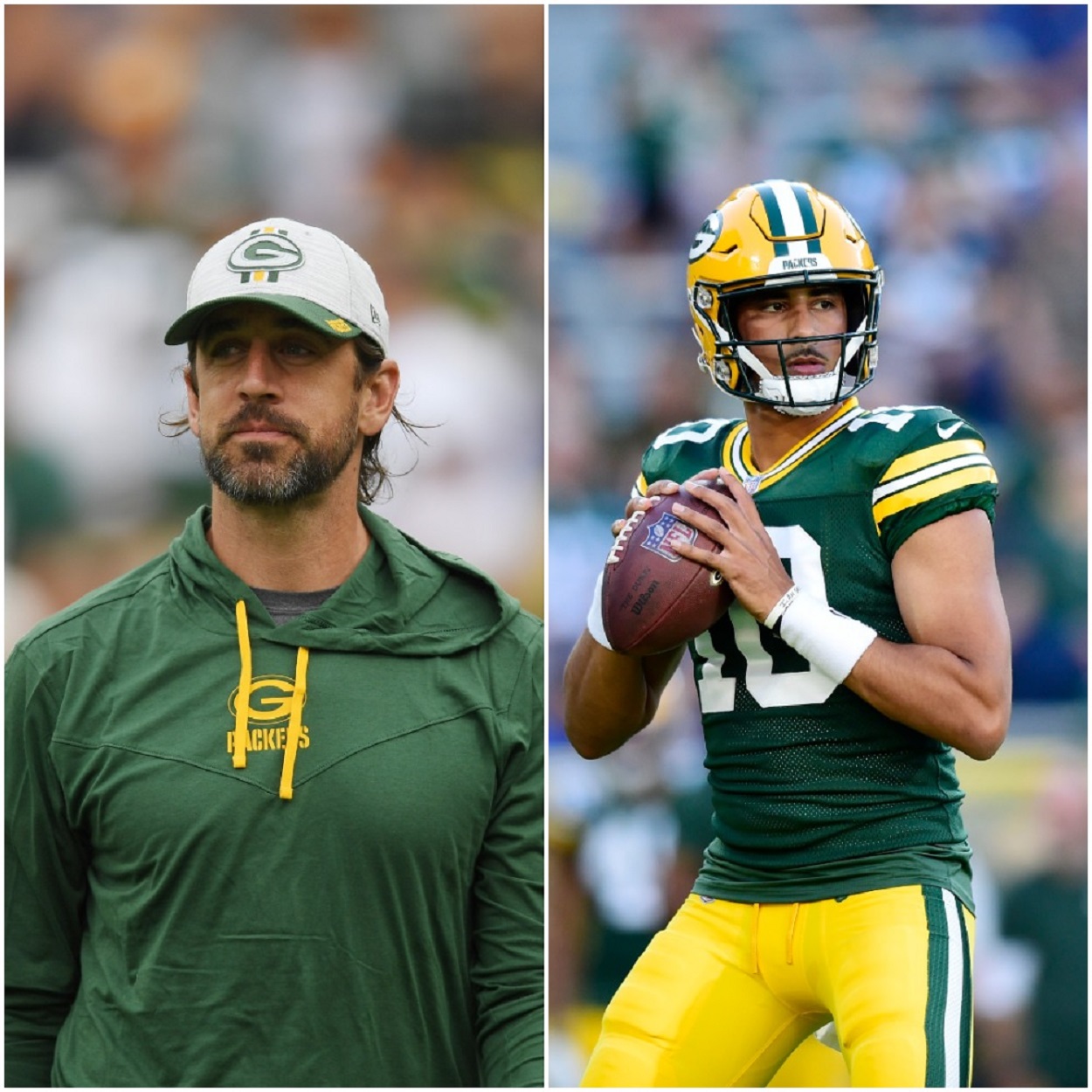 The fact that Rodgers had misled both the media and the fans about his vaccination status was news enough. Still, then he went on to vent his frustrations to McAfee in a lengthy and controversial diatribe that had just about everyone talking.
Some of his talking points were valid enough. He revealed an allergy to an ingredient in mRNA vaccines, which made two of the three major coronavirus vaccines unavailable to him. He also mentioned that he believes strongly in body autonomy and that health care looks different for every individual.
While some of what Rodgers had to say made sense, many of his comments were outlandish.
Despite having a standing slot on one of the most listened-to podcasts in the sports world, Rodgers seems to think there is a "woke" group of people trying to "cancel" him. For someone who says he doesn't care about politics, he sure knows how to use buzzwords like a seasoned senator.
"I realize I'm in the crosshairs of the woke mob right now, so before the final nail gets put into my cancel-culture casket, I think I'd like to set the record straight on so many of the blatant lies that are out there about myself right now," he told McAfee before getting into his talking points.
He tried to paint himself as some kind of voice of the voiceless in the general conversation about vaccines, going as far as to quote Martin Luther King Jr. He also mentioned that he got medical advice from Joe Rogan, who once hosted "Fear Factor."
"I made a choice that was in my best interests. You might respect it, you might hate it. But I bet you the same people that hate it are the same people that are really going to hate the fact that I'm 48 hours in, and I consulted with a now-good friend of mine Joe Rogan, after he got COVID, and I've been doing a lot of the stuff that he recommended in his podcasts and on the phone to me," he said. "I'm going to have the best immunity possible now, based on the 2.5 million person study from Israel that people who get COVID and recover have the most robust immunity."
It was a manifesto from Rodgers as much as it was an interview. It left his critics validated and many of his fans shaking their heads.
It also put the Packers in a terrible position.
The Green Bay Packers had to answer for Rodgers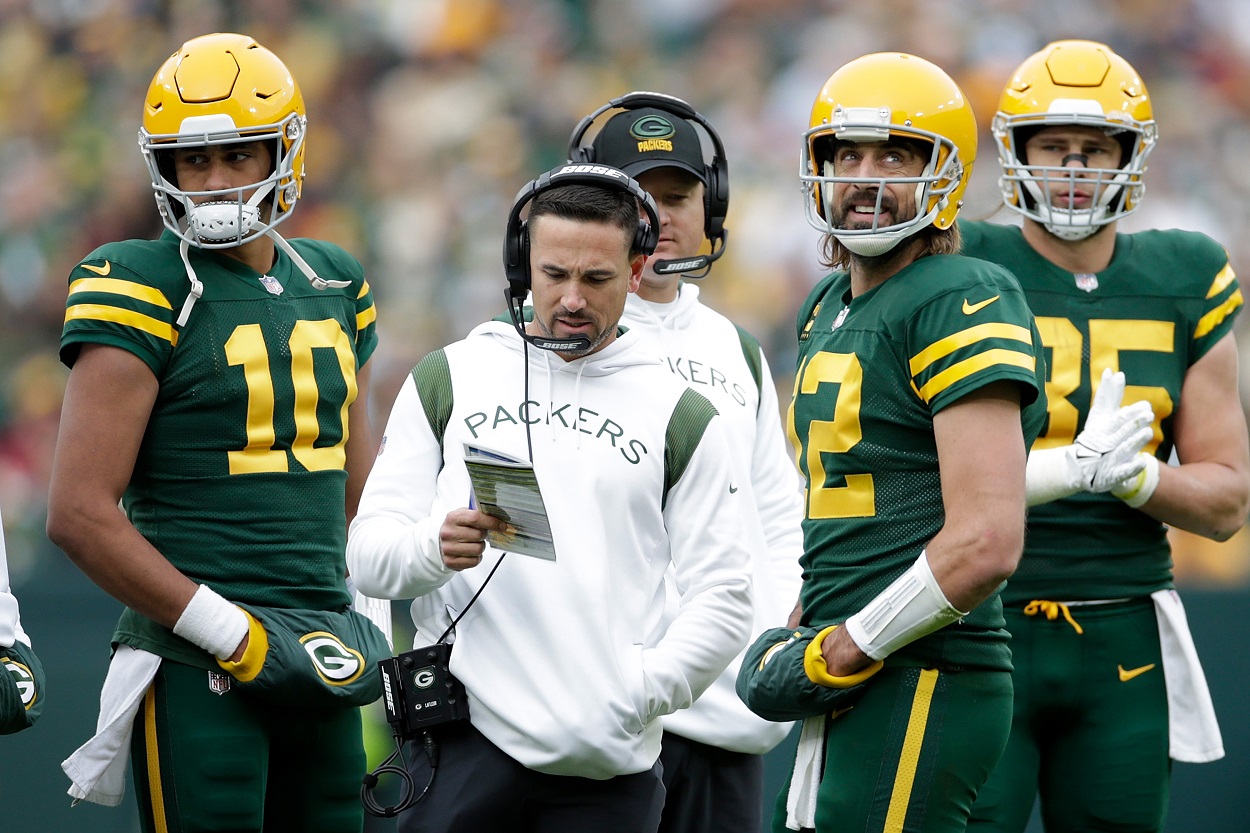 Ahead of one of the biggest games of the season, head coach Matt LaFleur was peppered with questions about Rodgers' interview.
No, the main story wasn't about how Green Bay's offense would operate with Love under center. It wasn't even about how the Packers' defense would look to attack a struggling Mahomes.
When the focus on the team should have been on traveling to Kansas City and continuing the league's most impressive win streak, LaFleur had to answer questions about his quarterback's wild ride with McAfee.
Sports Illustrated painted a picture of a coach who was not in the mood to talk, especially since Rodgers was basically the warm-up act to his press conference.
When asked whether he would watch the interview that captivated the sports world on Friday, LaFleur answered, "Most likely no."

When a reporter apologized for bringing up the Rodgers interview, LaFleur snapped back: "Then don't ask it. Ask something about the Kansas City Chiefs or our football team. I'm not going to answer anything else."
Davante Adams was also asked about the who saga, and he was clear that any questions about Rodgers should be directed to Rodgers.
LaFleur did say that he doesn't think this will end up being a distraction for the Packers, but ultimately, it was a selfish move on Rodger's part.
Think about it.
The fact that he tested positive for the coronavirus was always going to come out and, with that, the mischaracterization of his vaccination status back in August. The media attention surrounding those two facts was going to be a given, but he absolutely did not have to go on the McAfee show for the second time in the week, just days before Love's first start.
Rodgers could have waited until his next Tuesday appearance to explain himself. That would have given the Packers time to move on from the initial story and the space to focus on the game. After all, he waited most of the summer to explain his existential crisis with the organization. What would be a few more days of silence on this matter?
Even when one considers that he has the right to defend himself, which he does, he didn't have to go out just hours before the most significant moments in Love's young career and create a public relations nightmare.
No matter which way you look at it, Rodgers was in it for himself and himself only when he turned on his video camera Friday afternoon and called into the show. He became a major distraction for the Packers, and it was ultimately a selfish decision.
A confident Jordan Love has been stepping up for Green Bay
While Rodgers has, in a way, been melting down, Love has been stepping up for Green Bay.
He, of course, has been studying the playbook and running the scout team as Rodgers' understudy, but a different level of focus is required as a starting quarterback in the NFL. There's also an extra level of confidence needed, especially for a young player getting his first-ever career start. The good news is, Love is being who the Packers need him to be.
"This is something he's been preparing for, for really his whole life," LaFleur said, according to the team website.
Adams, who will undoubtedly be his number one target against the Chiefs, also seems to think he has seen an extra pep in Love's step.
"When you have an opportunity to be on the field, you definitely see another … kind of a different look in his eye," Adams said. "So, I've been seeing that. He's been communicating well this week and I'm looking forward to seeing what he does."
Winning the Super Bowl is the expectation for the Packers, and so far, things have been so good in that regard. They've been one of the best teams in the NFL and have proven to be a very deep team as well.
Arguably the biggest question mark on their depth chart has been quarterback, but that's only because Love is such an unknown at this point in his career. He didn't suit up in 2020 and has only a few preseason snaps under his belt heading into this contest. Though the Chiefs have been struggling as of late, Arrowhead Stadium is still one of the most challenging places to play in the NFL, and any team with Mahomes, Travis Kelce, and Tyreek Hill will be dangerous.
A ton is on the line for the Packers, but there's also a lot up in the air. This could easily be a turning point for Green Bay's quest for the Super Bowl, one way or the other. It may also be a turning point regarding Rodgers' future with the organization.
The pressure will be on Love to perform on the field, especially considering his first-round pedigree. In terms of how he's responded off the field in his short time as Green Bay's starter, though, Love is acting like there's no pressure at all.
"Obviously there's going to be some nerves there. There always is, walking out of the tunnel. The atmosphere is going to be rocking. But I have a lot of confidence in myself, a lot of confidence in this team, and those dudes are going to take care of me," the young quarterback said.
According to the Centers for Disease Control and Prevention (CDC), "Over 423 million doses of COVID-19 vaccine have been given in the United States from December 14, 2020, through November 1, 2021. COVID-19 vaccines are safe and effective."
RELATED: The Green Bay Packers Are Forgetting Aaron Rodgers, for Now, and Throwing Their Support Behind Jordan Love: 'We Got Your Back'