Aaron Rodgers Needs to Win at Least 1 More Super Bowl to Prove His Worth
Aaron Rodgers is coming back to play for the Green Bay Packers. The exact details of his new contract are currently disputed, but Rodgers himself has said that he's coming back for what he called #year18.
In terms of the contract, it's safe to assume that whatever the numbers arw, it will end up being substantial. It would also make sense for it to be long-term because it's supposedly cap-friendly, and that's the only way the Packers would be able to make it work with the four-time MVP.
Either way, it's time for the rubber to meet the road for Rodgers and the Packers. For a quarterback of his caliber, one Super Bowl win (over ten years ago) is just not enough.
Especially if he's going to be making big money, the pressure is on. Rodgers needs to bring at least one more Super Bowl championship back to Green Bay.
The Green Bay Packers have effectively kept their Super Bowl window open by bringing Aaron Rodgers back
To realize how big of a moment this was for the Packers, you have to think about how things could have gone in a different world. 
Rodgers could have decided to retire, and according to noted scoop journalist Pat McAfee, that was an option.
Rodgers could have ridden off into the sunset with one Super Bowl win and four MVPs under his belt. It would have felt like an incomplete career, but we know he has plenty of interests outside of football.
That would have been the worst-case scenario for Green Bay. The Packers would have been left empty-handed and facing the real possibility that Davante Adams would also not want to stick around.
Option No. 2 was probably better for the Packers if you're looking at the state of the organization five years from now, but in the here and now, it still would have hurt to part ways with the best quarterback in football.
Rodgers could have also demanded a trade.
Let's say the Denver Broncos shipped their Russell Wilson package to Green Bay instead of Seattle. That would have meant multiple picks (including two first-rounders) and multiple players coming to Green Bay in exchange for Rodgers. The Packers would have been set up for the future rather nicely, but they'd still be facing a massive unknown at quarterback in Jordan Love. As the Broncos just demonstrated, the NFL is a quarterback-driven league. If Love couldn't be "the guy" for the Packers, they'd be looking at a massive rebuild instead of a re-tool.
Ultimately, if nothing else happens, the Packers kept their Super Bowl window open.
With Rodgers back and Adams franchise-tagged (he can still negotiate a long-term deal until July 15th), the Packers have to feel confident that at least for the next two seasons, they'll be one of the favorites to come out of the NFC yet again.
The landscape of the NFC has changed, making things easier for the Packers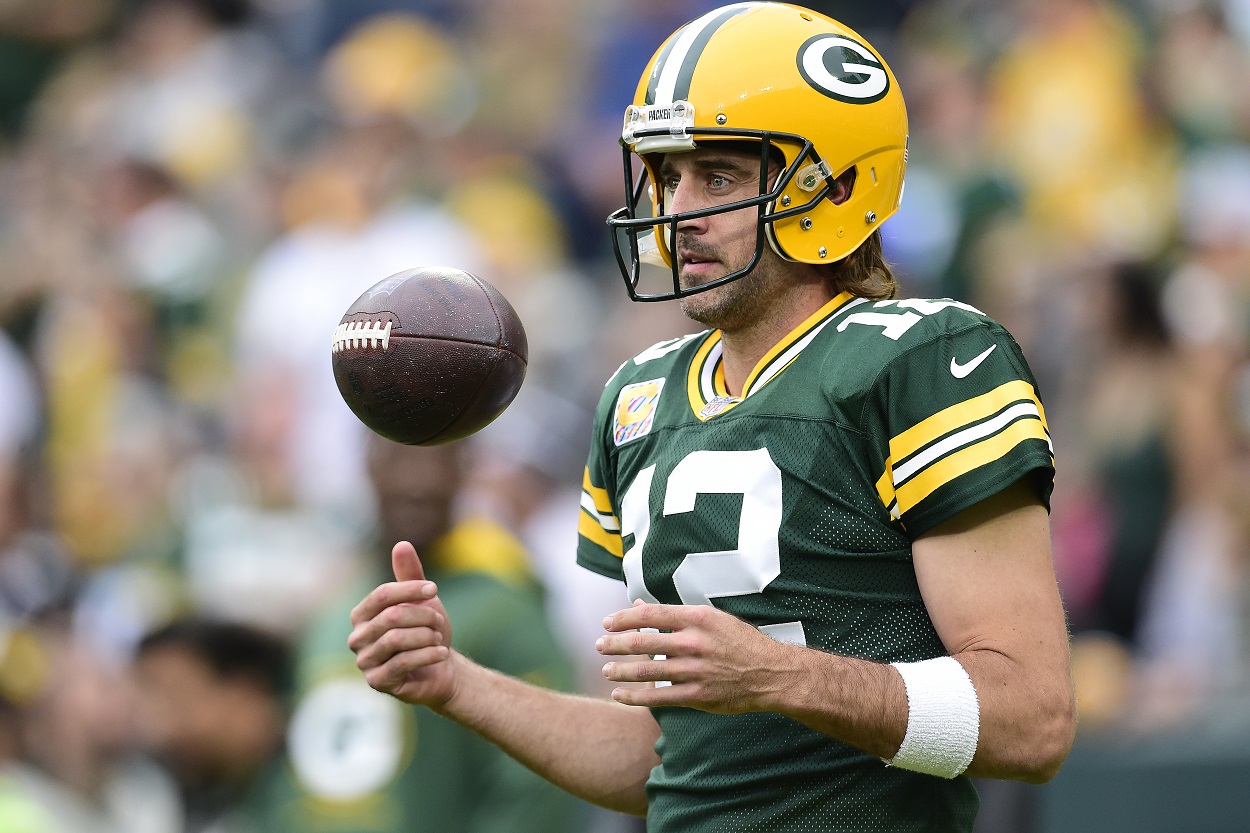 Frankly, Rodgers has been running out of excuses, and considering the events of the 2022 offseason, there really are none left.
The NFC is wide-open, and if he's as good as his four MVP awards say he is, he needs to start getting back to the Super Bowl.
The expectation is always Super Bowl or bust in Green Bay, but Rodgers and Packers have fallen short ever since the epic 2010-11 season that saw them beat the Pittsburgh Steelers in Super Bowl 45. Rodgers has a terrible 1-4 record in NFC championship Games since that magical season. Last postseason, despite having the No. 1 overall seed and the only bye in the conference, they couldn't even get past their first game. The Packers lost a 13-10 dud against the San Francisco 49ers in the Divisonal Round.
Epic regular seasons followed by playoff disappointment. Tha's a trend that has become synonymous with the Packers and Rodgers as a result.
That's a trend that can't keep up anymore, though, because outside of the defending world champion Los Angeles Rams, what other team will genuinely challenge the Packers in the NFC moving forward?
The Seahawks are in a full-fledged rebuild mode. Tom Brady is retired, leaving the Tampa Bay Buccaneers toothless, and who trusts Mike McCarthy and the Dallas Cowboys to make a run in the playoffs? They're bigger chokers than Rodgers and the Pack.
It would seem as if the Rams and the Packers are the cream of the crop in the NFC right now, and there are questions about how long the Rams can keep their group of players together.
The path of the top of the mountain has been cleared for Rodgers and the Packers, but can they capitalize?
Recent history would suggest no, which is why it's so important for Rodgers to change that narrative.
The Packers still have a ton of work to do this offseason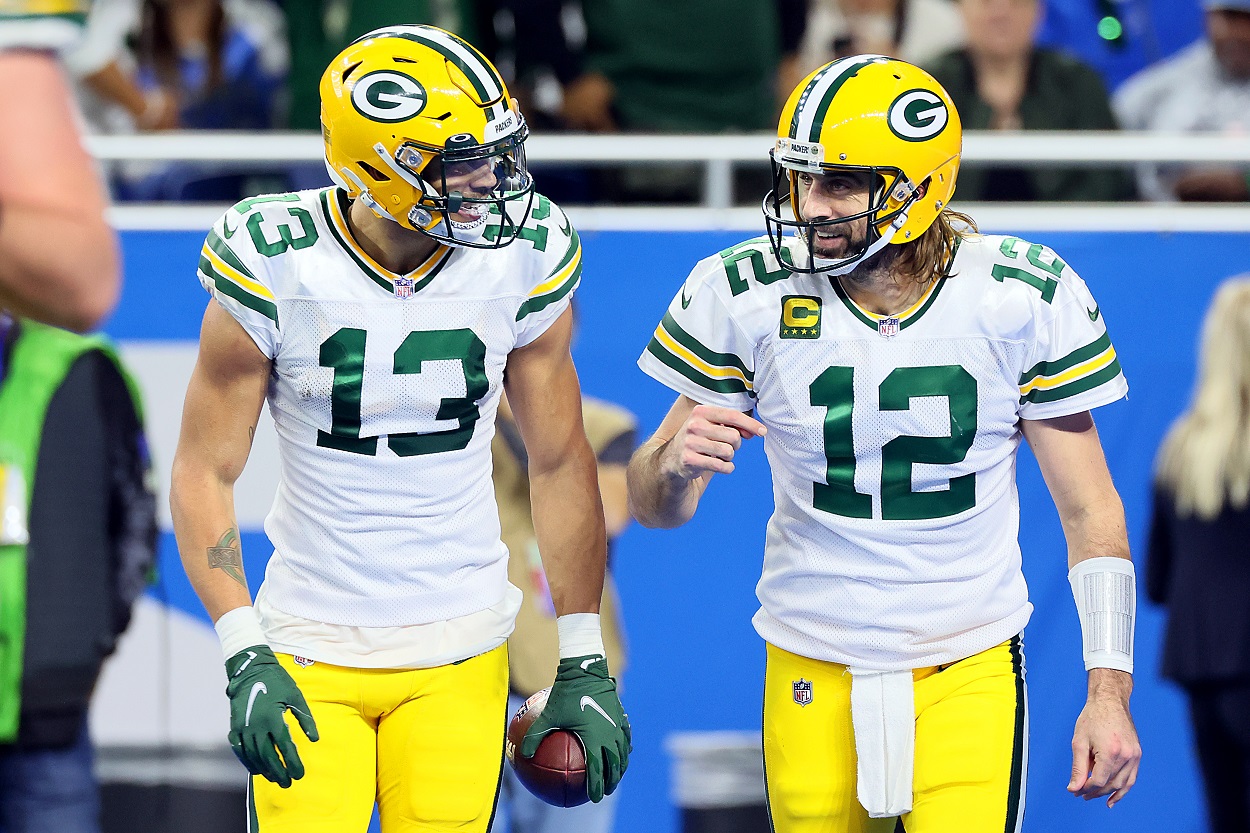 "Obviously everything around here centers around the quarterback. That's kind of how we do things. It's a big piece. It's a domino that has to fall before we go down other avenues. So it's important as we go through this and the puzzle pieces that we got to make fit. That's the first one to go."
That's a quote from general manager Brian Gutekunst a few weeks ago, per NFL.com. At the time, he knew that the Packers were basically at the mercy of Rodgers. Now that he knows the future is a bit clearer and that Rodgers will be back in the fray for 2022 and likely beyond, the real work begins.
First and foremost, the Packers need to figure out a long-term deal for Adams. The franchise tag allows the two parties to exclusively negotiate until July 15th. After that, things could become a little sticky. The Packers won't want to go down that road, so getting a long-term (and cap-friendly) deal done with Adams has to be the next priority.
From there, The Packers need to do what they can to lock up a few of their own key free agents set to hit the open market.
One would think linebacker De'Vondre Campbell has to be a priority for Green Bay, especailly considering he's coming off an All-Pro season and is the leader of the defense. The issue for the Packers is that Campbell may have priced himself out of their market with his play last season. They need to figure that out, though, because losing him will be unaccepable and a step backward for the defense.
Bringing back at least one of either Allen Lazard or Marquez Valdes-Scantling is going to be important as well. We know that Adams can beat just about any coverage, but the Packers need players around him. MVS is a true deep-threat when he's on and Rodgers seems to like him. Lazard is a former undrafted free agent who has become one of Rodger's most trusted targets over the past few seasons.
One of the two needs to be back in Green and Gold in 2022. If the Packers can somehow find a way to bring back both? Even better.
Speaking of wide receivers, the Packers would be more than wise to target a wide receiver or two high in the draft. If they're really going all-in on Rodgers, supplying him with as many weapons as possible has to be a priority. Considering the uncertainty in the wide receiver room this offseason, bringing in fresh, young (and cheap) pass-catching talent has to be a priority for Green Bay.
For now, at least, all is going according to plan for the Packers.
The first domino has fallen.
Moving forward, though, whatever the Packers end up doing, it all has to be centered around helping Rodgers bring the organization another Lombardi.
There's pressure on the Pack to get it done, but make no mistake about it…the real pressure will be on Rodgers more than anyone else.
Green bay is doing its part to give him his money and his security.
It's time for Rodgers to step up. He needs to prove he's worth more than just an awesome regular season.
One more Lombardi Trophy, at the very least, is a non-negotiable expectation for Rodgers in order for him to prove he's worth the big money.
Stats courtesy of ESPN and Pro Football Reference. Contract information via Spotrac
RELATED: Greg Jennings Is Still Bashing 'Very Selfish Guy' Aaron Rodgers