Aaron Rodgers' Weird Toe Press Conference Forces Strong Reaction out of Famous ESPN Commentator: 'It's Thanksgiving, My Brother'
Green Bay Packers quarterback Aaron Rodgers has already had quite the year so far. He's coming off an offseason where everyone thought he was either leaving Green Bay or retiring, and he just had to sit out a game a few weeks ago due to testing positive for COVID-19.
Now, this week, his toe has been the hot topic of conversation, and he even brought it out for everyone to see during a press conference. But, like most people who get grossed out by random toes, his bizarre interview forced a strong reaction out of ESPN commentator Stephen A. Smith.
Smith's message was simple: He doesn't want to hear about (or see) Rodgers' toe.
Packers QB Aaron Rodgers said he has a fractured toe
Aaron Rodgers and the Packers were rolling to start the season. They won seven straight after losing in Week 1, and he was in the MVP conversation again. However, the nine-time Pro Bowler had to sit out of Green Bay's Week 9 game against the Kansas City Chiefs, and his team ended up losing 13-7.
Rodgers then returned in Week 10, and the Packers won against the Seattle Seahawks, despite him throwing for no touchdowns and one interception. But they then lost to the Minnesota Vikings in Week 11 and fell to 8-3 on the season.
During the loss to Minnesota, Rodgers went to the locker room before the end of the first half so that he could get treatment on an injured toe. And on The Pat McAfee Show this week, he joked that it was "COVID toe." (Yes, apparently, that's a real thing.)
However, the reigning NFL MVP squashed the notion that he actually has "COVID toe" in a recent press conference. He did so by pulling his foot out so reporters could see he didn't have any lesions. Rodgers then said his toe is fractured and that it's an injury he suffered during a quarantine workout.
Whatever the reason is for his toe hurting, though, ESPN commentator Stephen A. Smith doesn't want to see or hear about it.
Stephen A. Smith doesn't care about the QB's toe
Since Aaron Rodgers' toe has been such a highly-debated topic lately, it recently came up in discussion during ESPN's First Take, and the network's star commentator Stephen A. Smith made two things clear: He's tired of hearing about it, and he doesn't want to see it.
"I don't want to hear about a damn toe from Aaron Rodgers," Smith said on the Nov. 25 episode. "And by the way, Aaron Rodgers … I don't want to see the toe, either. It's Thanksgiving, my brother. We're about to eat."
Like all of us, Smith isn't the biggest fan of seeing someone's toe, especially during a holiday like Thanksgiving. But he also just doubts that it will affect the QB too much when he takes on the Los Angeles Rams this Sunday.
"That damn thing hurts; I understand it; I've had toe injuries before. It definitely hurts," he added. "And in cold weather, yes, it's even worse. … But the bottom line is: As long as that arm is working, and as long as that man can fling that football, I could care less. I don't want to hear it. … I'm not disputing the fact that he has a toe injury and that it hurts. All I'm trying to say is when it comes to a quarterback, flinging the damn football with his arm via his shoulder, his elbow, his fingers, his thumb. I don't want to hear about no damn toe. No."
Smith makes a good point, but the toe could hurt Rodgers' mobility, and that's concerning considering he's facing a Rams defense that features Aaron Donald and Von Miller.
But it looks like he still plans to play and will try to get the Packers back on track this weekend.
Can Aaron Rodgers and the Packers beat the Rams?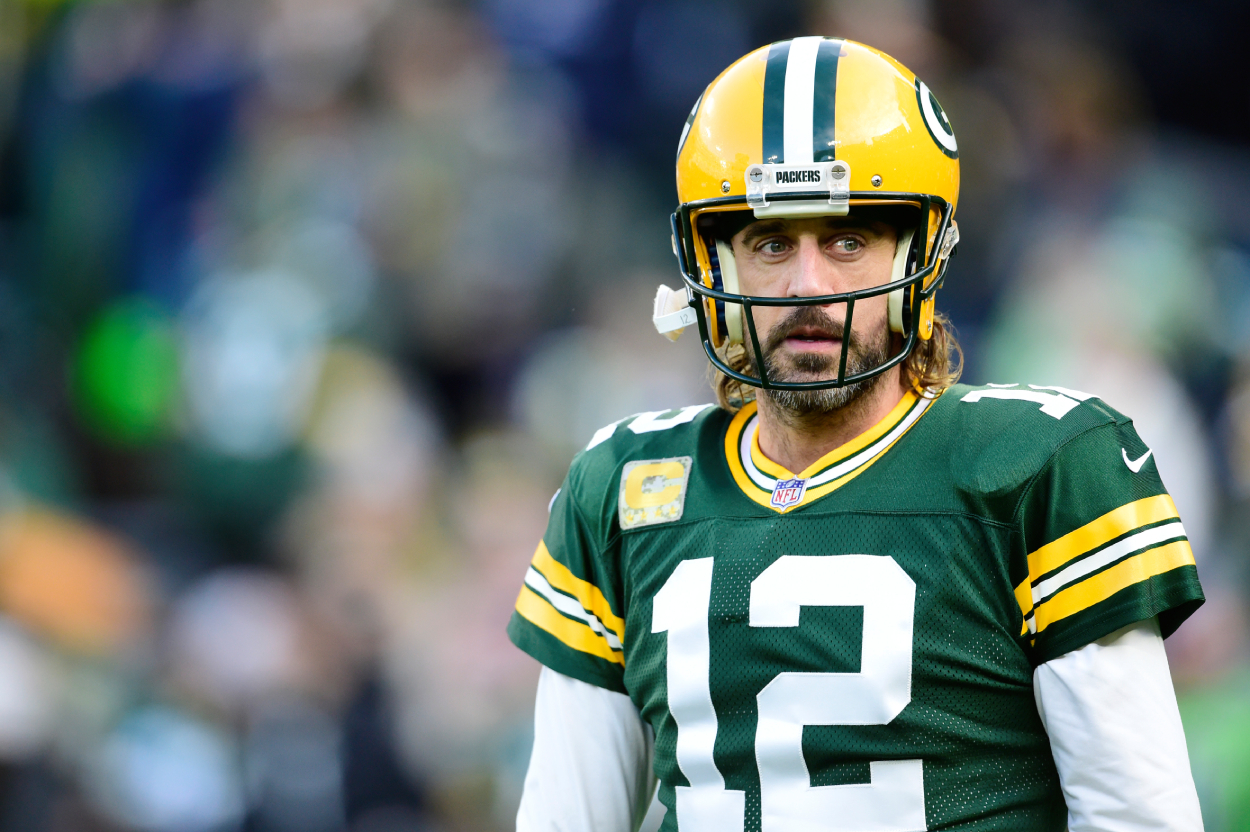 Injured toe or not, Aaron Rodgers, who said he won't miss any games because of his injury, put on a show in the Packers' loss to the Vikings, throwing for 385 yards, four touchdowns, and no interceptions. And we will likely see something similar on Sunday against the Rams.
Rodgers will face a tough LA defense, but it has been vulnerable in recent weeks, giving up 31 points in a loss to the San Francisco 49ers and 28 in a loss to the Tennessee Titans. So, considering how high-powered the Rams' offense is, we could be in for a shootout on Sunday afternoon, which is always promising for an Aaron Rodgers-led team.
All in all, the Packers-Rams matchup could be a good one this weekend. Just don't eat your Thanksgiving leftovers during it because you may see Rodgers' toe again.
Stats courtesy of Pro Football Reference