Aaron Rodgers Took a 'Spiritual' Approach to the Offseason in Preparation for Another Frustrating Year With the Packers
Aaron Rodgers has experienced a tumultuous past few months, to say the least.
Coming off a spectacular MVP season in 2020-21, Rodgers entered the offseason unsure of what his future with the Green Bay Packers would look like. Trade rumors were constantly attached to Rodgers and the Packers, with whispers of Rodgers mulling retirement even surfacing.
Ultimately speaking, the longtime Green Bay quarterback agreed to run it back and reported for the Packers' training camp and preseason. However, Rodgers didn't reach that conclusion without a considerable amount of self-reflection.
Aaron Rodgers turned to his spiritual side during the offseason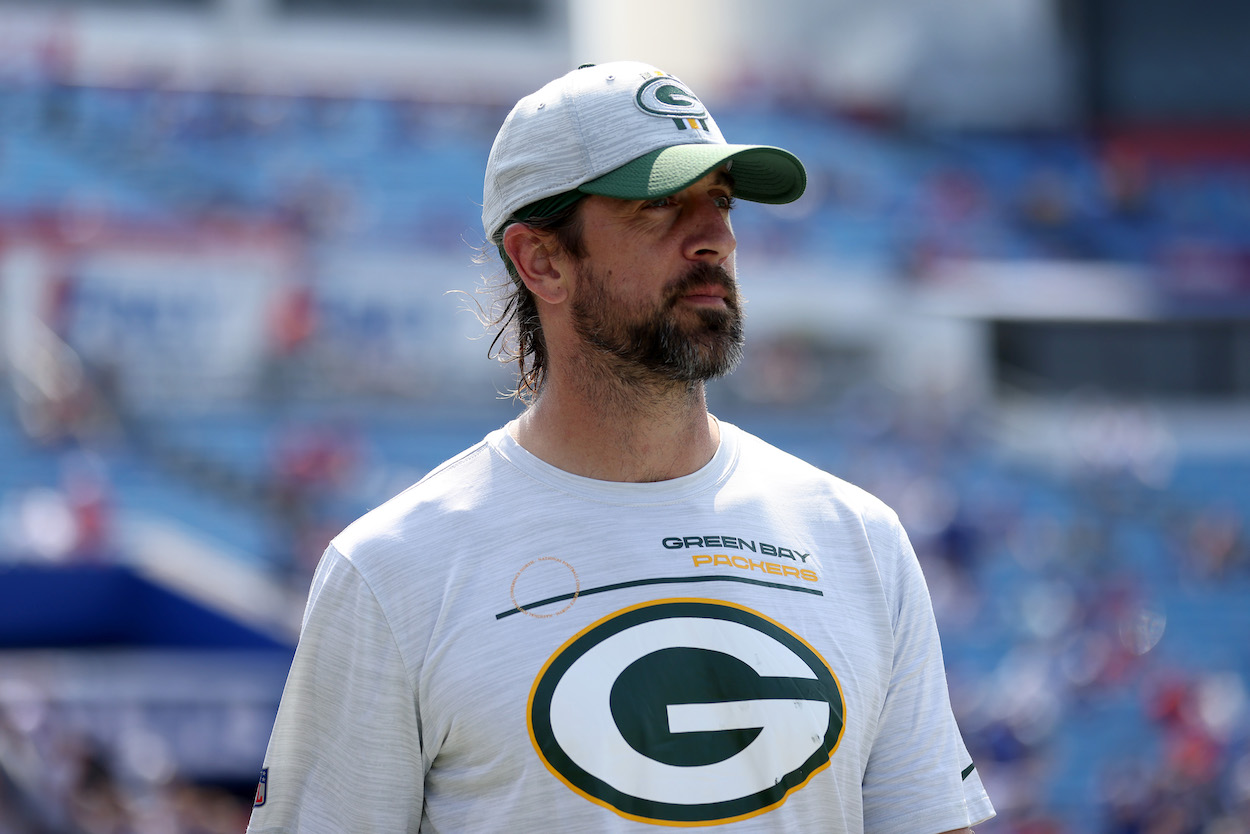 During a news conference at an offseason golf event that he hosted with fellow NFL quarterback Tom Brady, Rodgers shared some light on what this year's offseason looked like for him (USA Today):
"I've focused on in the offseason about how to take care of myself — the total package," Rodgers said. "Not just my physical self with workouts but my spiritual self with my own mindful practices, my mental health as well. What's the best way to take care of that? And that's what I've been doing this offseason. That's why I've taken the time I've taken and done the things or not done the things that I've done. And I'm very thankful for that time.

"I'm very thankful for the opportunity to work on my mental health. I haven't dealt with bouts of depression or anything that for whatever reason are OK to talk about if you're talking about mental health. I've just been really trying to think about what puts me in the best frame of mind."

Aaron Rodgers via USA Today
Rodgers is typically a private individual who doesn't share personal details about himself with the media. Hearing him perform a deep dive into how he handled the offseason from a spiritual and mental perspective is rather eye-opening.
Aaron Rodgers' stress and anxiety is unlikely to subside anytime soon
While it sounds like Rodgers was able to find a version of inner peace this past summer, the harsh reality is that things are unlikely to remain calm for the veteran QB moving forward. Jordan Love, the Packers' backup QB, is coming off an impressive string of preseason games.
The calls for the second-year gunslinger to replace Rodgers sooner rather than later will only grow louder should Rodgers get off to a slow start this season.
Outside of his frustration with the Love selection, Rodgers is dealing with a stubborn front office overall. General manager Brian Gutekunst hasn't always operated with his quarterback's best interest in mind. There is unquestionably a significant amount of existing tension between the two parties.
2021-22 is a crucial year for the Packers
This year's upcoming season is a crucial one for the Green Bay Packers. Not only is it likely Rodgers' last year wearing green and yellow, but it's likely going to be the last time the Packers are viewed as true contenders for quite some time.
Love looked impressive during the preseason, but it's impossible to compare his talent to Rodgers.
Expect the Packers to act aggressively at this year's trade deadline in hopes that a spiritually rejuvenated Rodgers can take them to the Super Bowl one final time.
Like Sportscasting on Facebook. Follow us on Twitter @sportscasting19.