Aaron Rodgers Trade: Packers GM Brian Gutekunst Says No Promises Made
The Green Bay Packers are doing everything they can to bring Aaron Rodgers back for 2022…willingly. It's always possible that things don't work out between the two parties, but general manager Brian Gutekunst made it clear that there is no unspoken deal on the table to trade Rodgers.
That's not to say that Rodgers can't ask for, or even demand, a trade, but it sounds like even the potential of a massive return for the four-time MVP quarterback isn't all that enticing enough for the Packers at the moment.
Brian Gutekunst says there was no trade promise made to Aaron Rodgers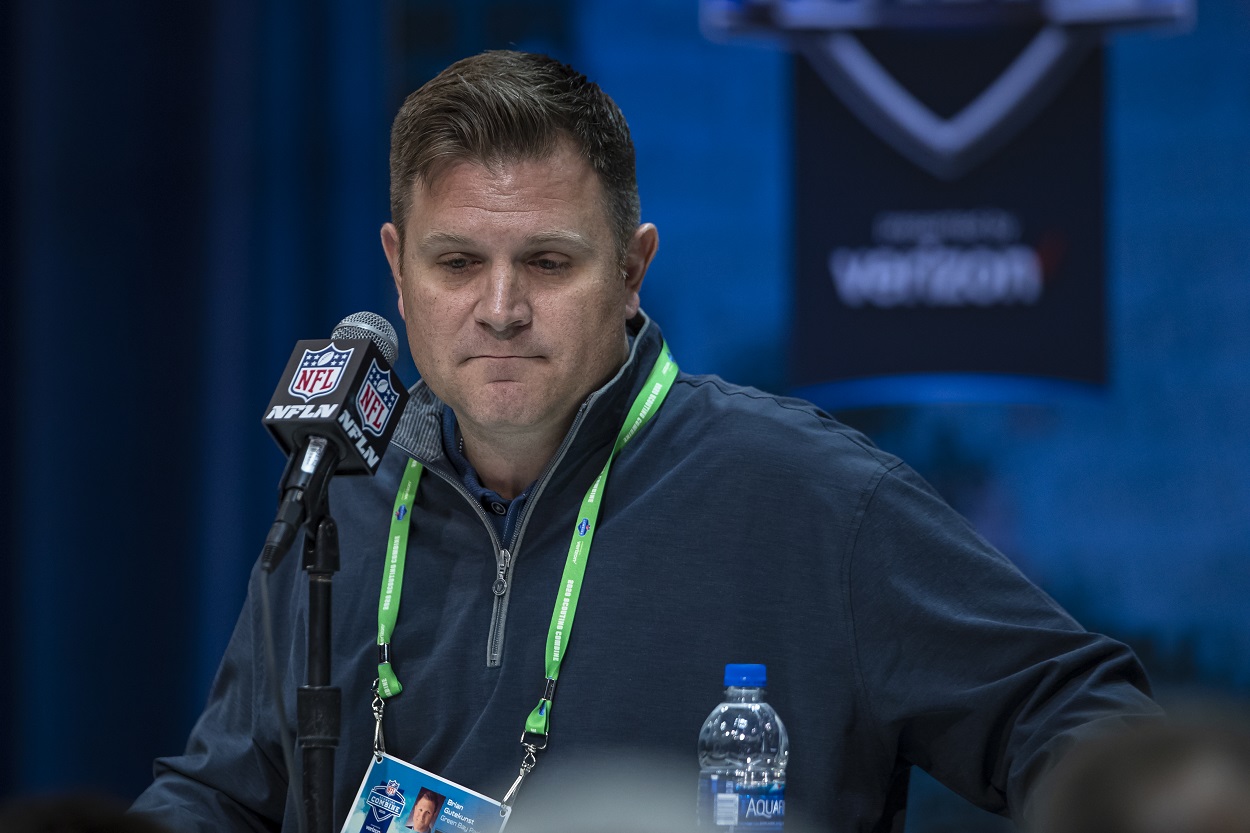 Gutekunst met with the media on Wednesday in a press conference to preview the NFL Draft Scouting Combine. He, of course, was inundated with questions about Rodgers as well as his favorite target, wide receiver Davante Adams.
Rodgers is taking time this offseason to determine his future in football. Does he want to continue playing with the Packers, retire, or ask for a trade elsewhere? For his part, Adams is set to be one of the most highly sought-after free agents in recent memory if the Packers allow him to hit the market.
There are a lot of open questions in Green Bay. One of them specifically asked to Gutekunst was whether or not the Packers have a plan if Rodgers wants to play in 2022, but doesn't want to do so for the Packers.
"Those are some hypotheticals that I don't think we're going to go down those roads right now," Gutekunst said, via ESPN.
He also addressed the rumor from last offseason stating that the Packers told Rodgers they would trade him this offseason if he no longer wanted to be a part of the team. That was supposedly one of the reasons Rodgers came to training camp after a hold-out, but Gutekunst denied that rumor.
"That was not something I told him," he said. "Again, I think the whole conversation with Aaron last season before he came back was that, regardless, at the end of this past season, that we would sit down as a group and we would work it out one way or another."
Rodgers is still undecided about his future
As it stands, the ball is firmly in Rodgers' court. Many thought that he was gearing up for an announcement this past Tuesday on The Pat McAfee Show, especially after a lengthy and emotional Instagram post, but that turned out to be a clever misdirection (or a troll) by the quarterback.
"There will be no news today. No decision on my future," Rodgers told McAfee, to the host's visible disappointment.
Rodgers said at the end of the season that he wasn't going to draw out this process, so McAfee likely wasn't the only one disappointed. The Packers won't admit it, but they have to be feeling somewhat frustrated as well. According to Spotrac, Green Bay is still around $38 million over the salary cap, even after a restructure of defensive tackle Kenny Clark. Adams needs a long-term deal, and several other key players from last year's squad are free agents. That's a list that includes De'Vondre Campbell, Rasul Douglas, and Marquez Valdes-Scantling, among others.
Gutekunst has a lot on his plate this offseason, but he admitted that he really can't do much until he knows the future of his quarterback. That has got to be frustrating.
"Obviously everything around here kind of centers on the quarterback," Gutekunst said. "It's a big piece and a domino that kind of has to fall before we go down the other avenues. So it's important as we go through this and the puzzle pieces we have to try to make fit. That's the first one to go."
Why shouldn't the Packers trade Rodgers?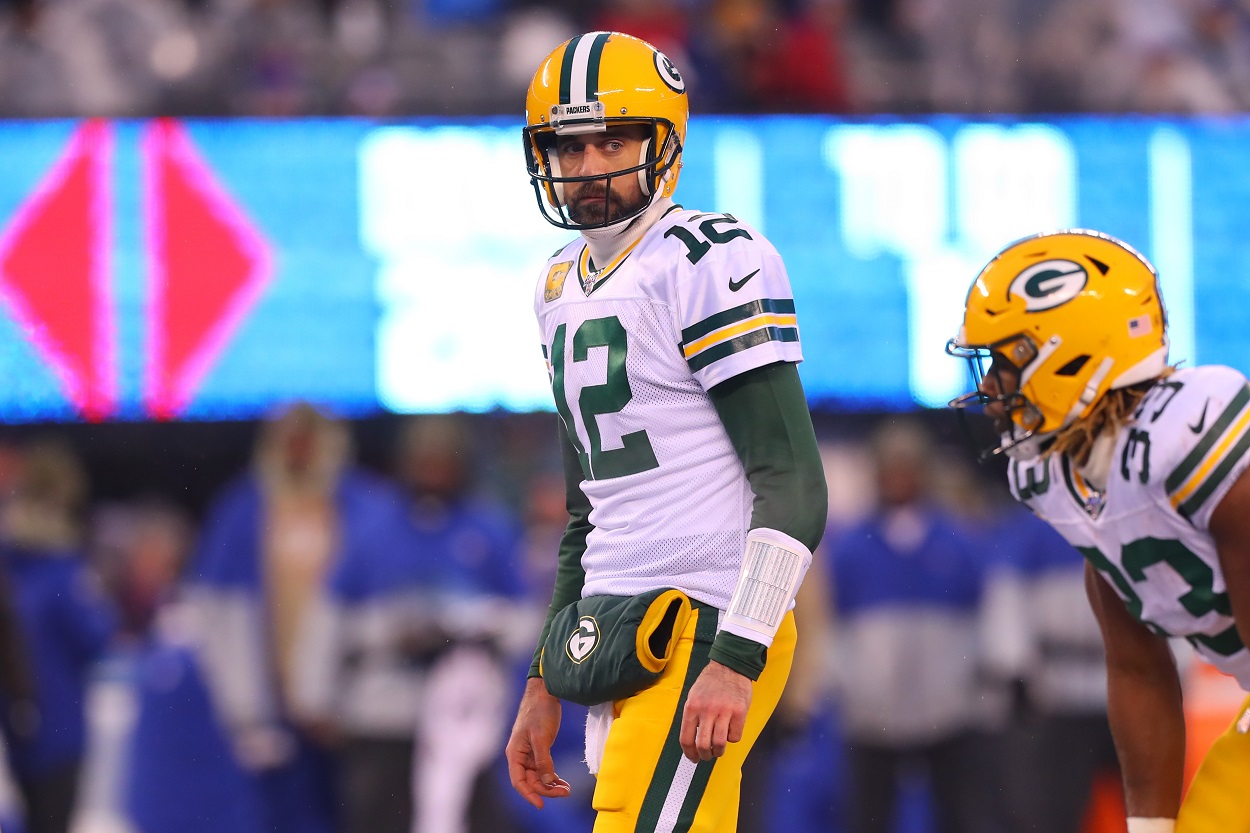 It seems counterintuitive to willingly trade a four-time MVP quarterback in today's NFL, but there are reasons it would make sense from Green Bay's perspective.
First, it would ease some of Green Bay's salary woes. If the Packers trade Rodgers before June 1st, his cap number will drop from $46.6 million to a dead cap number of $26.8, saving the Packers roughly $19.8 million for 2022.
There's also the post-Rodgers era to consider. Sure, the Packers could mortgage their future and go all-out to make another Super Bowl run, but how will pushing money into the future impact the salary cap in 2023? That's when Jaire Alexander and Elgton Jenkins will be free agents. It feels like a long time away, but 2024 is right around the corner as well. That's when players like A.J. Dillon and Rashan Gary will hit free agency.
The Packers could hurt their growth in the future by going all-in with Rodgers now. Outside of a Super Bowl win over 10 years ago, that hasn't worked up to this point, mind you. That's not even considering the trade package the Packers could get back in return for Rodgers. If the original plan was to build the future around Jordan Love, Gutekunst could really help out the young quarterback by building a great team around him.
If you're to believe Gutekunst, though, none of those things matter. Why not trade Rodgers?
"Because I think we've got as good a shot as anybody to win a Super Bowl next year," Gutekunst said. "He's the MVP of the league. That's our goal. I think we have an opportunity to do it right now. That's why."
Stats courtesy of ESPN and Pro Football Reference. Contract information via Spotrac
RELATED: Aaron Rodgers Regrets Blowback to Others Because of COVID-19 Rants