Aaron Rodgers Tried Recruiting a Future Hall of Fame Wide Receiver To the Green Bay Packers
For pretty much the entirety of his career, Aaron Rodgers' lack of weapons on the Green Bay Packers has been pretty well-documented. It hasn't been for lack of trying on his part, though. In fact, a future Hall of Fame wide receiver recently revealed that Rodgers tried to recruit him over to the Packers. That wide receiver is Detroit Lions great Calvin Johnson.
Aaron Rodgers has had a lack of weapons on the Green Bay Packers
RELATED: Brett Favre Puts the Green Bay Packers on Notice
For almost his entire career, Aaron Rodgers has proven that he is one of the greatest quarterbacks of all-time. He has had some decent receivers that have helped him get to where he is, too, including guys like Greg Jennings, Jordy Nelson, Randall Cobb, and now, potentially the best wide receiver he has ever played with, Davante Adams.
However, prior to playing with Adams, Rodgers never had a guy quite like some of the other all-time great QBs have had. Peyton Manning had Marvin Harrison and even Reggie Wayne. Drew Brees has had Michael Thomas, Tom Brady had Randy Moss, and now has Antonio Brown, Mike Evans, and Chris Godwin. Rodgers, though, had only thrown one touchdown pass to a first-round draft pick in his entire career coming into this year.
Compared to the other greats, Brees had thrown 104 touchdown passes to first-round picks heading into this season. Brady had thrown 105, Manning threw 293, and Brett Favre threw 127, according to ESPN's Cole Cubelic.
Because of this, many people have wondered how much better Rodgers' overall stats could be had he had a stellar weapon like those guys have had. Some have also wondered how many more Super Bowls he could have potentially gone to had he had more weapons.
Calvin Johnson might have kept playing had it been for a contender
RELATED: Aaron Rodgers Sent Out a Strong Message About Ndamukong Suh, Discussed Some of Their 'Scariest' Trash Talk
Calvin Johnson retired early, but he was one of the greatest wide receivers to ever play in the years that he was in the league.
After going to the Detroit Lions with the second overall pick in the 2007 NFL draft, Johnson eventually became a star. In his second season in 2008, Johnson had 78 catches for 1,331 yards and a league-leading 12 touchdown catches. Then, after gaining 984 receiving yards in 14 games in 2009, Johnson started a stretch of six straight seasons with 1,000 receiving yards or more.
Johnson also led the NFL in receiving yards in back-to-back seasons in 2011 and 2012. He even gained as many as 1,964 in 2012, which is the most ever in a single season. He also led the NFL with 122 catches in 2012.
In his career, Johnson earned six Pro Bowl selections and three First-Team All-Pro selections. He ultimately caught 731 passes for 11,619 yards and 83 touchdowns.
However, he ended up retiring at only 30 years old.
"I was like, 'Man, dad, I'm done. I can't do it no more,'" Johnson said on All the Smoke, recalling the moment he contemplated retirement one season before he actually called it quits, according to CBS Sports. "They're blowing up the team. My body is aching. I don't have my range of motion like I use to. I can't get out, I can't dig like I used to. I just don't feel it. I just don't have the love for it because I was just always hurting. I just don't have it.'"
However, Johnson also said that if he could have played for a contender, he might have played after the 2015 season.
Aaron Rodgers tried recruiting Calvin Johnson to the Green Bay Packers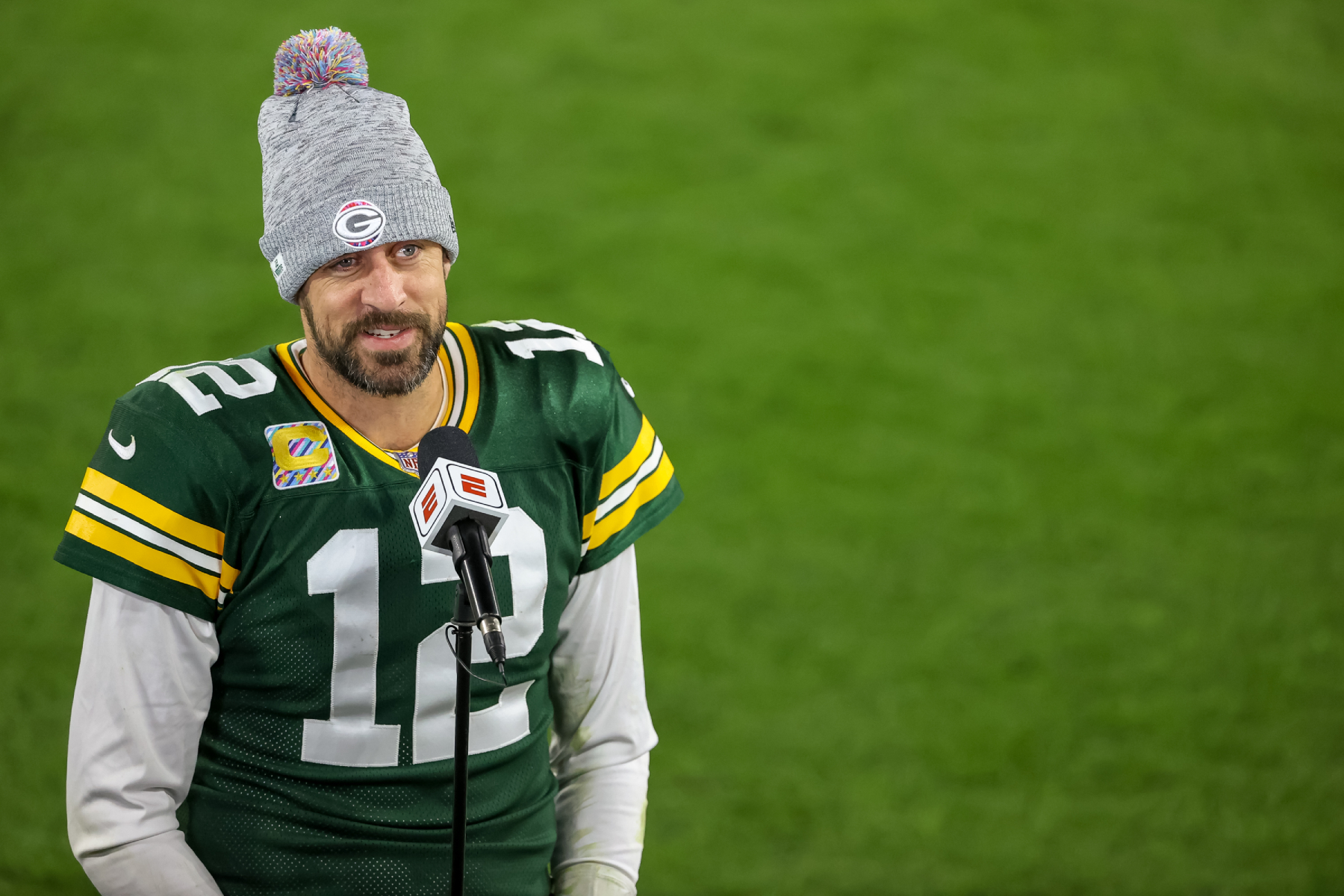 RELATED: Did Aaron Rodgers' Relationship With Danica Patrick Last Longer Than the 1 He Had With Olivia Munn?
During his appearance on All the Smoke, Johnson — who had signed an eight-year contract with the Lions in 2012, per the Detroit Free Press — revealed that Rodgers tried recruiting him to the Packers.
"Whenever we played Green Bay, whenever Aaron Rodgers was over on our sideline, he would say, 'Hey man, you need to come on over here,'" Johnson said, according to CBS Sports. "I said, 'Hey, I wish I could.'"
That certainly would have been one of the most dominant duos of all-time. Rodgers is one of the most talented quarterbacks to ever play. Johnson was arguably the most gifted receiver to ever play. No one would have been able to stop them.
Aaron Rodgers and Calvin Johnson are two of the greatest football players to ever exist. Together, they could have done some special things.
Stats courtesy of Pro Football Reference