Aaron Rodgers is using Davante Adams' Contract to Hold Packers Hostage
Aaron Rodgers didn't retire. He didn't ask for a trade. He also didn't say he's coming back to the Green Bay Packers, though, and it sounds like a lot of his decision will be determined by what the Packers are able to figure out with Davante Adams.
In fact, Rodgers may have been playing a bit of a game with Green Bay's front office and general manager Brian Gutekunst. Recently appearing on The Pat McAfee Show, it sure sounded like the quarterback was trying to throw the proverbial negotiation ball onto Green Bay's court.
The Green Bay Packers have a big decision to make on Davante Adams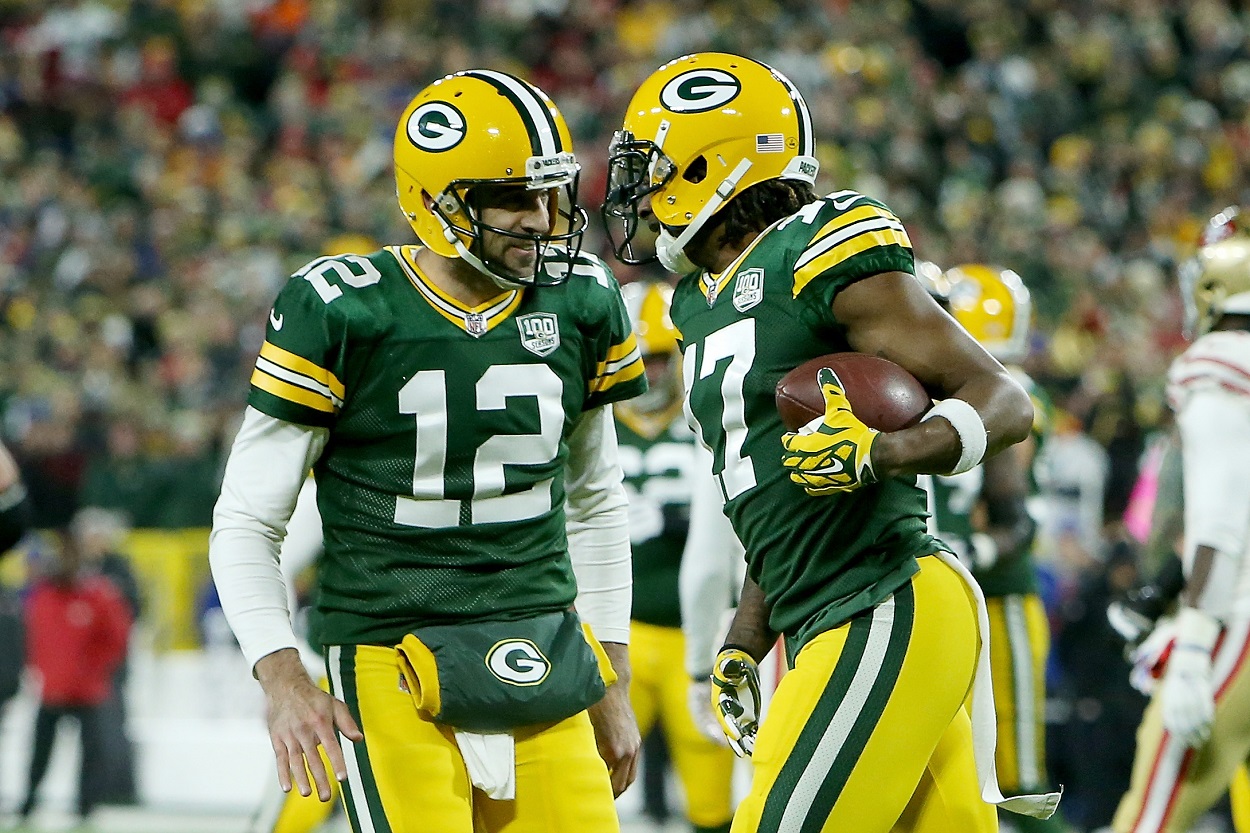 Adams is the best wideout in the league, and he's Rodgers' favorite target and friend. It makes sense that the four-time MVP quarterback wants to know what will happen with Adams, who's set to become a free agent at the start of the league year.
One would think that if the Packers can lock Adams up, there's an excellent chance Rodgers comes back to try to give it another go.
Here's the issue for Green Bay: They're expected to be around $50 million over the salary cap, and Adams is going to want to be paid big money: $30 million a year, at least. He's going to be expensive to bring back, even if they push money into the future. The Packers could give him the franchise tag for the season, but even that would cost $22 million for the year. 
With so little room to work with financially, the Packers have some tough decisions to make on the horizon, and Rodgers made things tougher with his comments to McAfee.
Aaron Rodgers went to bat for a long-term deal for Adams
"In Green Bay, there's this one specific guy who's the best guy in the entire league at what he does. He wears, I think, No. 17. You might have heard of him," Rodgers said, facetiously bringing up Adams.
Ironically, the day of Rodgers' Tuesday sit down with McAfee was the first day that NFL teams could apply a franchise tag to one of their players who will be upcoming free agents. The tag window opened on February 22nd and runs until March 8th.
There are a few different options for the tag, but if the Packers were to tag Adams they'd likely use an exclusive franchise tag. Applying the tag would allow them to continue exclusive contract negotiations with Adams. If they can get a multi-year deal done by mid-July, Adams would then be "tagged" with a one-year deal worth "the average of the top five salaries at the player's position for the current year, or 120 percent of his previous salary, whichever is greater." (Source: NFL.com)
While the Packers would save money in the here-and-now by tagging Adams, and it's worth noting that's something they really need to do, Rodgers doesn't think either party wants to move forward with the one-year tender.
There's obviously the opportunity to tag him at some point which I don't think both parties want done," the quarterback said. "They'd rather get a long-term extension done.
Rodgers insinuated that his decision will revolve around Adams' future with Green Bay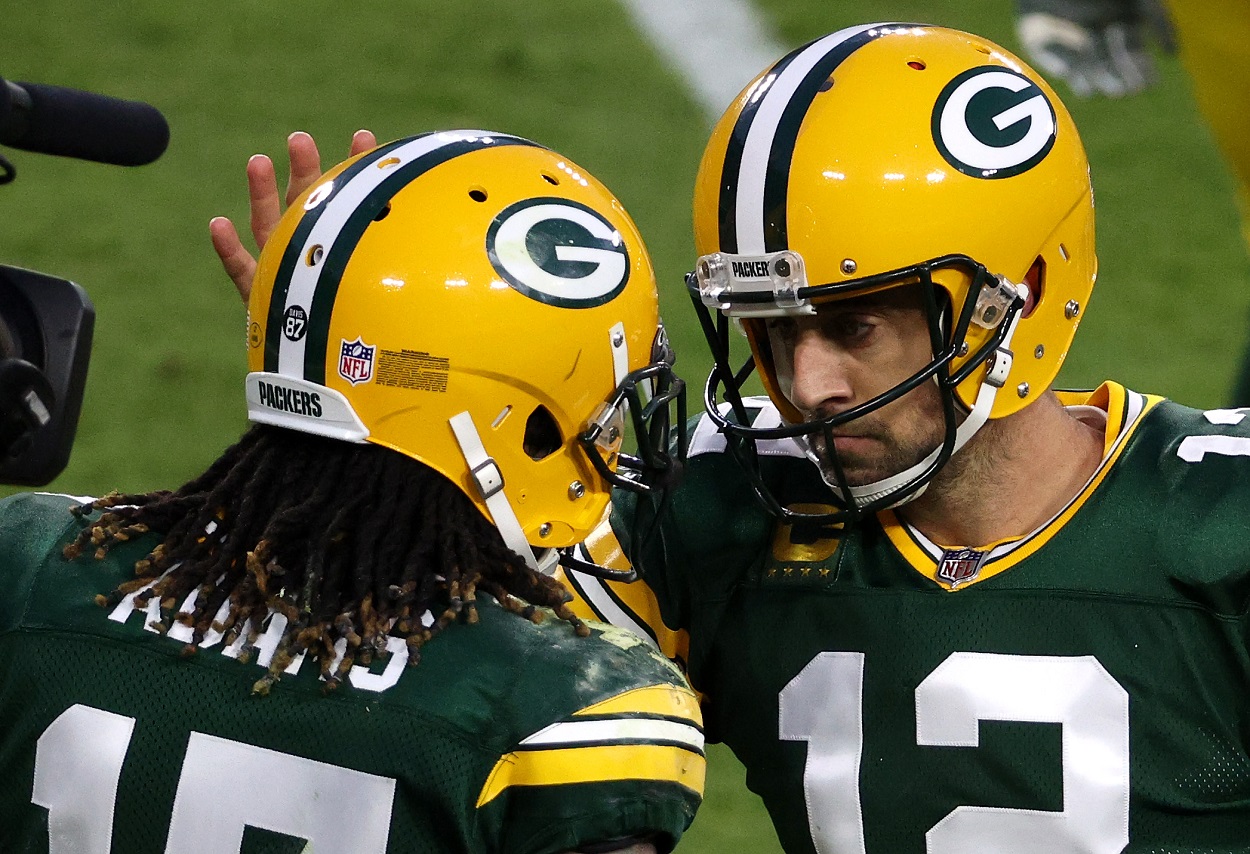 It's not ironic that Rodgers brought up Adams' contract situation early on in a conversation in which many thought he was going to announce the decision on his future in Green Bay. He ended up trolling just about everyone with his appearance with McAfee, but it ultimatly wasn't without purpose.
With the tag window open and Gutekunst expected to meet with the media on Friday, Rodgers was sending a clear message to the Packers.
If they want him back, they have to find a way to make a long-term deal work with Adams. This isn't the first message of sorts that Rodgers has made. In the aftermath of Green Bay's playoff loss to the San Francisco 49ers, the quarterback was clear that he doesn't want to be a part of a rebuild.
Letting Adams walk in free agency would certainly constitute a rebuild in Green Bay. Even tagging him for a season doesn't accomplish much. It may keep the Super Bowl window open for one more year, but it doesn't offer Adams, nor Rodgers, many guarantees for the future.
This is not even to mention the negotiations from Adams' perspective. He wants a long-term deal with guaranteed money. Who wouldn't? The franchise tag would offer him guaranteed money for one season, but let's say he gets hurt or regresses in 2022…he'd be losing a ton of money on a future contact. The tag puts all the risk on Adams, and Rodgers is clearly looking out for both his future and his friends by making these comments public.
"I understand that's a part of the decision, and I talked about not wanting to drag this thing out…," Rodgers said before trailing off onto a completely different topic.
He's essentially holding the Packers hostage, and he's smart enough to know what he's doing. 
Stats courtesy of ESPN and Pro Football Reference. Contract information via Spotrac
RELATED: Aaron Rodgers Decision: 3 Distinct Paths for the Green Bay Packers QB