Is Aaron Rodgers Vaccinated? He's 'Not Going to Judge' Teammates Who Opt-Out
Aaron Rodgers has solidified his place in Green Bay Packers history. With a Super Bowl victor, the three-time NFL MVP recipient is considered one of the greatest quarterbacks of all time. Now on the back half of his career, Rodgers not only has to deal with his aging body but a whole new obstacle: the coronavirus (COVID-19) pandemic.
Dealing with interruptions in play and quarantining guidelines is tough, but muddling through conversations about the vaccine and what Rodgers thinks of teammates who opt-out might be even tougher.
Did Aaron Rodgers get vaccinated?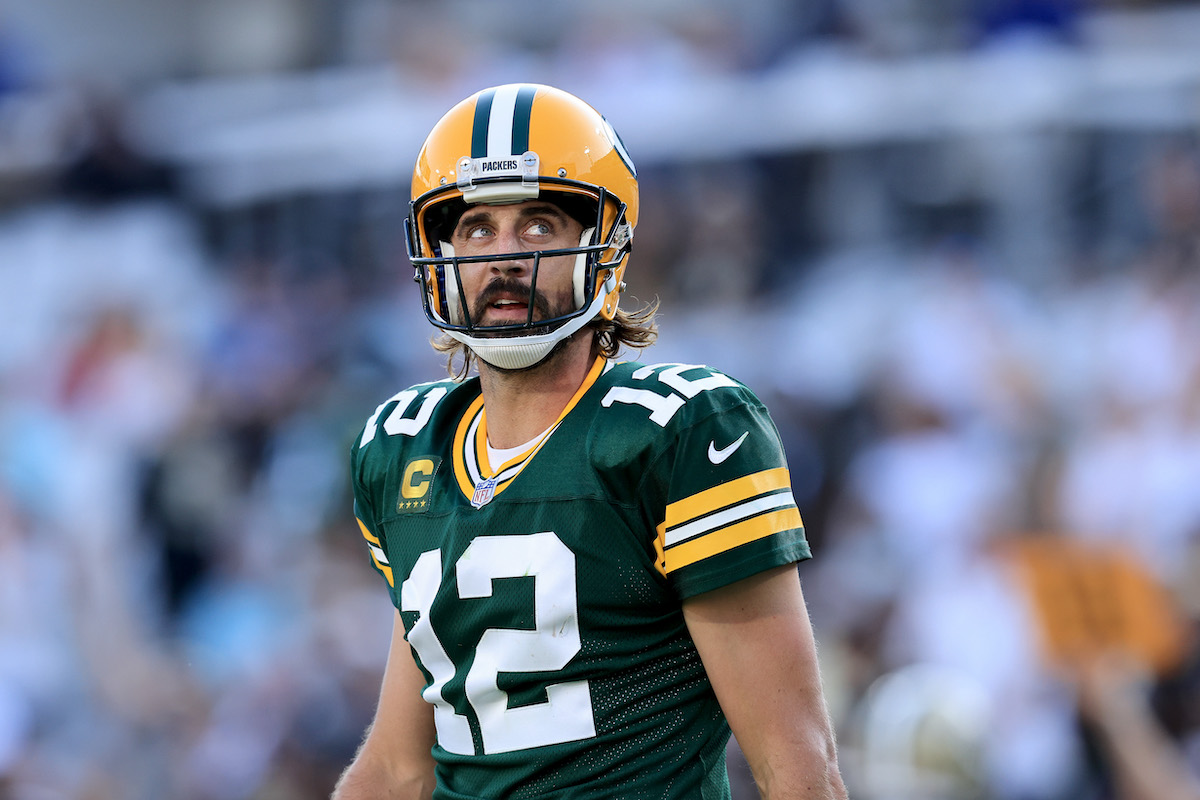 The controversy surrounding the COVID-19 vaccine doesn't skip NFL players. Many speak out against getting it, like Vikings quarterback Kirk Cousins, while others regularly support of it. Rodgers put in his two cents during an interview with Wisconsin Public Radio. While he is vaccinated, the 37-year-old said he has several teammates who aren't. 
Rodgers was quick to point out that he won't criticize anyone: "I'm not going to judge those guys. There's guys that have been vaccinated that have contracted COVID, so it's an interesting issue that I think we're going to see played out the entire season."
Rodgers is right about one thing: COVID-19 breakouts are happening, and it's affecting the ways teams prepare each week. 
The NFL's vaccination rate
With the pandemic still thriving after nearly 18 months of quarantining and social distancing, there is a light at the end of the tunnel. NFL.com reports that the player vaccination rate is holding steady at 93% after roster cuts in early September. Some teams, like the Atlanta Falcons, reported that 100% of players were vaccinated. The Tampa Bay Buccaneers quickly followed suit, reporting 100% vaccinations and proving their intent to repeat as Super Bowl champions.
While vaccinations rates are high, that doesn't mean the league is back to normal. Breakthrough cases still happen. However, NFL teams report that these cases usually result in the person feeling asymptomatic or experiencing milder symptoms for a shorter period of time.
NFL Chief Medical Officer Allen Sills feels they're finally getting a handle on the situation: "We are in a much better place than we were last year at this time [because] we have a much more complete understanding of this virus and its transmission, and the testing and identification of it."
Do NFL fans need a vaccine?
With the Delta variant surging throughout the U.S., some NFL teams required fans to present proof of the COVID-19 vaccine. The Las Vegas Raiders announced back in August that if fans wanted to attend a game, they must be vaccinated. The team was the first in the league to implement such a policy, but others quickly followed.
The Seattle Seahawks and New Orleans Saints added their own mandates shortly afterward, following policies enacted by NBA and MLB teams earlier this year. These two teams also allow fans to enter if they have a negative COVID-19 test.
The Buffalo Bills became the fourth team to add a vaccine policy, which goes into effect on October 31. For the two prior home games, fans 12 years and older must show proof of receiving at least one vaccine dose.
RELATED: The Tampa Bay Buccaneers' Vaccination Status Proves They're All-In on Quest to Repeat in 2021