Aaron Rodgers Reveals He Wants Pete Davidson, Who Mocked Him on Saturday Night Live, to Play Him in a Movie
Green Bay Packers quarterback Aaron Rodgers thinks Saturday Night Live star Pete Davidson would be the perfect person to play him if his story is ever taken to the big screen.
Davidson, of course, already has experience in the role, though one gets the sense that Rodgers wasn't necessarily happy with the comedian's portrayal of him on SNL.
Rodgers' answer was probably a bit tongue in cheek, but hey, Davidson might be open to notes. Rodgers is a three-time MVP, after all.
Aaron Rodgers wants SNL's Pete Davidson to play him in a movie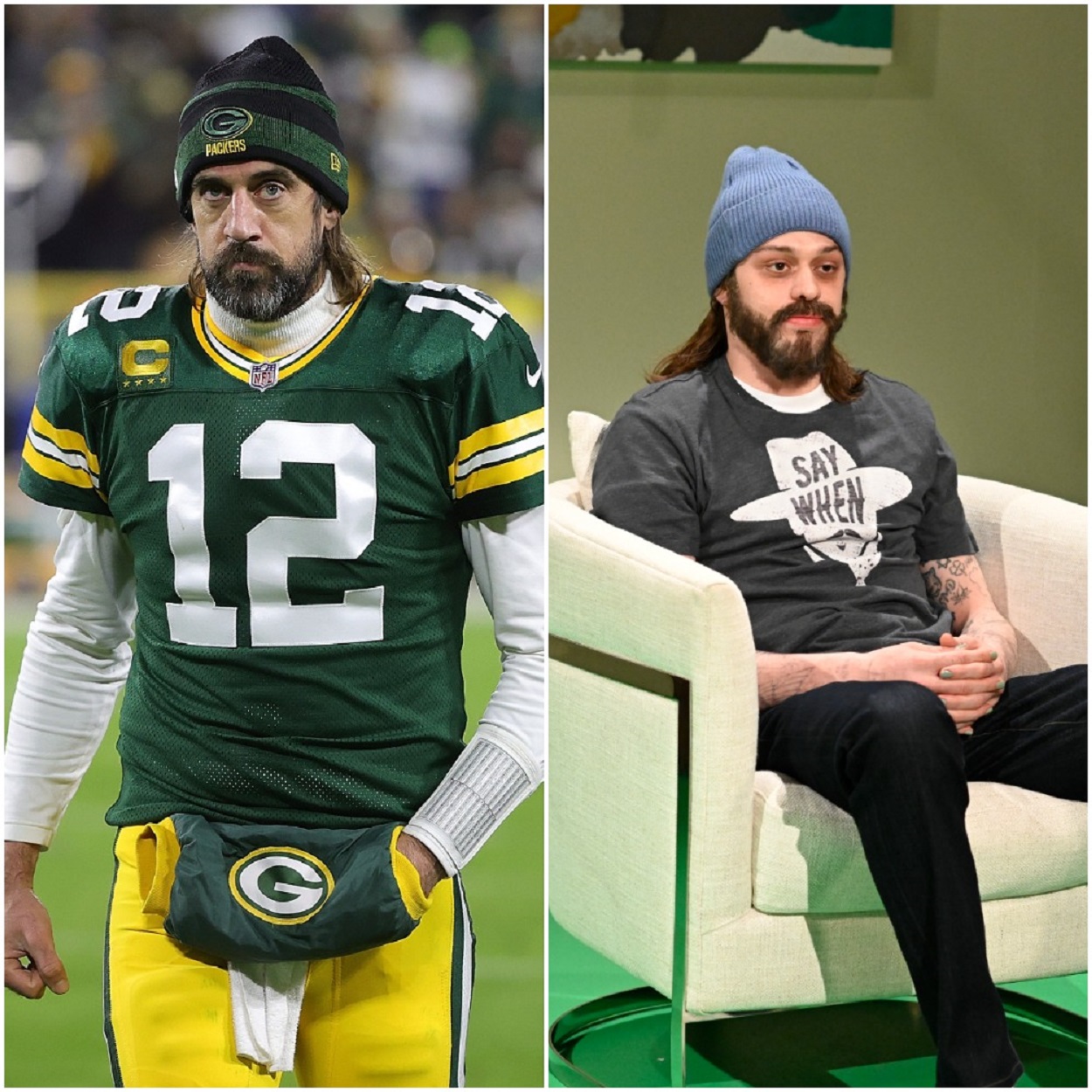 One of the things that turn Rodgers' weekly appearances on the Pat McAfee Show into must-watches is the fact that the Packers quarterback is largely unscripted and McAfee, A.J. Hawk, and "the boys" have no problem following him down any rabbit hole he feels like taking.
A lot of what comes out is honest football talk; whether Rodgers is breaking down the previous weekend's game or telling a story, he's picked up a lot in his 17 NFL seasons.
Some of it can be random, though.
For instance, Hawk, Rodgers' former teammate in Green Bay, brought up the upcoming movie Home Team, a flick that will see Kevin James play New Orleans Saints head coach Sean Payton in his adventures as offensive coordinator for his son's pee-wee team. This is apparently a true story that happened while Payton was suspended for the Bountygate scandal. It's produced by Adam Sandler's Happy Madison production company, which should tell you a few things about the overall tone of the show.
"Someday, when somebody has to play you in a movie, who do you want to be that actor? Or are you going to be selfish and say you're going to have to do it?" Hawk asked Rodgers.
The MVP quarterback took a deep breath, clearly thought for a minute, and then gave his answer with a hearty laugh.
"Pete Davidson," Rodgers replied.
Davidson has previously mocked Rodgers on 'Saturday Night Live'
Rodgers lit the internet on fire back in early November when news broke that he had tested positive for COVID-19.
As we've seen in the NFL over the past few weeks, the positive test itself is unfortunately not all that rare. What made news was the fact that Rodgers had to sit out for 10 days, which was the protocol the NFL required unvaccinated players to follow.
This shocked many in the media because Rodgers had previously given off the impression that he was vaccinated against the coronavirus. It appeared that he may have intentionally misled the press by saying that he was "immunized" rather than vaccinated. He had undergone some sort of homeopathic treatment, but he wasn't officially vaccinated with any of the NFL's approved vaccines: Moderna, Pfizer, or Johnson & Johnson.
That revelation set off a media firestorm that was made worse by Rodgers going onto McAfee's show just a few days later and unleashing a diatribe against "cancel culture" and the "woke mob." He also said that he received medical advice from former Fear Factor host turned podcaster Joe Rogan.
That Saturday, Davidson and Saturday Night Live quickly jumped on the opportunity to make fun of Rodgers in their cold open.
Donning a beanie and fake long hair and a beard, Davidson, as Rodgers, was interviewed on "Fox News" by "Judge Jeanine," played by Cecily Strong.
"It's my body and my COVID. I can give it to whoever I want," Davidson said as Rodgers. "But suddenly, the woke mob is coming after me. It's gotten so bad that State Farm called, and they're not even offering me the 'Rodgers Rate'"
Other actors who can realistically play Rodgers in a movie
Sports movies are making a comeback in 2021, but that's acting as if they've ever gone away.
No, Home Team will probably never get the critical acclaim Moneyball did, and it will likely never be a classic like Hoosiers or Remember the Titans.
It should be funny, though, and that counts for something in a world overcome by serious issues.
There's also a recently released biopic about legendary NFL quarterback Kurt Warner called American Underdog, so sports movies are apparently in season.
If Rodgers is ever given the silver screen treatment, Davidson could always bust out his beanie and wig, but Jake Gyllenhaal could probably pull off a moody Rodgers. Or how about Tom Hanks? He can play everyone.
Realistically, it has to be the fan who was spotted at Lambeau a few weeks ago on Sunday Night Football. If he can act in the slightest, he'd be hands-down the best Rodgers for the job.