Aaron Rodgers Was in 'Ron Burgundy-Ish' Glass Case of Emotion During Underwhelming Return for the Green Bay Packers
If Green Bay Packers quarterback Aaron Rodgers and legendary news anchor Ron Burgundy ever occupied the same universe, one would think they would make great friends.
Burgundy famously loves his scotch. So does Rodgers.
Burgundy makes his home in San Diego. Rodgers, though he plays in Green Bay, has a mansion in Malibu. San Deigo is a quick trip down the coast for Rodgers, which would make a meet-up more than doable.
No word on whether or not Rodgers can play the jazz flute, but he does know a thing or two about doing exactly what he's told.
He said as much after Green Bay's win over the Seattle Seahawks.
Green Bay Packers quarterback Aaron Rodgers said the game plan for Seattle was "Ron Burgundy-ish"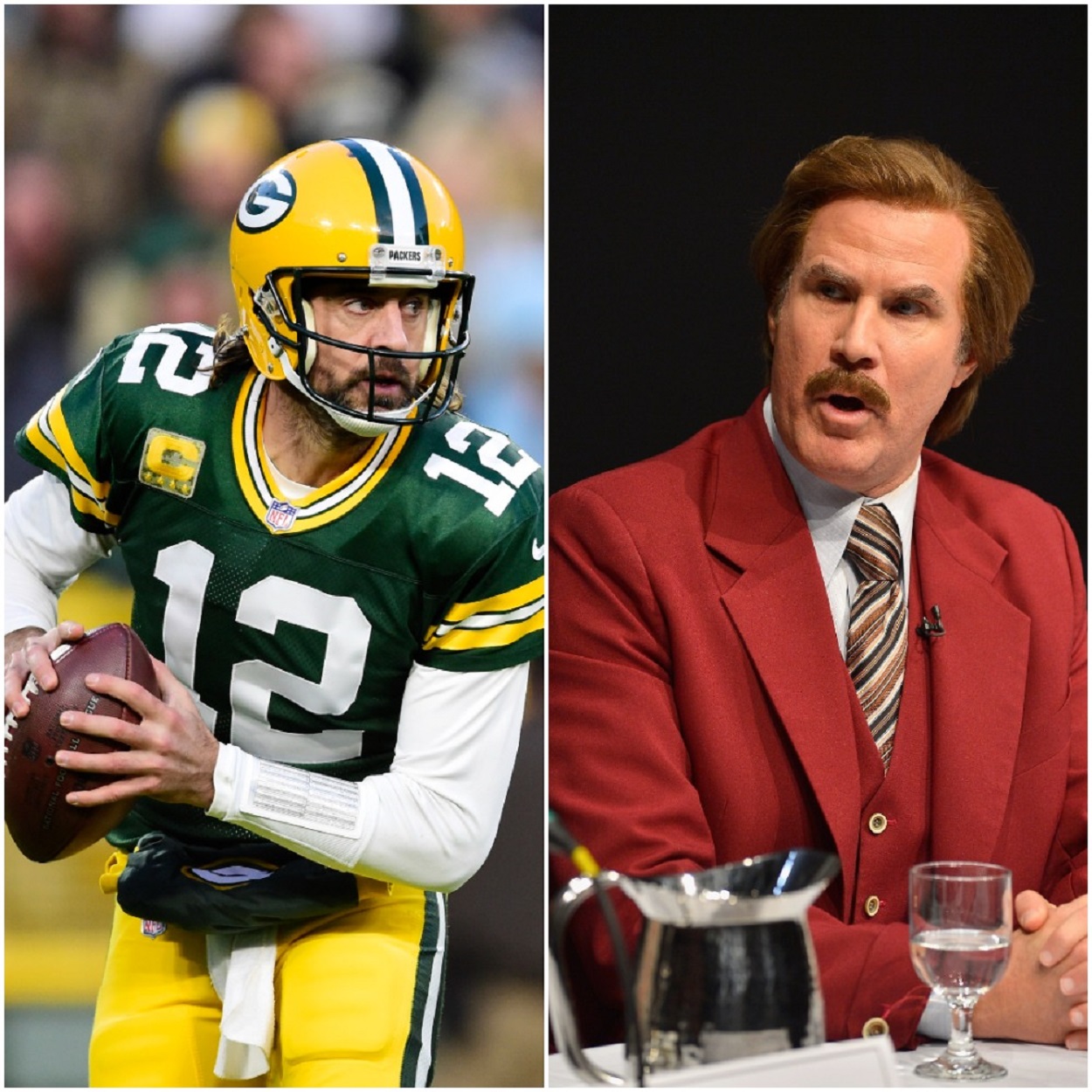 Rodgers infamously missed 10 days before Green Bay's game against Seattle due to a positive COVID-19 test. The drama surrounding that has seen its fair share of coverage, so let's focus on the football aspect of his quarantine.
The quarterback was able to meet with his team virtually ahead of the game, but he wasn't able to return to the facility until the Saturday before the game. Backup Jordan Love got all the reps with the offense during the week, which meant Rodgers went into the matchup with the Seahawks a bit cold from a game-planning perspective.
Head coach and play-caller Matt LaFleur is known as one of the best offensive minds in the NFL and he and Rodgers have developed a potent offense both know like the back of their hands. Still, Rodgers relayed that LaFleur had to simplify the play calls a bit for his quarterback against Seattle. This was due to Rodgers not getting reps in practice during the week.
"Today … was going to be more Ron Burgundy-ish," Rodgers told the team website after the game. "Sometimes (I've) got to repeat exactly what's being said verbatim and kind of feel my way through some of the plan, but I feel like Matt did a nice job of limiting the long play calls early in the game. There was a lot of run-it plays, not a lot of cans or adjustments on them, so I think that made me settle in a little bit."
Rodgers had a Burgandy-ish game against Seattle
Burgandy was known for saying exactly what the teleprompter told him to, though that did famously get him in a bit of trouble.
Rodgers didn't get in trouble with the FCC because of his communication with LaFleur on the in-helmet headsets, so that's a plus. He also didn't play up to expectations, though. As a three-time MVP, Rodgers is expected to be special every time he puts on his helmet.
He was anything but against the Seahawks. In fact, one imagines that if they switched spots and Burgandy put on the No. 12 while Rodgers did the nightly news, San Diego's finest could have had similar results.
That's not a good thing.
Rodgers completed just 23-of-37 passes against Seattle for 292 yards, no touchdowns, and one interception. The interception, in particular, was rather egregious because it came in the red zone, and it was a rookie mistake. Rodgers, while being tackled, threw a lame-duck into the end zone only to be picked off by Jamal Adams.
"I thought there were a couple plays where we had opportunities where he threw some great balls and we just didn't come up with," LaFleur said, somewhat covering for his MVP quarterback. "And there were some where I'm sure he would like to have back, just like there is every game."
It's still safe to bet on Rodgers and the Packers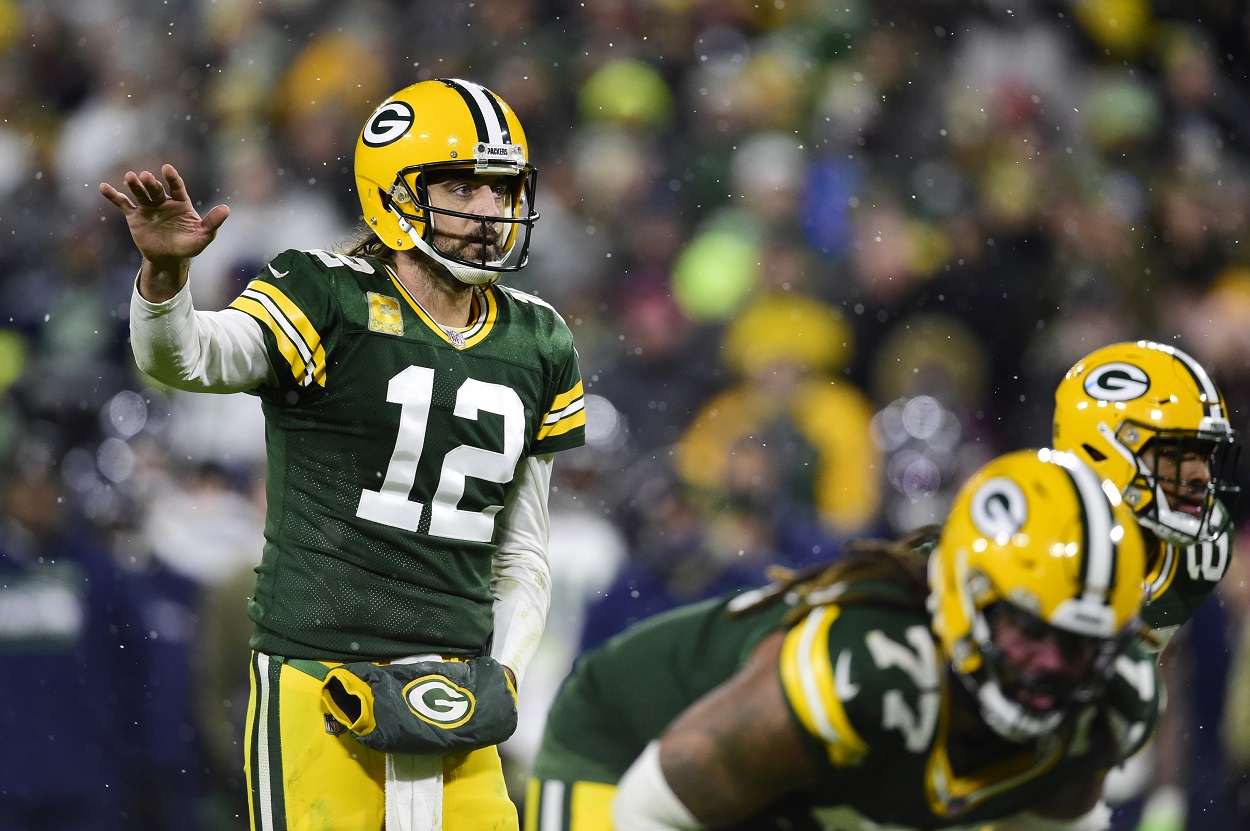 The Packers are now 8-2 and have a comfortable lead in the NFC North. They also have the top spot in the overall NFC standings, so at this point, Green Bay isn't thinking as much about making the playoffs as it is thinking about seeding.
The Packers had the No. 1 seed in the NFC last season but couldn't capitalize on the home-field advantage when Tom Brady and the Buccaneers invaded Lambeau Field and ruined the Rodgers' MVP season with a win in the NFC Championship game.
Green Bay certainly wants to try to flip that script in 2021, and securing home-field advantage is the first step in that plan. With games against the Rams, Ravens, and Browns still looming on the schedule, it's not going to come easy. The Packers also have a divisional matchup at Minnesota coming up that won't be a cakewalk. Four of the remaining seven games on Green Bay's schedule are against the NFC North, and though the Packers are clearly the class of the division, divisional opponents never roll over when the Packers are on the schedule.
Despite his performance against Seattle, it's still a safe bet to assume that Rodgers and Green Bay will continue to roll, though.
Making matters even tougher for opponents is that stopping the three-time MVP no longer guarantees a win.
Green Bay's defense is all of a sudden a Top 5 unit after shutting out Seattle, and the Packers are starting to feature 247-pound road grader A.J. Dillon in the run game, and he'll just get tougher to tackle as the weather gets colder.
Though Burgandy had his fair share of struggles, at the end of the day, he knew he could lean on the Channel 4 news team to help lead him to victory in the ratings. He knew that he could never be counted out despite being down and out and that ultimately, he had something special on his hands.
After the Seattle game, a "misty-eyed" Rodgers escaped his own glass case of emotion as well.
I just don't take these things for granted, walking off the field as a winner," Rodgers said. "Just walking out with Preston [Smith], who I have so much love and appreciation for, and then hearing that type of response from the crowd, it was a little extra special today."
Stats courtesy of ESPN and Pro Football Reference.