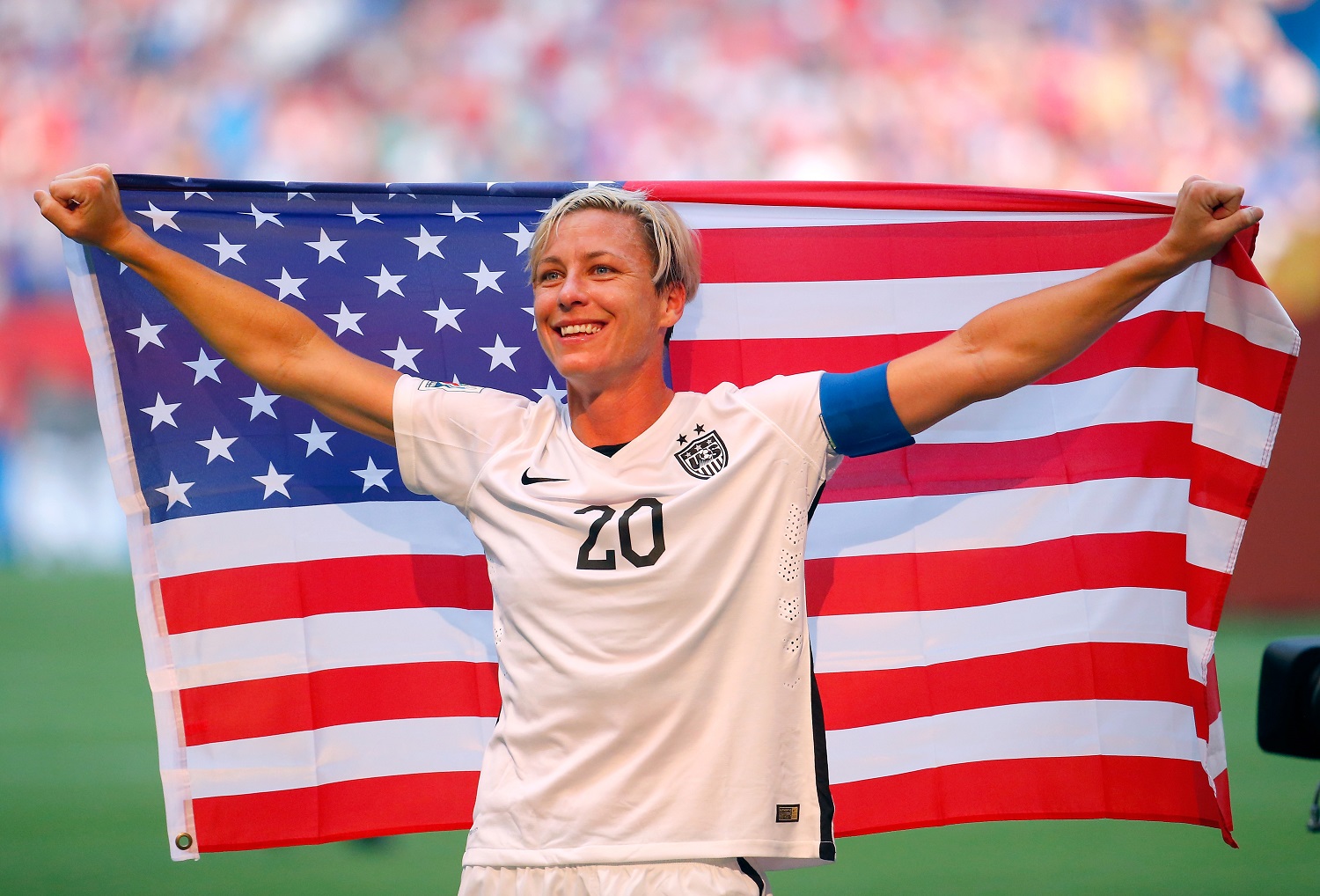 Abby Wambach and Brandi Chastain Hope Their Deaths Ultimately Make Soccer Safer
Abby Wambach, Brandi Chastain, Megan Rapinoe, and Michelle Akers are among U.S. Women's National Team soccer stars donating their brains to a CTE study.
No one in U.S. soccer history is a match for Abby Wambach's productivity as a goal-scorer on the international stage. Her trademark inside the box for the U.S. Women's National Team was going airborne to head the ball home, and Wambach was as dangerous as anyone in that respect.
Now retired, Wambach wonders if the greater danger was to her long-term well-being.
Abby Wambach and Brandi Chastain have had signature moments
Defeating Germany at the 2004 Olympics in Athens set the United States up for a women's soccer final against Brazil. With the gold-medal contest in overtime, Kristine Lilly served up a corner kick that Wambach headed home from 10 yards out in the 112th minute to secure a 2-1 victory.
It was Brandi Chastain's moment to shine five years earlier. With the U.S> Women's National Team hosting the Women's World Cup, the championship came down to the host nation taking on China before 90,000 fans at the Rose Bowl. Regulation and 30 minutes of overtime resulted in no goals, setting up a penalty-kick shootout.
The United States won, 5-4, after Liu Ying of China missed her attempt in the fifth round and then Chastain converted her try. In her exuberance, Chastain ripped off her Team USA shirt, dropped to her knees, and looked skyward. The moment produced the memorable photo of Chastain, arms pumped and torso covered by her sports bra, that graced hundreds of front pages across the nation the following morning.
Those two moments did as much as anything else to boost the profile of women's soccer in this country.
Abby Wambach and Brandi Chastain hope to make soccer safer
The United States has long been one of the international powers in women's soccer, scoring World Cup golds in 1991, 1999, 2015, and 2019. They've also triumphed in the Olympic finals in 1996, 2004, 2008, and 2012.
The majority of players currently on the U.S. Women's National Team were toddlers or weren't even born yet when their predecessors were winning those early titles. Those pioneers are still contributing to the sport in a way that would have been unimaginable at the turn of the century.
Michelle Akers, one of the original U.S. soccer superstars, and Brandi Chastain did a 2019 CBS television interview in which they revealed steps they are taking to raise awareness of chronic traumatic encephalopathy. CTE is commonly associated with football players who have suffered repeated blows to the head, some severe enough to result in concussions.
Soccer players experience occasional head-to-head collisions in the air while battling for the ball. But there are literally dozens of opportunities per game to head the ball, often on the receiving end of long clears.
"I was the one, the target. So, I won every punt by the goalkeepers," Akers said. "As far as headers went … usually 50 a game."
Akers said she suffers from migraine headaches, and Chastain has cited memory lapses. 
They were two of the first U.S. soccer players to volunteer for a study at the Boston University School of Medicine. Akers, Chastain, Abby Wambach, and Megan Rapinoe are among the players who have asked that their brains be donated to researchers in the study after they die.
The CTE study is the first of its kind
The Boston University CTE Center study looking at risks associated with repeated impacts for female soccer players is the first of its kind. The study is assessing some of the best-known retired players to look for signs of CTE and learn more about how the disease may develop and progress.
"There is such a need to include women in medical research, especially in these types of sports-related brain problems," said Dr. Robert Stern, according to NBC News. "They've been understudied."
The study includes 20 retired U.S. Women's National Team or professional players over the age of 40. The results from a battery of baseline tests are being compared with a cross-section of similar-aged women as well as other groups such as football players and Alzheimer's patients.
Like Sportscasting on Facebook. Follow us on Twitter @sportscasting19.