Abu Dhabi Grand Prix: 5 Things to Know Going Into the Race
Twenty-one races down and one to go. The 2021 Formula 1 season is at an end, but not before the drivers and teams hit the track one more time. After years of complaints about poor racing, a lack of passing, and a single driver and team dominating the year, Formula 1 has experienced one of the best seasons, with close championship battles and epic on-track action.
The Yas Marina Circuit hosts the season finale in the city of Abu Dhabi in the United Arab Emirates. The drivers' championship is equal in points between two of the sport's best drivers, and the constructors' battle is far from over, with a scant 28 points separating the leaders. Everything is on the line, and the teams will be gunning for glory, so here are the five stories to follow ahead of a monumental season finale.
Both titles will be decided in a single race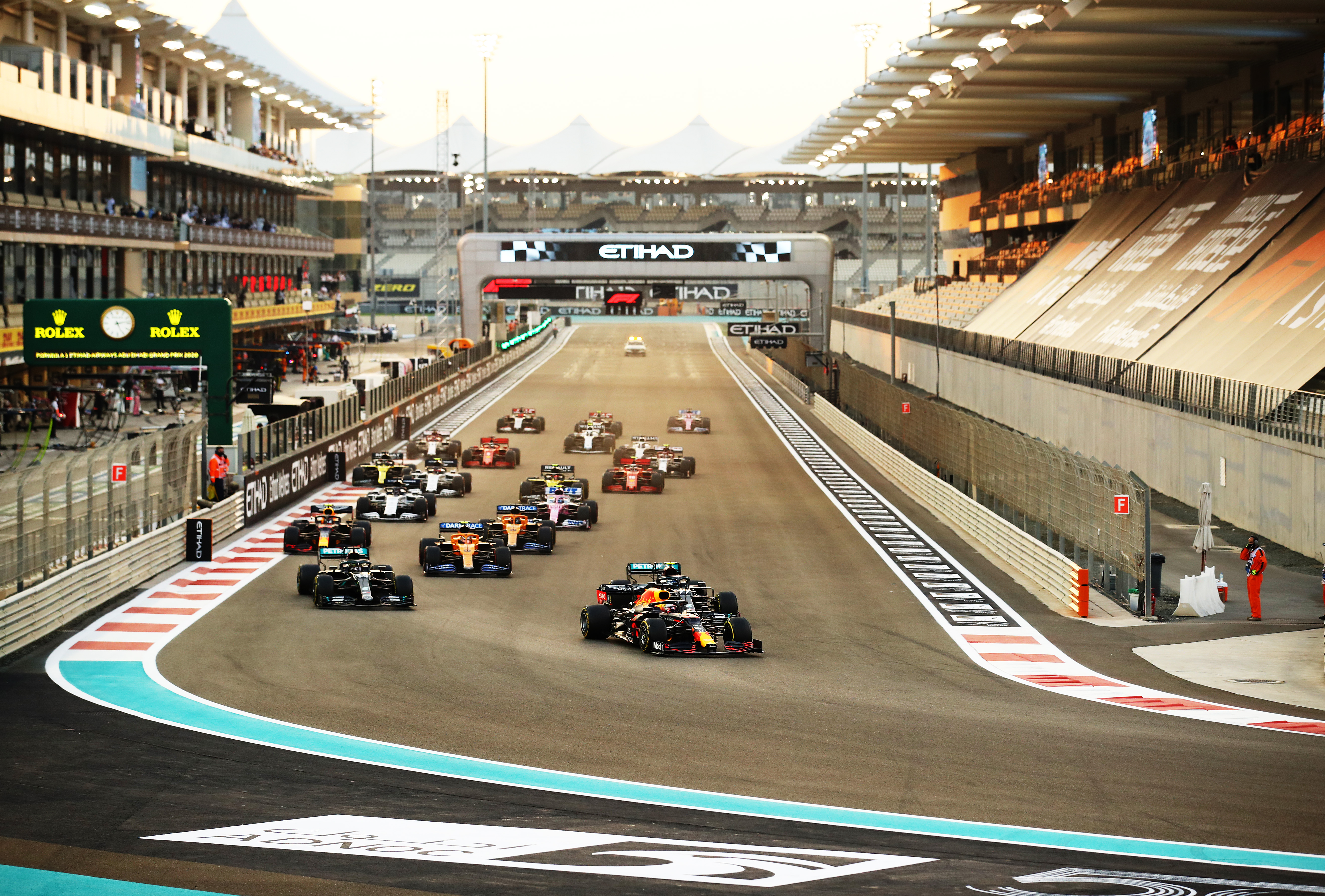 The championship battle is the most significant talking point of the 2021 Formula 1 season. All year, seven-time champion Lewis Hamilton has fought wheel-to-wheel with the fast, aggressive, uncompromising Max Verstappen. These two drivers are equal in points heading into the Abu Dhabi Grand Prix. 
Hamilton has won the last three races with performances that allowed him to come back from a 19 point deficit. Verstappen is no push-over and has done everything possible to beat the Mercedes man. Both drivers can win the title and would be worthy champions, but Hamilton's experience and the current pace of the Mercedes F1 car give him a slight edge. Anything can happen when these two hit the track, but neither will want the championship to end under a cloud of controversy.
In the constructors' championship, Mercedes GP hold a 28 point advantage over Red Bull Racing. Red Bull has looked to be the stronger, faster, better team throughout most of the season, but Mercedes have won the past seven championships for a good reason; they are the best in the business. Each teams' number two drivers, Valtteri Bottas at Mercedes and Sergio Perez at Red Bull, play a critical role in the championship outcome. If either team is to win the title in 2021, they will need each driver to score maximum points.
History favors Mercedes at Yas Marina, but Red Bull has proven that they can win anywhere and at any time. 
Will race control and the officials decide the race with penalties?
This year, inconsistent officiating and penalties have been another big story, with the issue taking center stage at the Saudi Arabia Grand Prix. It will be up to Hamilton and Verstappen to race cleanly and avoid collisions, or race control could step in and assign a race-changing penalty.
Before Michael Masi's tenure as race director in Formula 1, the teams and drivers had a solid grasp of the rules and penalties that govern. This year, the appearance is that those rules, penalties, and decisions have an element of inconsistency, with similar incidents between drivers receiving vastly different penalties. That uncertainty about what penalty might occur adds an element of unpredictability to each race.
The drivers are ultimately responsible for their actions on the track, but a penalty, of an unknown magnitude, could dramatically change the nature of the race and championship.
Changes to the Yas Marina Circuit will make it faster
The Abu Dhabi Grand Prix has earned a reputation as one of the least exciting races on the calendar. The location is spectacular and glamorous, but historically, there has been nothing exciting about the on-track action.
This year, circuit organizers decided to make changes to the track to improve the quality of the racing. The turn five and six chicanes have been removed, the hairpin has been opened-up and moved forward on the circuit, and the turns 11 through 14 complexes have been replaced with a 180-degree sweeping corner.
The changes to the track layout will dramatically reduce lap times, with Formula 1 tire supplier Pirelli stating that the cars could be as much as 14 seconds per lap quicker. Whether this translates into better racing is yet to be seen, but the new, higher-speed nature of the circuit could suit Mercedes better than anyone else. 
Pierre Gasly, Esteban Ocon, Lando Norris and Daniel Ricciardo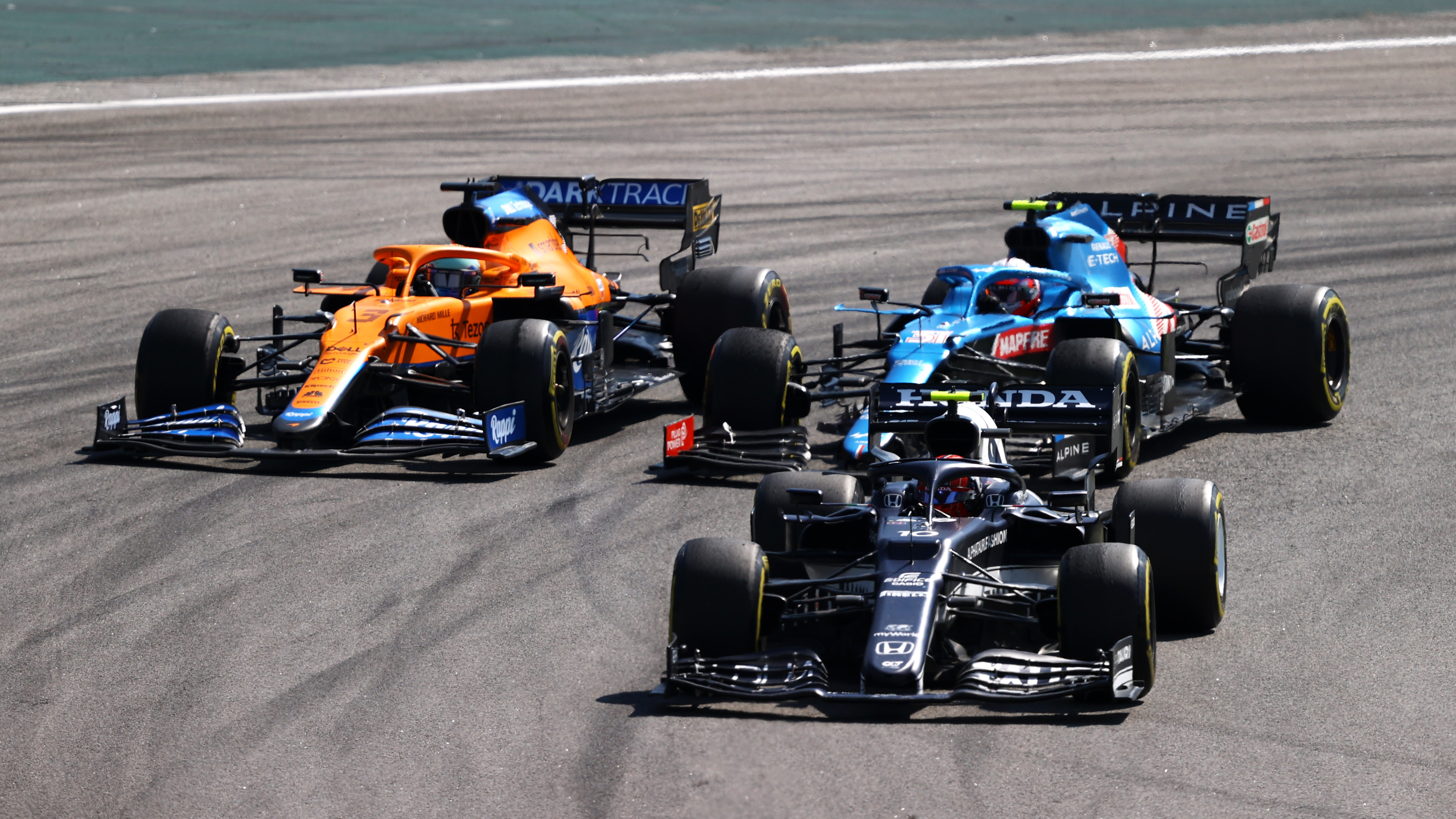 Four drivers desperately want to end 2021 with a podium finish. Pierre Gasly has had one of his best seasons and scored over 100 points for the first time in his career. He and his AlphaTauri F1 car have looked very strong when the setup is correct, but a few strategy errors have cost him better results this year. There is talk that Gasly is a driver who deserves a top-team ride, and a strong result in Abu Dhabi will only reinforce those opinions.
This year, Esteban Ocon won his first Formula 1 race, holding off four-time world champion Sebastian Vettel. He narrowly missed out on a podium finish in Saudi Arabia after a superb drive saw him challenge Verstappen and Hamilton for the race's lead. His teammate, Fernando Alonso, gets most of the press, but Ocon has done an excellent job this year. He's not flashy, not particularly exciting to watch, but he is fast and will be eager to prove that he is one of the best.
Lando Norris has had nothing but back luck lately. He started the year with a run of excellent finishes that made everyone wonder if he was a future world champion. But after the summer break, a run of bad luck and poor races have made him look mediocre. He is devastatingly quick in qualifying, but he needs to convert that into a great finish in Abu Dhabi. He is capable of winning this race and will be one to watch on Sunday.
Daniel Ricciardo has had a rollercoaster season full of struggles with the car and dealing with a quick teammate. His win at Monza in Italy proved he hadn't lost any of the magic that defined his early career, but up and down performances have many questioning what is going on with him. A fifth-place finish in Saudi Arabia went some way to prove that he is coming to grips with the McLaren F1 car, but Ricciardo won't be content with that. He wants to win and needs a great race to carry momentum and motivation into next year. 
What would it mean if a crash decided the 2021 World Championship?
In 1997 a collision between the Ferrari of Michael Schumacher and the Williams of Jacques Villeneuve decided the world championship. Villeneuve emerged the victor on that occasion, and a similar situation could happen this year in Abu Dhabi.
With Lewis Hamilton and Max Verstappen tied in points, a crash that results in both drivers failing to finish would hand the title to Verstappen. This year, he has more race victories, nine to Hamilton's eight, that would be the decider in a tie-break situation. 
What happens if one driver takes out the other in the race? If Hamilton fails to finish, he loses the title. However, if Verstappen fails to finish but Hamilton makes it to the checkered flag outside of the points-paying positions, the Dutchman can still win the title.
A penalty could throw a wrench in all of these scenarios, and it would be in both drivers' best interest to avoid race control intervening.
The big picture view is a bit different. A championship title decided by a crash always adds controversy and questions about the winner's legitimacy. Both drivers and teams have often said that they don't want the championship to end this way. A glance at the past few races would suggest that neither Hamilton nor Verstappen will back down from a challenge and that contact between the two may be inevitable.
Regardless of how the championship battles play out, the Abu Dhabi Grand Prix is set to be an epic finale to a fantastic season of Formula 1 racing. Whoever emerges triumphant will be a deserving champion. Anything can happen in a winner-takes-all situation, but everyone will want to see the fastest driver in the fastest car win rather than a championship decided through penalties and crashes.
Related: Lewis Hamilton's Win in Saudi Arabia Sends the Championship Fight to a Shoot-Out in Abu Dhabi. Here's What Lewis Needs to do to Take Home the Title