An 'Accidentally Liked' Tweet Just Proved the 49ers' True Disdain for QB Jimmy Garoppolo
The San Francisco 49ers are fresh off an incredibly frustrating loss. With a chance to cement themselves as a real threat in the NFC for the first time in two years, they could not get the job done on the road. The Tennessee Titans knocked them off 20-17, with most of the blame falling on the shoulders of oft-criticized quarterback Jimmy Garoppolo.
While the 49ers are still in a good position, all things considered (8-7 record, No. 6 seed), that hasn't stopped them from falling victim to an immense amount of criticism this past week. Garoppolo, in particular, has been the target of most people's frustration.
Jimmy Garoppolo continues to be attacked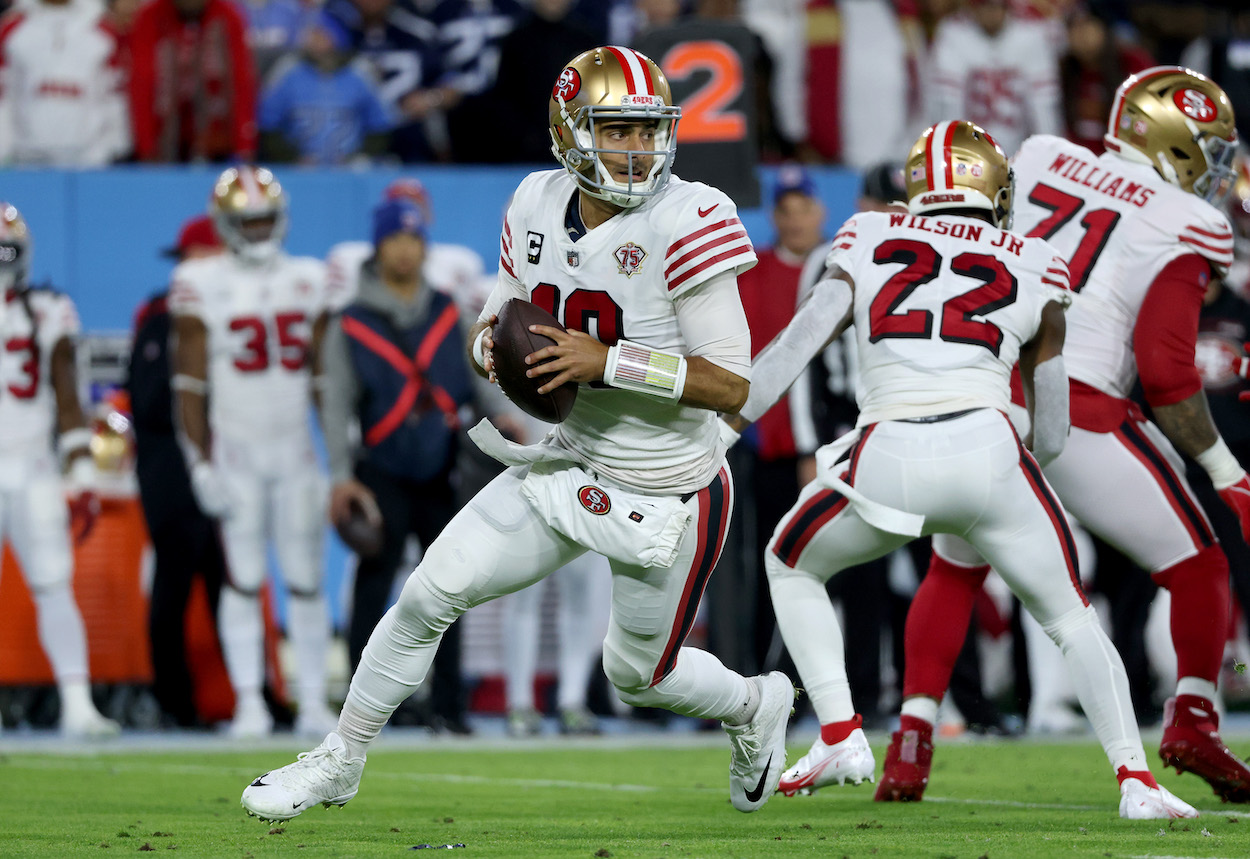 Since the moment the 49ers were unable to defeat the Kansas City Chiefs in Super Bowl 54, Jimmy G has been the main point of discourse in San Francisco. Some believe he's a legitimate franchise quarterback; others view him as a major limiting factor in San Fran.
The 49ers clearly feel a certain way about Jimmy G. They went as far as aggressively trading up to No. 3 overall in the 2021 NFL Draft to draft QB Trey Lance. The rookie has yet to take the reigns from Garoppolo quite yet. However, the expectation is that Lance will be the long-term starter in San Francisco.
Regardless, Garoppolo's performance against the Titans was a disappointing one. He threw two costly interceptions, which proved to be the deciding factor. Fans and analysts alike were quick to jump on him for his shaky performance. However, a far more important individual's commentary on the situation popped up.
49ers GM John Lynch 'accidentally' liked a tweet bashing Jimmy Garoppolo
Thanks to some detective work by Twitter, it was discovered that 49ers general manager John Lynch liked a tweet saying his team should leave Jimmy G in Tennessee. This was clearly reacting to Garoppolo's poor showing against the Titans, claiming the 49ers would be better off without him moving forward.
Once this like was revealed, NFL Twitter went ballistic. An organization's general manager liking tweets criticizing his own quarterback is pretty unheard of. If anything, it's a testament to the frustration with Jimmy G that appears to be boiling over in San Francisco.
Of course, John Lynch went on record saying the whole thing was one big accident. However, how something like this occurs by accident is pretty hard to figure out. This feels like damage control on Lynch's part after a bad decision.
Are the 49ers ready to commit to Trey Lance in 2022?
Up to this point, there's been a level of uncertainty regarding the 49ers' plan at quarterback for next season. Head coach Kyle Shanahan has expressed a lack of confidence in Lance on more than one occasion.
However, the idea of San Francisco bringing back Jimmy G after Lynch's recent comments feels impossible. It's clear the organization is ready to move on.
How this ends up happening? Only time will tell. Garoppolo will presumably remain the starter for the rest of this year's season. After that, only Shanahan and Lynch truly know.
All stats courtesy of Pro Football Reference.