The Jacksonville Jaguars Are Hoping Doug Pederson Can Coach Trevor Lawrence Like He Once Did With Brett Favre
The Jacksonville Jaguars hired Doug Pederson to be their new head coach, presumably for two reasons.
First and foremost, he has a Super Bowl win under his belt. Head coaches with Super Bowl experience don't just grow on trees.
One would think the fact that he's a former NFL quarterback and knows a ton about the position also played a huge factor for the Jags as well.
Getting the most out of Trevor Lawrence will be Pederson's most important task, and for what it's worth, Lawrence seems to be confident that his new coach can do just that.
The Jacksonville Jaguars hired Doug Pederson with one goal in mind: Super Bowls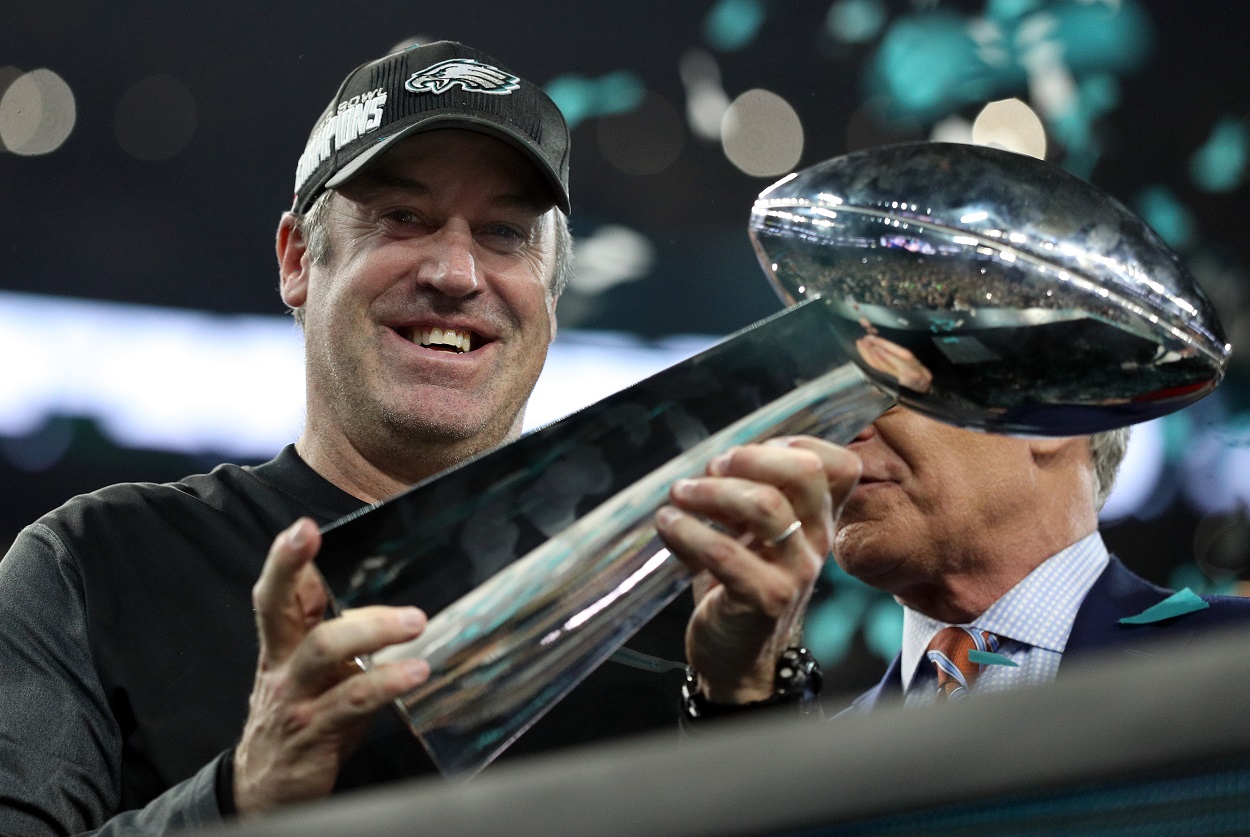 "Doug Pederson four years ago won a Super Bowl as head coach of a franchise in pursuit of its first world championship," Jacksonville owner Shad Khan said in his statement announcing the hire. "I hope Doug can replicate that magic here in Jacksonville, but what is certain is his proven leadership and experience as a winning head coach in the National Football League. It's exactly what our players deserve. Nothing less."
Khan also specifically mentioned Pederson's offensive abilities, which he honed for three seasons as offensive coordinator for the Kansas City Chiefs and then flexed as head coach of the Philadelphia Eagles from 2016-2020.
The pinnacle of Pederson's success in Philadelphia was a 41-33 win over Tom Brady and the New England Patriots in Super Bowl 52. Notably, Pederson guided the Eagles through the playoffs and to the Super Bowl win with his backup quarterback, Nick Foles, at the helm of the offense.
Carson Wentz led the Eagles to a 10-2 record and was playing like an MVP before he suffered a season-ending knee injury in Week 14. To that point, Wentz had thrown for 3,296 yards and 33 touchdowns with just seven interceptions, so it seemed that he would be nearly impossible to replace.
Pederson, along with Foles, led the Eagles to two more wins to end the season and then beat the Atlanta Falcons and Minnesota Vikings in the playoffs before upsetting the Patriots in the Super Bowl. Foles was incredible during the Super Bowl run, which was a credit to Pederson's ability to coach him up more than anything else.
The Eagles went 9-7 in both 2018 and 2019 and Pederson was fired after leading the team to a 4-11 record in 2020, but the coaching effort he put forth in that Super Bowl season should never be forgotten.
It undoubtedly played a huge role in why the Jaguars hired him.
Trevor Lawrence and the Jags are ready to move forward with Pederson
Any success Jacksonville has in the coming seasons will likely start and end with Lawrence. The Jaguars took him No. 1 overall in the 2021 NFL Draft with the hope that he would be the franchise quarterback that could lead the organization to Super Bowl glory. The scouting report on him coming out of Clemson was that he was a transcendent talent. The results in his rookie season were a bit less optimistic, though. Lawrence threw for 3,641 yards and 12 touchdowns, but he also threw 14 interceptions.
To be fair to Lawrence, he had to deal with the disaster that was Urban Meyer as his head coach for much of the season. Meyer was fired after only 13 games as an NFL head coach, which goes to show you just how bad his tenure in Jacksonville was.
When all was said and done, Lawrence was at the helm of a 3-14 team. Considering the failure that was the 2021 season in Jacksonville, he and the Jags are hoping that such a hapless season will be a thing of the past now that Pederson is in charge.
"We're really excited obviously," Lawrence told Ashlyn Sullivan via a video released by the Jaguars. "I talked to him briefly on the phone Thursday night, and then today, first time meeting him in person, just seems like a really great guy. Obviously, he's had a lot of success. His resume kind of speaks for itself. He's an offensive guy, played quarterback in the NFL. All of those things make me really excited, and it's something that I'm just excited to get to work with him and see what he brings to the table."
Lawrence is excited that Pederson is a former quarterback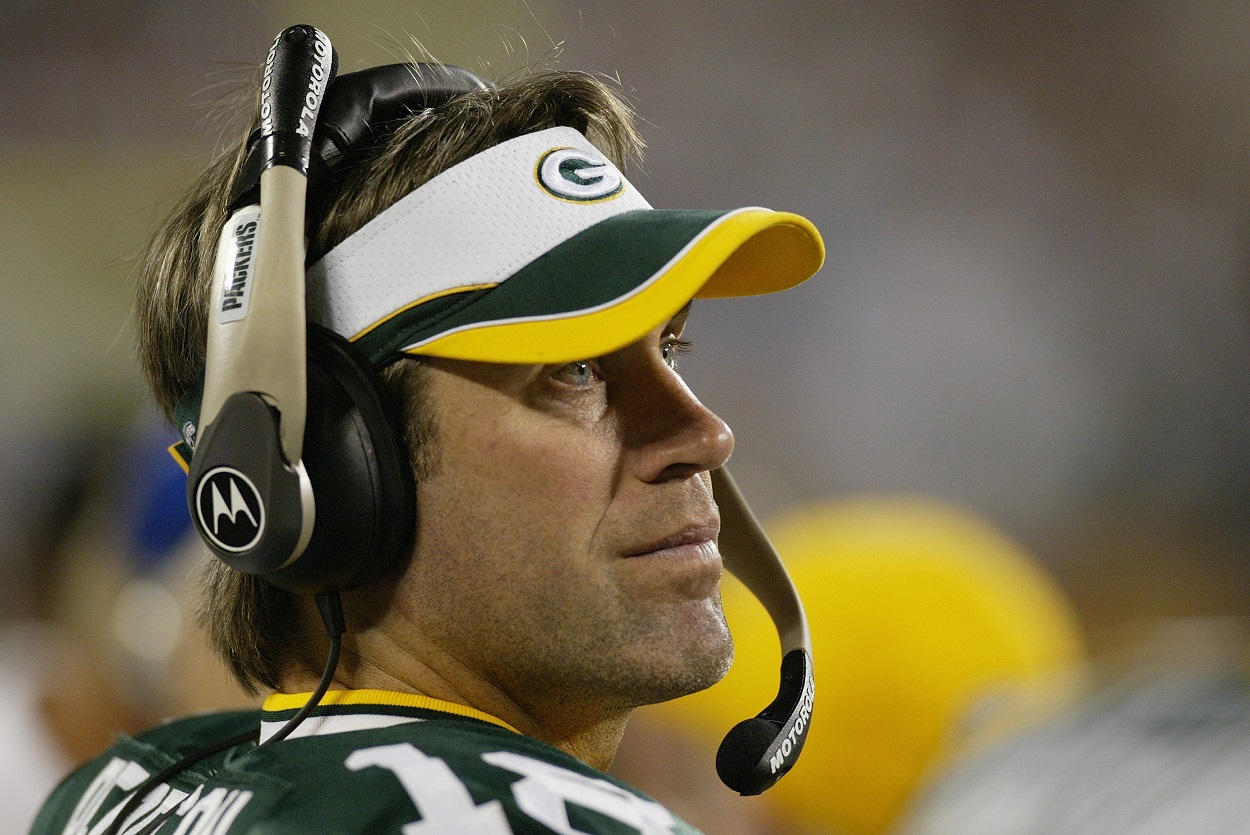 Though he's become chiefly known as the coach who brought the first-ever Super Bowl win to Philadelphia, older fans may remember Pederson better as a quarterback. Specifically, he's likely remembered by fans of the Green Bay Packers, where he spent many years as the backup to Brett Favre. With that said, Pederson also spent some time with Miami Dolphins and also with the Eagles, where he backed up the likes of Dan Marino and Donovan McNabb.
Pederson learned from the best, but he also brought a ton to the table himself.
"He was incredibly valuable and important to my career," Favre told Peter King back in January of 2018 with Pederson just days away from beating Bill Belichick in the Super Bowl. "Doug and I were together, whatever, 10 years? Not long enough if you ask me. The only bad thing for me was we weren't together 20 years. I always thought Don Strock and Dan Marino were like a match made in heaven. That's the way it was with me and Doug."
Favre related that Pederson was very much like a coach to him, even though he was technically his backup.
"He knew what I was thinking, and he was able to relay that to the coach, or the play-caller. Not a lot of the backup QBs have the headset on, but I wanted him talking to the coach. He'd tell the play-caller, Mike [Holmgren] or Sherm [Lewis, offensive coordinator] or Mike [Sherman, a Holmgren successor], 'Think checkdown.' Or, 'Third-and-three, expect this.' He was right so often," Favre said. "Some quarterbacks don't want anything in their ear but the play. I did. I would say, 'Make sure to give me reminders.' So he'd say, 'Hey, Merton Hanks likes to come from the weak side here,' or 'Brad Culpepper is tilted on the nose here—be careful for the weakside blitz.' He just knew how I thought."
Years later, Pederson has the chance to talk into the helmet of another up-and-coming quarterback in Lawrence, and the expectations are just as high in Jacksonville as they were for Favre during his time in Green Bay.
Will Lawrence end up having the type of career that Favre did? If the Jaguars are lucky, he'll have half the career. Favre was an 11-time Pro Bowler, a three-time NFL MVP, and a Super Bowl Champion.
Pederson was in his ear for much of that ride, and now Lawrence will have the chance to get the same experience as the "Ole Gunslinger."
"He sees it through my lens more so than a lot of coaches that haven't played the position," Lawrence said.
The Jaguars are hoping that Pederson's "lens" will lead to the type of results for Lawrence that he helped Favre achieve all those years ago.
Stats courtesy of ESPN and Pro Football Reference. Contract information via Spotrac
RELATED: Doug Pederson Is the Perfect Coach to Salvage Trevor Lawrence's Sputtering Development