What Active MLB Pitchers Have Thrown No-Hitters?
No-hitters are not common in the world of major league baseball. In fact, Oakland's Mike Fiers threw only the 300th no-hitter in MLB history in May 2019 – the first of the season. We almost saw a second one shortly after when Dodgers' starter Hyun-Jin Ryu went into the eighth inning before seeing a hit by the Nats. It was a one-hit game the Dodgers won 6-0.

Much rarer are the elusive perfect games, 23 of which have been thrown. One active pitcher has thrown one of those, the Mariners' Felix Hernandez in 2012. It was a banner year for perfect games with former Giants pitcher Matt Cain throwing one just two months earlier in June, and former White Sox pitcher Philip Humber throwing his in April of that year.

Fiers second career no-hitter
The night game was delayed because of a lighting problem at Oakland Stadium, but the more than hour-long wait didn't seem to unsettle Mike Fiers. He responded to the lost time by throwing the team's second no-hitter in as many years. With 131 pitches, Fiers became the 35th pitcher to have thrown a no-no in their career. His first came with the Astros in 2015 and took 134 pitches.

Fiers gave up two walks in the seventh inning, which turned out to be uneventful but put him on a tight leash. Manager Bob Melvin warned Fiers that one more baserunner and he would be pulled for a relief pitcher. Heeding the warning, Fiers got to the finish line, thanks in part by some outstanding defensive plays by second baseman Jurickson Profar and center fielder Ramon Laureano.

No-hitters in 2018
There were several no-hitters in Major League Baseball in 2018. Two were solo performances. The Athletics' Sean Manaea had one, and the Mariners' James Paxton delivered the other.

It was against the hot-hitting Boston Red Sox that Manaea earned his first no-hitter. Manaea blanked the Red Sox on 108 pitches and brought their eight-game winning streak to a halt. We say first no-hitter, as the left-handed Manaea is only 27 and has plenty of time to try for another no-no.

Paxton's no-no came against the Blue Jays in Toronto. Sure it would be more fun to throw a no-hitter at home, but in a way, it was at home for Paxton, as he became the first Canadian to throw a no-hitter in Canada.

"To have it happen in Canada. What are the odds?" said Paxton, who was drafted by Toronto in 2009, but didn't sign until being selected by Seattle a year later, as reported by MLB. "It's pretty amazing. Just very special. And against the Blue Jays? You couldn't write this stuff."
A four-pitcher crew of Dodgers combined for one of 2018's no-hitters. Starter Walker Buehler pitched six innings followed by relievers Yimi Garcia, Adam Liberatore, and Tony Cingrani, who each pitched one inning.
Active MLB pitchers with no-hitters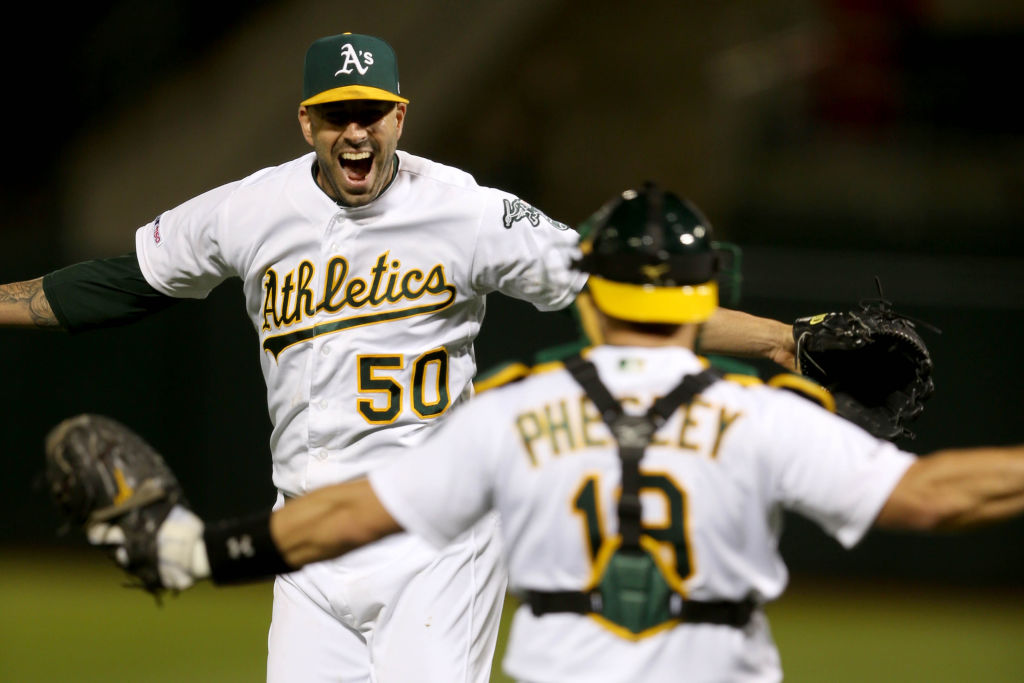 Among those pitchers who have thrown no-hitters on their own, there are several still playing. The list includes Fiers, Manaea, Paxton, Edinson Volquez, Jake Arrieta, Max Scherzer, Hisashi Iwakuma, Cole Hamels, Chris Heston, Jordan Zimmermann, and Clayton Kershaw.

Like Fiers, Arrieta and Scherzer each have two no-hitters. Besides his solo, Hamels was also part of a team no-hitter for Philadelphia. He pitched six innings, and then he gave way to relievers Jonathan Papelbon and Jake Diekman.

King Felix' perfect game
The Mariners have a bleacher section dedicated to King Felix' court. He earned it in his 2012 perfect game at home against Tampa Bay. Hernandez threw 113 pitches, 77 for strikes, and he tallied 12 strikeouts. He didn't have much run support either — just one — but it was all that was needed.

Hernandez' perfect game was the third that year. Three of those 23 ever thrown. It was the second perfect game in front of Seattle fans that year. Philip Humber's perfecto happened against the Mariners in April 2012.
By the time 2019 wraps up, we could more no-hitters added to the history books, and if we're lucky, maybe we'll see a perfect game. However, any additions will not take anything away from these pitchers who have already earned their way into the history books.