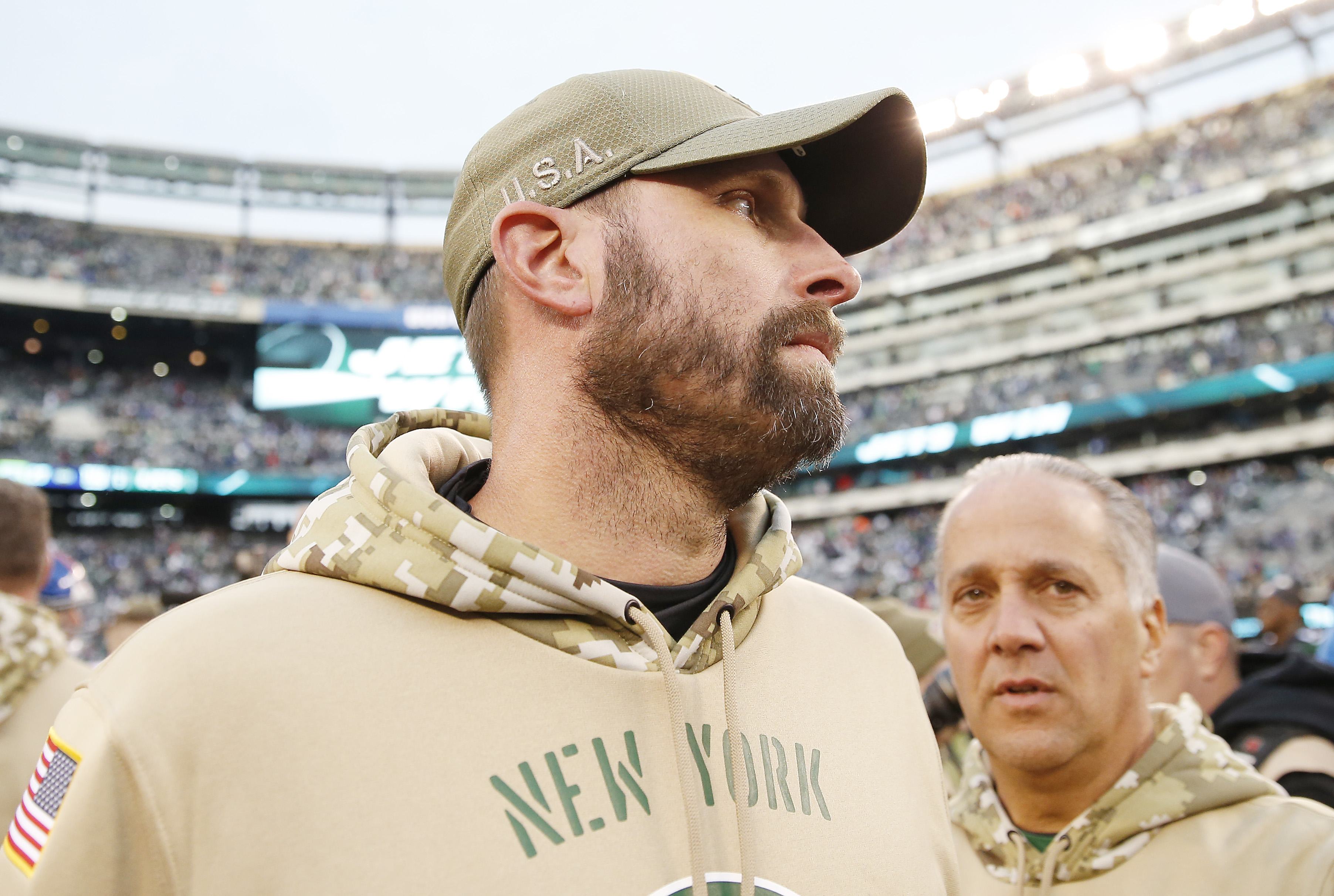 Adam Gase Focused on Denver Broncos, Not Job Security
New York Jets head coach Adam Gase comes into Thursday's game focusing on the Denver Broncos and not his job security.
The seat couldn't possibly be any hotter for Adam Gase. The second-year head coach of the New York Jets has his team playing at rock-bottom level, entering Thursday's game with the Denver Broncos. Although the Jets are 0-3, Gase isn't worried about his job security. He said worrying about getting fired would be "wasted energy."
Adam Gase has struggled with the New York Jets
Adam Gase has been a head coach in the NFL since the 2016 season after he was the offensive coordinator of the Chicago Bears. The Miami Dolphins took a shot with the young, offensive-minded coach and appeared to have made the right decision. In his first season as a head coach in the NFL, Gase went 10-6 with the Dolphins.
He took Miami to the playoffs his rookie year but hasn't had a winning season since. In 2017, Gase went 6-10 and then followed that up with a 7-9 season in 2018. Gase was let go after the 2018 season and was quickly picked up by the New York Jets.
The Jets were expecting big things in 2019 under Gase. They had a promising young quarterback in Sam Darnold and newly-signed Pro Bowl running back Le'Veon Bell. The Jets had their worst start to a season in 12 years, going 1-7, but bounced back to go 6-2 in their last eight games to finish 7-9. The team is 0-3 to begin 2020 and fans are already calling for Gase to be fired.
Gase has the support of the Jets front office
Despite the New York Jets' 0-3 start and their struggles on the offensive side of the ball, CEO Christopher Johnson has said he has full faith in both head coach Adam Gase and quarterback Sam Darnold in righting the ship. Johnson even went so far to say that Gase is a "brilliant offensive mind."
"I have full confidence in Adam," Johnson said, according to ESPN. "I think that he has a lot more in him as a head coach than some of our fans are giving him credit for. And I understand they want to see success. I think that they will and I think he can work with and develop quarterbacks. I do continue to think he's a brilliant offensive mind, especially. He has my every confidence."
Johnson also said the same about Darnold. "I have so much confidence in Sam," Johnson said. "He's the best player I know at turning the page, the absolute best, and I think he'll turn the page on this last game, I think you'll see an extraordinary Sam. I think we're going to see him turn into that quarterback that we all expected shortly, I really do. I think he's an absolute sterling quarterback."
Gase: 'Wasted energy' to think about job security
Despite Thursday night's game being considered a clunker by most fans, it's a big one for New York Jets coach Adam Gase. The 0-3 Jets host the winless Denver Broncos. An 0-4 start after losing at home to the banged-up Broncos could prove deadly for Gase's future. If the Jets win, the morale could change, and a season could be saved.
Gase isn't thinking about anything else but the Denver Broncos. He has to find a way to get his team straightened out. He said he wouldn't be able to focus on getting the team on the right track if he continued to worry about his coaching future.
"I can't focus on that. It's wasted energy," Gase said, according to ESPN. "It's not going to help me at all. All I can do is make sure I get our guys into the right headspace to go out there and play well. … If I waste my energy on anything else, it's counterproductive to what we're doing."