Adam 'Pacman' Jones Sends Ugly Message by Burning Joe Haden's Steelers Jerseys
Adam 'Pacman' Jones just wrote the setup to a joke. What do Joe Haden and LeBron James have in common?
Easy. Someone associated with Ohio burnt their jerseys in frustration and posted it online.
Jones recently went viral for burning jerseys that Joe Haden, the veteran Steelers cornerback, had signed. Jones, who spent most of his career playing for the Cincinnati Bengals, shared the burning on Instagram.
What led to the burning, and what did Haden say in response? Let's take a look.
Adam 'Pacman' Jones played 12 seasons
RELATED: How Adam 'Pacman' Jones' Off-Field Struggles Stained His NFL Legacy
A first-round pick of the Tennessee Titans in 2005, Adam 'Pacman' Jones proved himself as an effective ballhawk.
The 5-foot-10, 185-pound cornerback recorded 17 interceptions, 92 pass breakups, seven forced fumbles, and 12 fumble recoveries in 12 seasons. He earned Pro Bowl honors in 2015, a year he snagged three interceptions and broke up 12 passes.
A year earlier, both the AP and Pro Football Writers of America named him an All-Pro kick returner.
Jones is best known for the eight seasons he spent with the Cincinnati Bengals. Various legal issues forced him out of Tennessee and Dallas early.
Although he didn't have a perfect record in Cincinnati, Jones thrived there in his eight seasons. He last played in 2018 for the Denver Broncos.
Jones had his issues with the Pittsburgh Steelers
RELATED: Revisiting Ben Roethlisberger's Sexual Assault Allegations in the #MeToo Era
Adam 'Pacman' Jones had various issues throughout his career, both on and off the field.
Jones forfeited over $2 million of his career earnings in fines. He also had problems with the Steelers, arguably the Bengals' biggest rivals and a constant thorn in their side.
During a January 2016 playoff game between both teams, Steelers assistant coach Joey Porter got in Jones' face after a penalty. Porter received a $10,000 fine for being on the field.
Jones lost $28,940 when he made contact with an official in his pursuit of Porter.
Adam 'Pacman' Jones just went viral for burning Joe Haden's jerseys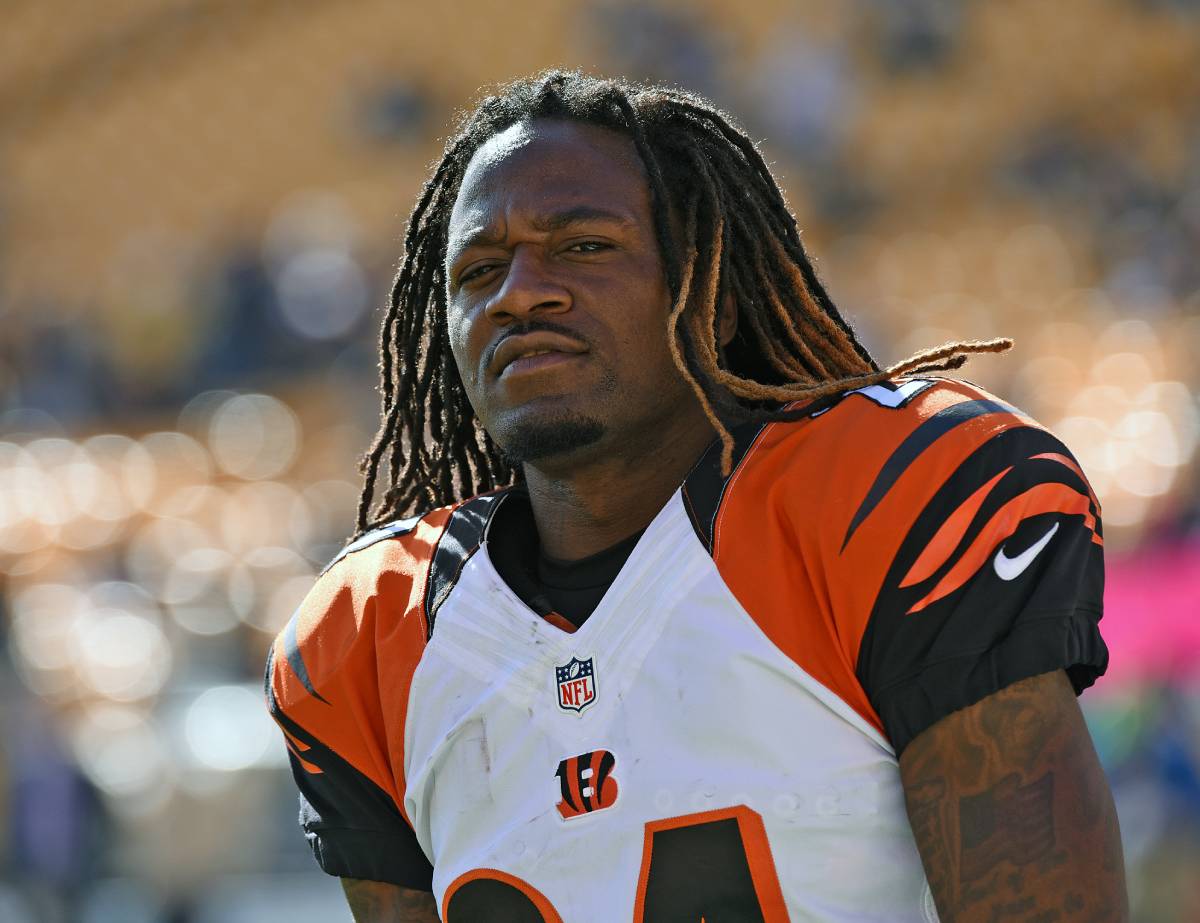 RELATED: A Former Teammate of LeBron James Was Devastated When He Left Cleveland to Join the Miami Heat
Given his problems with the Pittsburgh Steelers, it made sense Adam 'Pacman' Jones wanted nothing to do with Joe Haden's jerseys.
In a profanity-laced Instagram video, Jones filmed himself pouring lighter fluid on signed Haden jerseys and burning them in his driveway.
Jones said someone mailed him the jerseys.
"I'm not the one to f— with @joehaden23 p—- …. f— wrong with people," Jones captioned the video.
Jones didn't censor himself in the video, either.
"I'ma show you how gangsta I am. Whoever sent these punk-ass Haden Pittsburgh jerseys, all these b—-es about to get fired up."
Haden took exception to Jones' video, but not for expected reasons. The veteran cornerback messaged Jones and said he never sent the jerseys to his home.
Haden posted an exchange between the two on his Instagram story. Jones wrote, "I respect u cuz" and Haden replied, 'Appreciate it man! Respect! we solid!" and included the emoji of a Black fist raised.
Haden addressed the incident and said he "would never do something like that" in his own Instagram video.
"I just did an autograph signing. I don't know how it went to your crib. That's not something I would do ever, bro," Haden said, according to ESPN. "It just is what it is."
Like Sportscasting on Facebook. Follow us on Twitter @sportscasting19.