Adam Schefter's Remarks on Reporting a Big Story Have Not Aged Well in Light of Bruce Allen's WFT Controversy: 'It's Like a Drug. You Become Addicted to It'
ESPN has found itself caught in a cycle of controversy in 2021. Maria Taylor walked away from contract negotiations over Rachel Nichols' leaked comments about the network prioritizing black personalities. Stephen A. Smith engineered the removal of co-host Max Kellerman, leading to a major drop in ratings for network crown jewel, First Take.
So perhaps it shouldn't be surprising that ESPN is embroiled in the ongoing Jon Gruden blow-up. The story has overtaken sports media. Now, sports media itself has become a part of it.
It's the work of Adam Schefter, the network's top NFL breaking news reporter. His journalism ethics have become a source of criticism in light of "contributions" from Washington Football Team's former general manager Bruce Allen.
Adam Schefter's reporting on the Washington Football Team involves a major issue
Gruden's emails are only a small part of a broader NFL investigation into the Washington Football Team. The former Las Vegas Raiders coach is unlikely to be the only one under the microscope, given there are tens of thousands of emails involved. Sporting News reports that Schefter's emails to former WFT president Bruce Allen are the latest example of unethical behavior.
The ESPN reporter, working on a piece about the 2011 NFL lockout, sent the entire piece to Allen. While it is standard practice to ask for a comment on a piece, experts consider it a poor journalistic practice to send full text for an editing pass. Schefter acknowledges this in the email with a crass joke, referring to the WFT president as "Mr. Editor."
Under instant fire from his peers in sports media, Schefter quickly responded. In part, he wrote, "I took the extra rare step to run information past one of the people that I was talking to. You know, it was an important story to fans; a host of others, and that's the situation."
The New York Post reports that ESPN also issued a statement on the matter. "Without sharing all the specifics of the reporter's process for a story from 10 years ago during the NFL lockout, we believe that nothing is more important to Adam and ESPN than providing fans the most accurate, fair and complete story." The sports media giant has employed Schefter since 2009. It seems inclined to let events play out before issuing a more definitive statement on the particulars of this situation.
Schefter's skill at breaking big stories comes at a cost
The 2011 lockout was indeed an important story. But for Schefter, who runs stories that point to executives as the primary sources, the implications have a different tone. There is, ideally, a separation between working in journalism and in public relations or marketing. If one works consistently with only one side of the owner/player divide in the NFL, the coverage can tip into being advocacy — even if the information is accurate.
Schefter is good at his job — to the point that his net worth is estimated at $9 million. His accurate, breaking coverage of contract negotiations and trades regularly serves as the backbone of ESPN programming. These are the fruits of his "access journalism" style as he develops close ties to certain sources and withholds details at their request. This always runs the risk of veering away from the audience's best interests.
Controversies are a constant symptom of Adam Schefter's 'access journalism' approach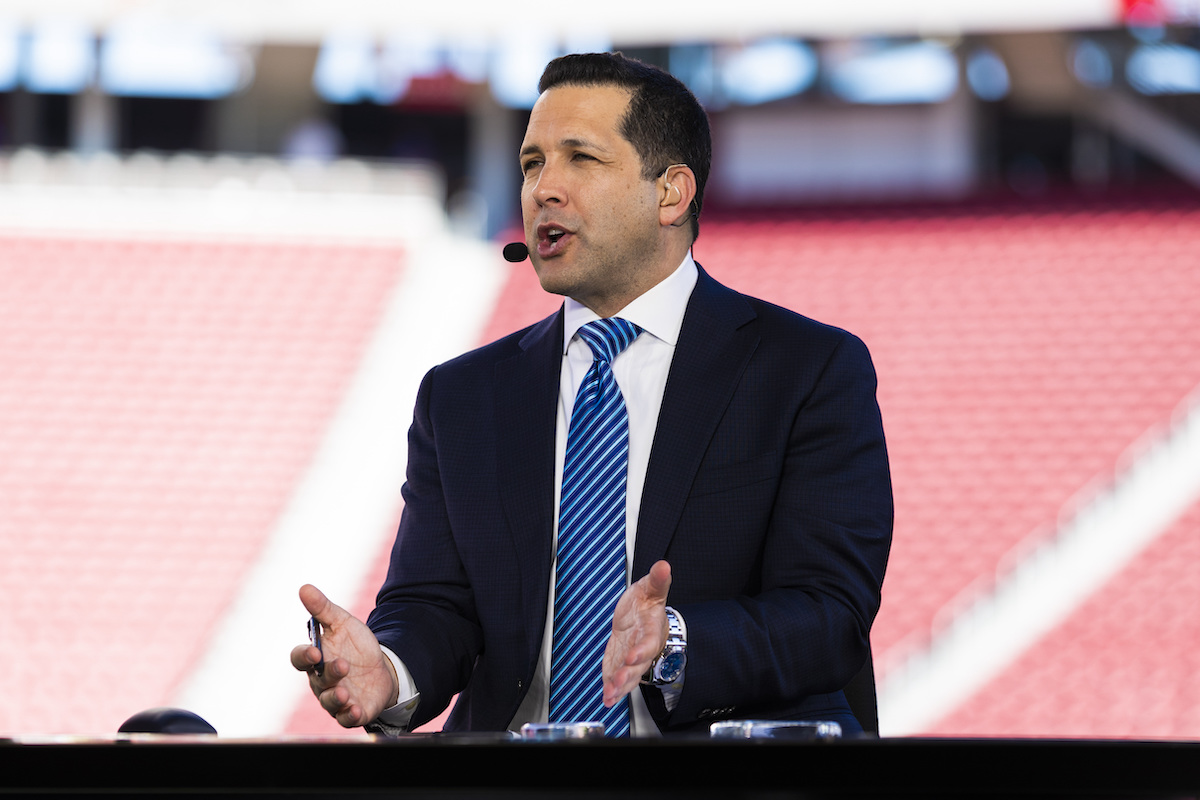 ESPN's reporting as a whole comes from many types of sources. Adrian Wojnarowski often produces stories that signal they came from a particular superstar's camp, although executives are clearly on his contact list as well. If Schefter's work is isolated, though, the apparent lean toward executives is problematic.
It has led to clashes with players and fans repeatedly over the years. During the tense 2020 season, he fired off tweets praising owners' handling of the season, with no games canceled. It led to a sizable backlash. Many felt it undermined the seriousness of that phase of the pandemic on the rest of society. As is often the case with access journalism, this kind of unprompted praise from reporters — not opinion, talk show types — appeals to their preferred sources.
Schefter has also found himself on the bad side of players, including Aaron Rodgers. The Green Bay Packers quarterback, the subject of many front office-friendly stories by Schefter, tends to poke fun at the ESPN reporter when he comes up in interviews. For an NFL player, even of Rodgers' status, the top sports network's best NFL reporter is seen as the opposition.
More seriously, Schefter was on the receiving end of a lawsuit from a player, USA Today reports. ESPN leaked former New York Giants player Jason Pierre-Paul's medical records via Schefter's reporting.
This breach in privacy is an example of how Schefter's consistent position in opposition to players can be harmful and unethical, even when the facts are accurate. The suit resulted in a settlement between Pierre-Paul and ESPN in 2017. The hospital fired two employees for leaking the information as well.
RELATED: Kyle Busch Savagely Mocks ESPN, Including Fake Press Conference, After Network Incorrectly Reported Him Moving to 23XI Racing