Adam Schefter Could Transition Into an Intriguing New Role at ESPN This Fall
Adam Schefter's popularity and stock have skyrocketed since he joined ESPN in 2009, and deservedly so. It's hard not to be considered among the most valuable players at the Worldwide Leader when you're the network's lead NFL reporter.
Although ESPN has no desire to part ways with Schefter anytime soon, the network is reportedly interested in giving him a new and unique role starting this fall.
Adam Schefter could host Peyton and Eli Manning's alternate 'Monday Night Football' broadcast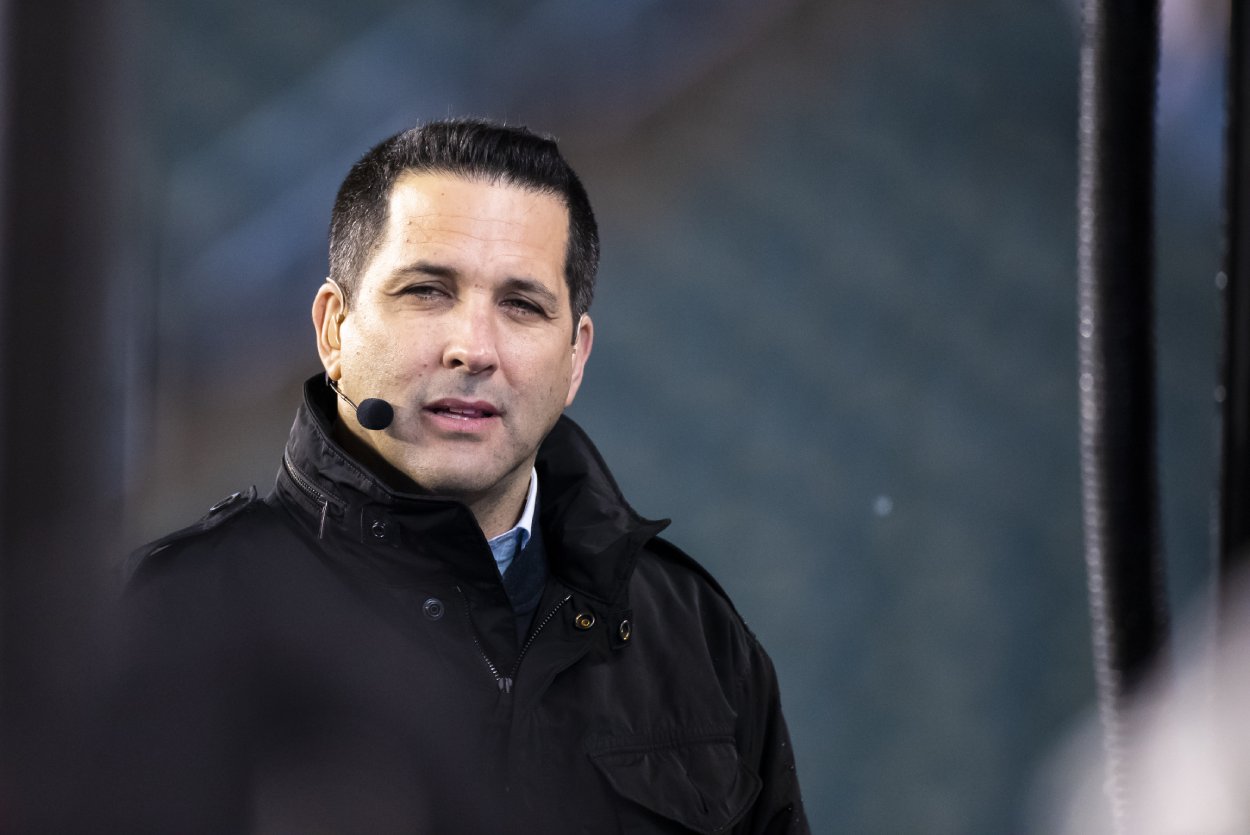 After years of reporting on Eli and Peyton Manning, Schefter could soon sit and analyze football with them.
The Manning brothers recently agreed to host an alternate Monday Night Football broadcast for 10 games in each of the next three seasons. That MegaCast will air on ESPN2 and stream on Disney platforms, including ESPN+.
While the Manning brothers are locked in, they also need a third member of the team. According to Front Office Sports, Schefter is among those who are already considered high-profile candidates to host the MegaCast. In fact, FOC reported Schefter, who turns 55 in December, has skyrocketed to the "top of the candidates list."
As of publication, ESPN had not yet officially announced who will host the program.
Schefter might need to rework part of his schedule if he receives that role
Schefter is an interesting name to host what ESPN hopes will be a creative and fun Monday Night Football broadcast. Although the veteran reporter has participated in numerous segments over the years, he seems like someone who would play more of the "straight man" role to the Manning brothers and their guests.
If ESPN had Schefter host the Manning MegaCast, the network might need to retool its Monday Night Countdown lineup. Schefter is a panelist who has worked both in the studio and on-site before the actual game begins.
It is not out of the realm of possibility that Schefter could do both. However, the network may see far more value in keeping its lead NFL reporter around and ready to break stories if need be. However, Schefter would still have the ability to report any news both through social media and on ESPN2.
If ESPN did replace Schefter on Monday Night Countdown and wanted to replace him with another reporter, the network could turn to Field Yates or Jeff Darlington. Yates currently hosts Monday Tailgate, a digital pregame show which airs on ESPN's social platforms.
Who else should ESPN consider as a possible host for the alternate broadcast?
ESPN clearly wants to make the alternate broadcast work, and the answer might involve having someone other than Schefter host. Could that extend to Yates, who already hosts a show affiliated with Monday Night Football?
Rachel Nichols has experience covering the NFL and working marquee events for ESPN. If both sides saw the Manning MegaCast as a way to move forward from her recent controversy involving Maria Taylor, this is a pairing that makes perfect sense.
Mina Kimes has skyrocketed up ESPN's depth chart in recent years because of her football knowledge and enthusiasm. Her fun demeanor and ability to bring her passionate fanbase to the broadcast would make her a natural fit. However, her talents might be wasted in a hosting role where the main attractions are two former star quarterbacks.
Elsewhere, Pat McAfee played with Peyton Manning on the Colts from 2009-11 and is among the most popular figures in sports media right now. However, McAfee has expressed frustration with ESPN in recent months, so that might be off the table.
Well, we at least can figure one thing. If Schefter is indeed the person who will host the Manning MegaCast, chances are he'll be the one that will break it.
Like Sportscasting on Facebook. Follow us on Twitter @sportscasting19.