Adam Silver and the NBA Are Reportedly Not Thinking About a Cancelled Season
The coronavirus pandemic has impacted the sports world greatly. From canceling the 2020 NCAA college basketball tournament to suspending the NBA's season, not one sports league in America hasn't been affected by COVID-19. Adam Silver and the NBA act as if they still want to finish the season at some point. However, he has said a canceled season is still possible. One general manager in the league, though, said that canceling the season is not on the NBA's mind.
The NBA suspended its season after Rudy Gobert tested positive
Rumors swirled around the NBA that the league was considering playing games without fans due to COVID-19. Reporters even asked Los Angeles Lakers star, LeBron James about it. James initially said he wouldn't play without fans. However, he then later said he had no idea the conversation was actually happening behind closed doors. He also said that he would be disappointed, but would listen to the people keeping track of everything going on, according to CBS Sports.
"If they feel like it's best for the safety of the players, safety of the franchise, safety of the league to mandate that, then we'll all listen to it," James said on March 10 according to CBS Sports.

LeBron James
Then the next day, Utah Jazz center Rudy Gobert tested positive for COVID-19. The NBA then suspended its season that night.
Adam Silver initially said cancellation is possible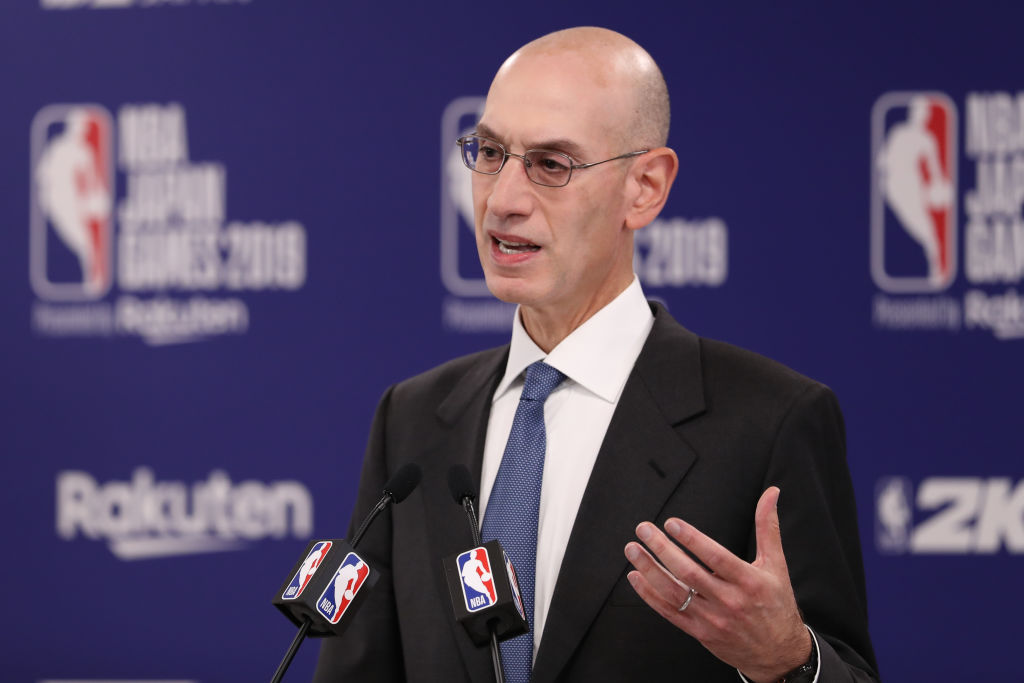 NBA commissioner Adam Silver went on TNT on March 12 to discuss the NBA's suspension. Silver said that the league would be suspended for at least 30 days, according to the New York Post. He also said canceling the season was possible but that they just didn't know at that point.
Then on March 18, Silver went on ESPN to discuss possible scenarios for once the season, hopefully, resumes. Silver said that the league is looking at when the league would be able to start with fans in attendance, or if they should just resume play without fans. He also mentioned that the league is looking into the possibility of having tested and quarantined players compete against each other. This would be either for a fundraiser or just for "the collective good of the people."
The time frame fans can expect to wait for the NBA to return is still up in the air, though. That is if it returns this season at all. However, Silver said in the interview on ESPN that he isn't ready to think the league will have to cancel its season.
Pelicans GM David Griffin thinks the NBA season will resume
The New Orleans Pelicans re-aired an old game on Saturday. Before that, though, Pelicans general manager David Griffin spoke to Pelicans reporter Jennifer Hale on Fox Sports New Orleans TV.
Hale, of course, asked Griffin if he had a feeling on when basketball could return. Griffin said he thinks it's premature for the NBA to say what a return looks like, according to Pelicans.com. However, he seems optimistic about the season resuming at some point.
"I do know unequivocally that the league is very mindful of the idea of getting back to play," Griffin said, according to Pelicans.com. "The idea of canceling a season is not at all on their minds, and we're modeling every possible thing we can for how we can deliver a product to the fans."

David Griffin
Griffin went on to say that until they think the virus is contained they are going to continue to stay locked down. He also said that hopefully, they get to a point where they can return sooner rather than later.
While Adam Silver initially said canceling the season is possible, his comments last week, in addition to Griffin's comments on Saturday are encouraging. It seems as if the powers that be want to resume the season at some point. When that can possibly happen, and how it will happen seem to be the two biggest questions at this moment, though. Like Griffin said, hopefully, it's sooner rather than later.