NBA Commissioner Adam Silver Stays Behind the Mask on the Kyrie Irving Vaccination Topic: 'This Is Between Irving and New York City Right Now'
The "How to Commissioner" handbook doesn't cover what NBA commissioner Adam Silver confronted on Oct. 19. The NBA opens its so-called 75th anniversary season. But instead of waxing philosophical about the history, Silver had to devote a considerable portion of his opening-day news conference to COVID-19 vaccinations and the status of Brooklyn Nets star Kyrie Irving.
As the NBA enters its third straight season of pandemic basketball, plans are to complete its first 82-game schedule since 2018–19. The season officially opens in Milwaukee, where the defending champion Bucks host the oddsmakers' favorites for 2021–22, the Nets. That brought Irving to the forefront, and Silver deftly danced around the subject, saying it's not an NBA matter.
Adam Silver wanted an NBA-wide vaccine mandate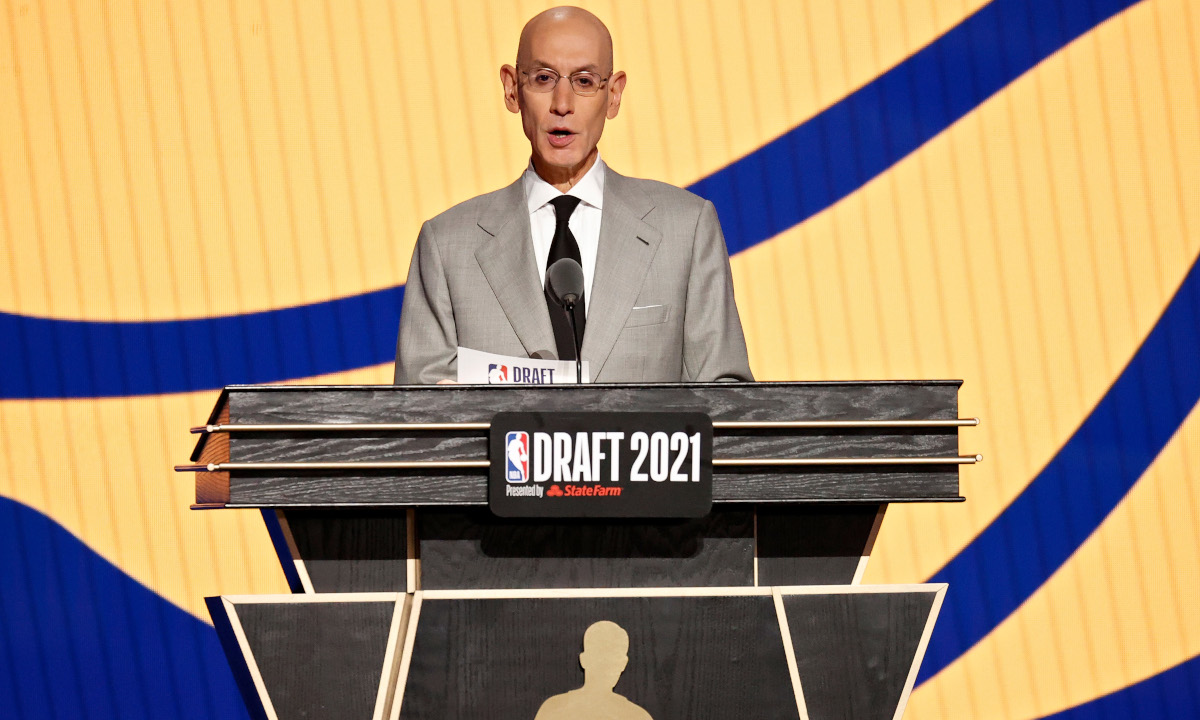 The National Basketball Players Association dug in against a vaccination mandate. Commissioner Adam Silver wanted one even before the Kyrie Irving drama with the Nets played out, per Tim Bontemps of ESPN.
"I would have preferred that ultimately that the players' association agreed to mandatory vaccinations,"
Silver said. "The officials union agreed to mandatory vaccinations, despite opposition from some of their members. But ultimately, I think we could have avoided a lot of the adversarial nature of these issues for our players. It's not so much with the league. I think that gets confused in some cases."
Local vaccine mandates affect three NBA teams. Besides the Nets and the New York Knicks, the Golden State Warriors face a directive issued by city officials. Andrew Wiggins relented and received at least one dose of the COVID-19 vaccine. That brought the Warriors into full compliance with the local policy.
However, Silver wants people to understand that the NBA has nothing to do with the Irving-Nets standoff.
Silver maintains distance for the NBA from the Kyrie Irving drama
Commissioner Adam Silver wants every player in the NBA to be vaccinated. More than 720,000 Americans have died during the pandemic, and the league has not gone untouched. In December 2020, Minnesota Timberwolves star Karl-Anthony Towns said he lost seven family members to the virus.
But Silver made it quite clear the NBA was not behind the decision to bench Kyrie Irving. That is a local issue, he said:
"This is between Irving and New York City right now. This is not a league issue … but I think it would have been best for everyone if every player were vaccinated."

NBA commissioner Adam Silver
The commissioner addressed the differing standards for players based on their home market. But he didn't want to arbitrate the unlevel playing field local mandates create. Washington Wizards star Bradley Beal, for instance, is vocal about his vaccine resistance. The District of Columbia doesn't mandate vaccination for players.
"I'm not sure if fair is the right way to approach it because there's nothing fair about this virus," Silver said. "It's indiscriminate in terms of who it impacts, and I think it's perfectly appropriate that New York and other cities have passed laws that require people who both work and visit arenas to be vaccinated. That seems to be a responsible public health decision made by those locales, and those are the circumstances in which the Nets find themselves operating."
For Irving, it is a stance that looms to be an expensive one.
Kyrie Irving stands to lose nearly half his salary in 2021–22
By not complying with New York City's vaccine mandate, Brooklyn star Kyrie Irving could lose up to $16.4 million.
NBA commissioner Adam Silver made it clear that players having the right to express their opinions is one thing. But it does not equate to having the right to play despite local ordinances.
"I think that gets lost sometimes, that having an opinion about whether to get vaccinated is different than your right to play NBA basketball," Silver said. "We're seeing that, for example, in the New York market right now, when there's a conflict with a player's point of view and the local law, and the local law is going to trump that player's point of view."
Adam Silver would prefer to be discussing other topics. But the reluctance of Kyrie Irving to comply with New York's vaccine mandate put him front and center. Whether the commissioner likes it or not.
Like Sportscasting on Facebook. Follow us on Twitter @sportscasting19.
RELATED: Kyrie Irving Claims He's Not Anti-Vax but is Allowing Himself to Be Blatantly Used: 'The Fascist NBA Won't Let Kyrie Irving Play for Refusing a Vaccine'