NBA Commissioner Adam Silver Doesn't Hold Back Addressing Kyrie Irving Drama
During his opening-day news conference, NBA commissioner Adam Silver spoke in measured tones, pointing out that the league didn't mandate Kyrie Irving's absence from the Brooklyn Nets. Silver took a more pointed approach during an appearance on TNT's NBA Tipoff. It was a surprising moment of honesty from the commissioner.
Irving is out indefinitely because he doesn't comply with New York City's vaccine mandate regarding public gyms. The NBA couldn't negotiate mandatory vaccinations with its players' union during the offseason, leaving teams subject to the regulations in their home markets.
Adam Silver directing the NBA through its third straight pandemic season
In 2021–22, the NBA hopes to get things back to a sense of routine. The COVID-19 pandemic shortened the last two seasons. The NBA shut down for more than four months in March 2020 before completing the campaign in the Orlando bubble. A 72-game schedule last season followed an offseason that lasted less than three months.
An 82-game schedule is in place for this season, the NBA's first such slate since 2018–19. Without a deal for a vaccine mandate, a recent report from The Associated Press indicated 95 percent of the players are vaccinated.
The Kyrie Irving situation with the Nets remains a hot topic. The team finally decided to tell Irving he wasn't welcome as a part-time player and is moving forward without him for now. But that didn't prevent commissioner Adam Silver from having to address the issue on multiple occasions during the ramp-up to opening night.
Silver offers some free advice to Kyrie Irving
While appearing with the TNT NBA Tipoff crew, commissioner Adam Silver repeated his earlier refrain. The vaccination question is between Kyrie Irving and New York City, not the NBA. But he also offered the All-Star point guard an easy way out of the situation:
"I'd tell him to get vaccinated, first and foremost for himself and his family. Next, for his teammates and his community, and also for the league that I know he cares about so much."

NBA commissioner Adam Silver
However, Irving appears dug in for the long haul. Sources close to him told Shams Charania of The Athletic that Irving "wants to be a voice for the voiceless." He claimed in an Instagram Live video that he's not anti-vaccination, but he is against mandates tied to employment.
Unless New York City lifts or amends its mandate, Irving is in the position of no vaccination, no play. That could cost him more than $16 million if his situation lasts all season.
Kyrie Irving likely won't be moved by anything Adam Silver says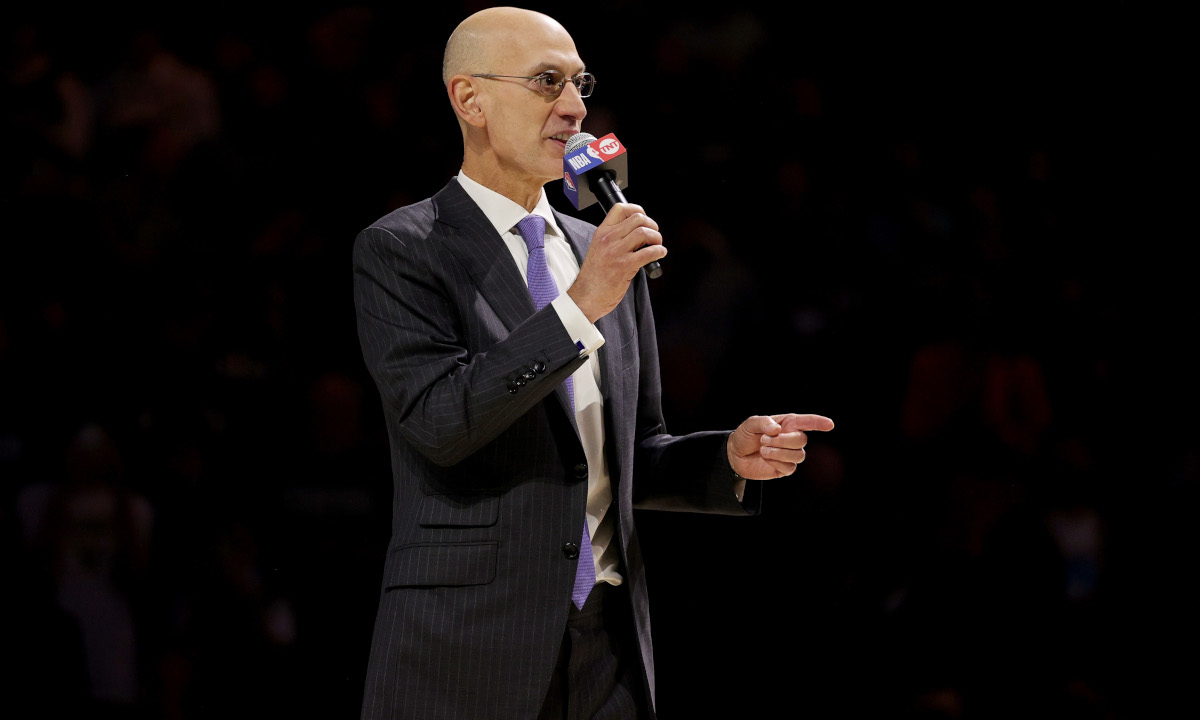 In 10 seasons, Kyrie Irving has missed less than 10 games only once. While many of those absences have been injury-related, last season Irving sat out several games after the Jan. 6 attack on the U.S. Capitol for personal reasons.
Video showing him at a nightclub during that absence didn't sit well with fans. His latest absence raises more questions about how much he wants to play.
Teammates aren't publicly criticizing Irving. Most players are treading carefully on the topic of vaccination.
That's what made Adam Silver's comments Tuesday night so surprising. The commissioner walks the line between the players and management and seldom says things that could blow back on the league.
But commissioner Adam Silver stepped out of that comfort zone with his message to Kyrie Irving. Whether the message is received remains to be seen.
Like Sportscasting on Facebook. Follow us on Twitter @sportscasting19.
RELATED: Why Isn't Kyrie Irving Playing for the Brooklyn Nets?