Adam Silver Implied the NBA Can Learn From Magic Johnson, Michael Jordan, and Larry Bird's Approaches to Load Management
If NBA commissioner Adam Silver wants to fix one of the league's lingering problems, he's ready to revisit how Michael Jordan and other basketball legends handled the same issue.
The NBA has spent nearly a decade dealing with the topic of load management and superstar players, including Los Angeles Clippers star Kawhi Leonard, sitting out regular-season games to rest. Silver may have found a solution, and it involves a six-time champion who did his best to play in all 82 games per season.
Adam Silver referenced Michael Jordan and other NBA legends when discussing load management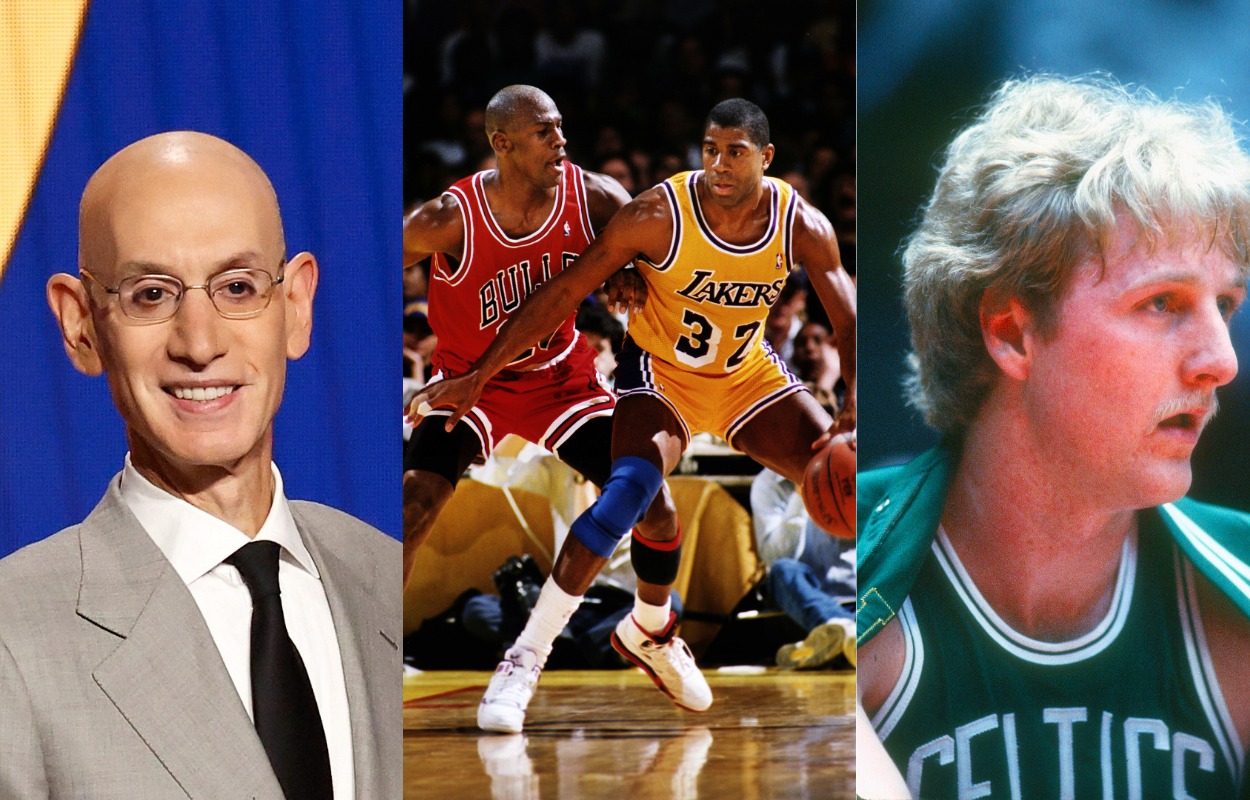 Contrary to popular belief, the San Antonio Spurs didn't create the topic of load management when they sat Tim Duncan and other starters in a 2012 game against the Miami Heat.
Understandably, teams have wanted to rest their best players at points in an 82-game season. That included Jordan, who played all 82 games in nine of his 15 professional seasons.
When he appeared on the Aug. 19 episode of Carton & Roberts on WFAN in New York, Silver referenced how Jordan and some of the other great players in league history handled load management in the 1980s and 1990s.
"There were certain games in the middle of the week that if a star player, usually what they did back then is they still suited up, they still started; they would reduce their minutes, you know, maybe take the whole second quarter off. And for those fans, especially those who are in the arena and [it may be] their only opportunity to see Magic Johnson, Michael Jordan, Larry Bird or whatever, they still were satisfied."

Adam Silver
The idea certainly makes sense. Which sounds more appealing? Fans only seeing James Harden play 40 minutes in a January game for the Brooklyn Nets while Kyrie Irving and Kevin Durant rest? Or watching all three play for 25-30 minutes each?
The NBA needs to adopt a similar strategy and begin enforcing it immediately
The NBA is in a difficult situation regarding load management. Players need their rest, and the league needs the game's best players, from LeBron James to Zion Williamson, participating in nationally-televised games.
If there is a way that the league and union can agree to try testing the idea Silver suggested, both sides need to do so immediately. This is a realistic compromise to a problem that fans and players have been divided on for years.
Think about James, who turns 37 in December and has had injury issues in two of the last three years. There are some basketball fans out there who have never seen James play live, and they may only get one opportunity to do so.
Watching James only play for 25 minutes in a Friday night matchup against the Minnesota Timberwolves might not sound exciting at first glance. However, that fan will likely never forget the night where they bought an overpaid ticket to witness one of the greatest players in league history.
Load management as a whole still isn't going away
There might not be an ideal solution to the load management problem. Teams are still going to want to rest their best players or who, like James, are older and could benefit from a night off.
However, maybe there doesn't need to be that one easy answer, at least not right now. The best resolution may be nothing more than a compromise.
Teams have shown a willingness to accept the fines for sitting two starters on a Thursday night game or on the second night of a back-to-back. Conversely, the NBA likely will never threaten to strip teams of draft picks for load management.
If the answer is to compromise, then so be it. Older basketball fans often praise Bird, Johnson, and Jordan for playing in a more demanding and physically challenging era. Who would have guessed that the legendary trio may have inadvertently offered the solution to one of the modern game's most significant problems?
Like Sportscasting on Facebook. Follow us on Twitter @sportscasting19.