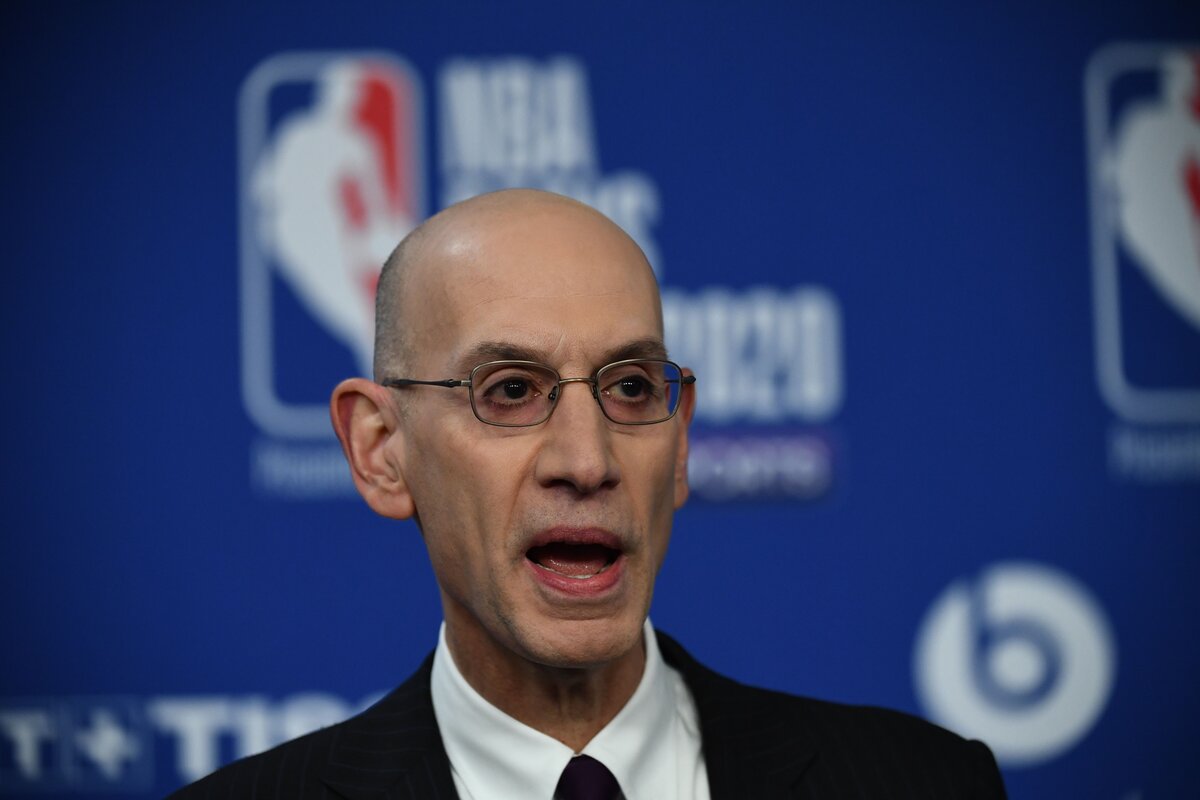 Adam Silver Just Told Jalen Rose a Stunning Admission About His Personal Hygiene
The NBA has thrived under Adam Silver's watch since he became commissioner in 2014. Silver just told Jalen Rose a stunning fact about his personal life.
Even amid a global pandemic, NBA commissioner Adam Silver has remained one of the most impactful sports leaders.
Although there have been some bumps in the road, Silver has continued growing the sport of basketball both domestically and internationally. Silver's quick yet in-depth decision-making, including the NBA bubble, saved the sport earlier this year.
Always affable in his interviews and interactions with people, Silver made a shocking admission about his personal life in a recent interview with Jalen Rose.
Adam Silver has been the NBA's commissioner since 2014
Originally from Rye, N.Y., Adam Silver rose through the NBA's ranks after joining the league in 1992.
The longtime deputy commissioner, Silver officially took over as NBA Commissioner in February 2014 when David Stern stepped down. Stern had announced in October 2012 that Silver would replace him in that role.
Silver is the fifth commissioner in league history and only the third since 1976. Now 58 years old, Silver has not announced how long he intends to remain commissioner.
Stern stepped down at 71 years old.
The NBA has thrived under Silver's leadership
From the time he took over in 2014, Adam Silver has used a modern view on how to grow the league. 
Silver embraced gambling, a once-taboo topic for sports leagues. He also banned Los Angeles Clippers owner Donald Sterling for life after a clip of Sterling making racist remarks emerged in the spring of 2014.
Silver also imposed a $2.5 million fine on Sterling, who had owned the Clippers since 1981.
The one black mark on Silver's resume is the 2019 incident involving former Rockets general manager Daryl Morey and China. Morey came under fire for tweeting #FreeHongKong, which led to China not airing NBA games for nearly a year.
Silver repeatedly took a neutral stance on the issue. In a statement posted on the NBA's official website in October 2019, Silver explained his views after Morey's tweet and subsequent apology.
"It is inevitable that people around the world — including from America and China — will have different viewpoints over different issues. It is not the role of the NBA to adjudicate those differences. However, the NBA will not put itself in a position of regulating what players, employees and team owners say or will not say on these issues. We simply could not operate that way."
Silver took two significant calculated risks during the 2019-20 season. Not only did Silver suspend the 2019-20 season in March because of the coronavirus pandemic, but he brought 22 of the league's 30 teams back in July for a bubble in Florida.
LeBron James and the Los Angeles Lakers won the NBA Finals in October, the latest Finals in league history.
Adam Silver told Jalen Rose a secret about his head
The NBA's pause earlier this year allowed Adam Silver to spend additional time at home with his family.
Silver and his wife, Maggie, have two children. The couple welcomed their second daughter, Louise, in May. 
In a recent appearance on Jalen Rose: Renaissance Man, Silver provided a stunning admission about his personal life. Rose asked Silver, who has a shaved head, how often he gets his haircut.
"It doesn't even grow that fast anymore. My personal barber's been my wife these days. I'm not going to show you some of the little marks around my head, but about once a week these days."
Rose joked that he'd' never seen Silver without a "fresh baldy."
We will leave what is more shocking — that Silver shaves his head and is not naturally bald, or that his wife is the one who does his hair — to the reader.
Like Sportscasting on Facebook. Follow us on Twitter @sportscasting19.