Adam Vinatieri's Nephew, Chase Vinatieri, Missed Out on the 2020 NFL Draft But the Kicker Still Has Options
It's fair to say that quarterbacks get most of the love in the NFL, especially compared to a more humble position like kicker. Yet plenty of impactful and even legendary kickers have played in the NFL over the years. Easily the most famous of all is four-time Super Bowl champion Adam Vinatieri.
It turns out that Vinatieri isn't the only talented kicker in his family. His nephew Chase Vinatieri followed in his footsteps at South Dakota State — only to miss out on the 2020 NFL draft. But, the young kicker still has options. Let's look at Adam's Hall of Fame-worthy NFL career, before taking a look at his nephew Chase's football career and prospects moving forward.
Adam Vinatieri's legendary NFL career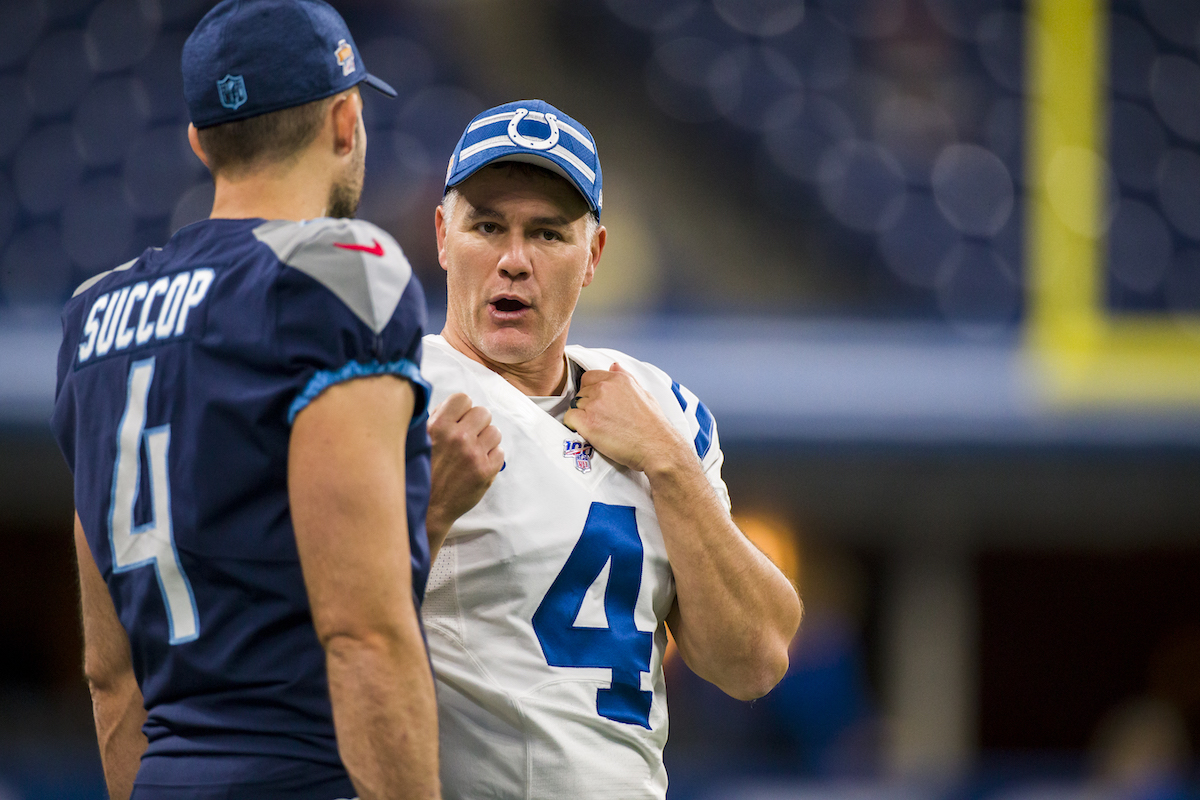 The New England Patriots signed the undrafted Vinatieri way back in 1996. Over his next ten years with the franchise, he would win three Super Bowls. In each of those games, Vinatieri had a field goal that helped seal the victory for the Patriots. The kicker also single-handedly carried the Patriots to a victory in the legendary 2001 Tuck Rule Game, aka the Snow Bowl, against the Raiders.
In 2006, the free agent Vinatieri signed with the Indianapolis Colts, where he remained for 14 total seasons. He won his fourth Super Bowl with the team in 2006, defeating Vinatieri's former team in the AFC Championship game. Though no longer on the Colts roster, the 47-year-old free agent still considers himself an NFL-ready player, reports NFL.com.
Vinatieri is a three-time Pro Bowl and a three-time First-team All-Pro selection. He is also the NFL's all-time post scored career leader, with 2,673 points. He's also the all-time leader in made field goals, with 599. In his 24-year career, he's made 83.8% of his field-goal attempts. When he eventually chooses to retire, Vinatieri will undoubtedly be a first-ballot Hall of Famer.
Chase Vinatieri's college career
Growing up with an uncle as famous as Adam Vinatieri would surely inspire almost any boy to pursue a football career. And that's exactly what Chase Vinatieri did, eventually becoming a kicker for the South Dakota State. By the time his four years with the Jackrabbits ended, the young Vinatieri set a team record in kicking points.
Of course, that's not to say that his college career didn't have its up and downs. As a sophomore, he made 13 of his 14 field goal attempts. This was good for a 92.9% field goal percentage, details ESPN. As a junior, that number dropped to 63.2% and then as a senior to 50.0%. His shaky performance in that final year surely played a role in his failure to get taken in the 2020 NFL draft.
Moving forward with optimism
Getting overlooked like that in the draft didn't bother Vinatieri too much. For one thing, his famous uncle also failed to get taken in the draft after a shaky senior year of college. For another, as Vinatieri himself rightly pointed out, reports CBS Boston, not that many kickers get taken in the draft:
"From watching the draft the last few years, maybe one, two or three kickers get drafted, and so realistically, it's more likely I'll be an undrafted free agent. I'm definitely OK if that's what it is. I'm just looking for a team to give me an opportunity."
In the meantime, reports the Argus Leader, Vinatieri is taking his kicking talents to the world of indoor football, having recently signed a deal with the Sioux Falls Storm. Once again, that decision is eerily reminiscent of his uncle's own climb to the NFL. After failing to get taken in the draft, Adam Vinatieri spent a year playing in the World League of American Football before the Patriots finally picked him up.