How Does Adrian Peterson Stack Up Against the All-Time Greats?
Running back Adrian Peterson is one of the most dynamic players the NFL has ever seen. Since entering the league as the Vikings' No. 7 overall pick in the 2007 NFL Draft — and dating back to his days as an Oklahoma Sooner — the 6-foot-2, 217-pound tailback has dazzled football fans with his incredibly rare combination of size, speed, power, lateral quickness, acceleration, and elusiveness.
As a result, the 31-year-old is a virtual lock to join the Pro Football Hall of Fame — possibly as a first-ballot selection — shortly after he decides to hang up his cleats and retire from the game of football.
In his nine NFL seasons, Peterson has been selected to seven Pro Bowls and seven All-Pro teams (five of them were first-team All-Pro selections); he won the 2012 NFL MVP, Offensive Player of the Year, and Comeback Player of the Year awards; he won the 2007 NFL Offensive Rookie of the Year award; he has led the NFL in rushing touchdowns twice (2008 and 2015); and he has led the league in rushing yards three times (2008, 2012, and 2015).
Heading into the 2017 season — as he joins the New Orleans Saints — we firmly believe that Peterson still has enough gas left in his tank to have two or three more All-Pro caliber seasons. If you don't believe us, just flash back to his remarkable recovery from the torn ACL he suffered in 2011 for a reminder of how freakishly talented the all-time leading rusher really is.
Still, it's hard not to wonder if the end is near for Peterson. Just consider his age, workload, and injuries that sidelined him for most of the 2016 season. With that said, here is a look at how Peterson's current best single-season and career stats stack up against the best running backs in NFL history.
Peterson's best single-season stats (2012)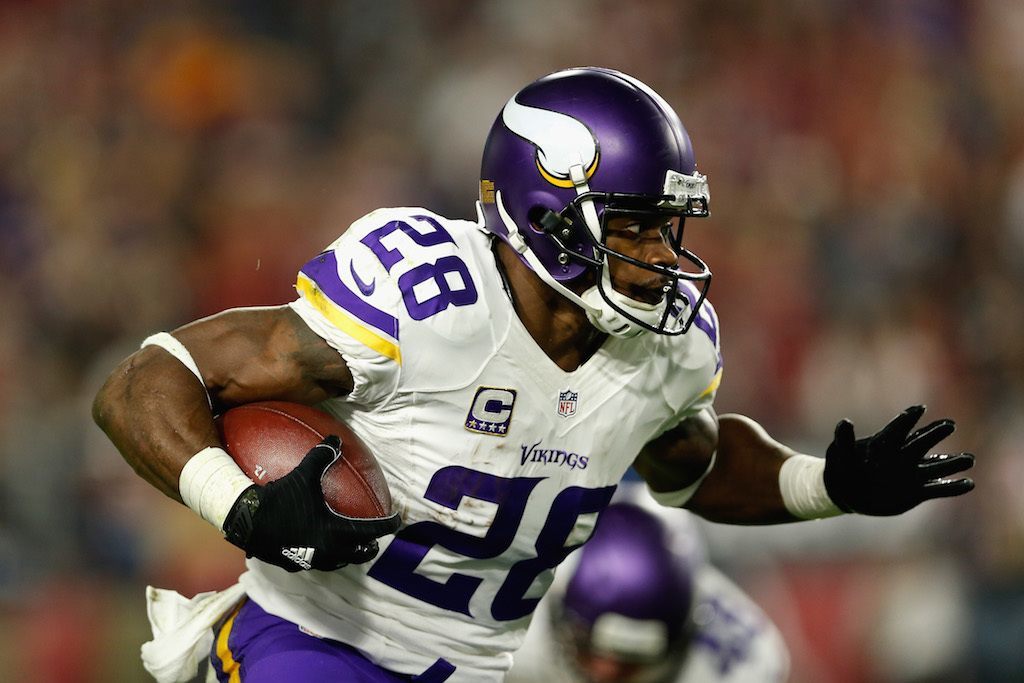 16 starts
348 rushing attempts
2,097 rushing yards
6.0 yards per carry
12 rushing touchdowns
131.1 rushing yards per game
40 receptions
217 receiving yards
1 touchdown reception
2,314 total yards from scrimmage
Without question, Peterson's 2012 campaign is the second-best single-season performance by a running back in NFL history. The only player to have a better one-year performance was Eric Dickerson in 1984, when the former Los Angeles Rams star rushed for 2,105 yards and 14 touchdowns on 379 carries.
That said, Peterson still out-gained Dickerson by 70 yards when it comes to total yards from scrimmage (combined rushing and receiving yards). When it comes down to it, with today's NFL landscape it's extremely hard to imagine another running back coming close to the performances by Peterson in 2012 or Dickerson in 1984.
Peterson's career stats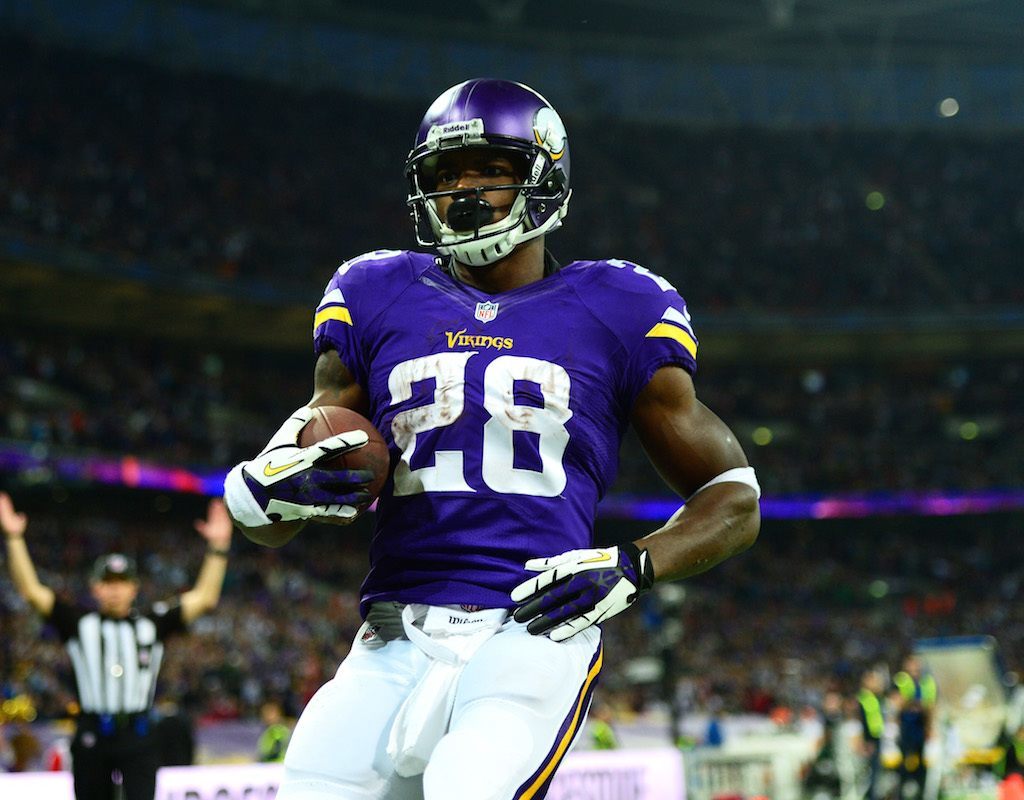 115 starts
2,412 rushing attempts
11,725 rushing yards
4.9 yards per carry
97 rushing touchdowns
97.3 rushing yards per game
238 receptions
1,944 receiving yards
5 touchdown receptions
13,669 total yards from scrimmage
Peterson currently ranks 17th in the league in career rushing yards, but it's worth pointing out that he has accumulated his career stats in really only eight NFL seasons, as he only played one game in 2014 and two in 2016.
With only 548 more yards, Peterson will become one of the NFL's top-10 career rushing leaders, and with two or three more elite seasons (remember he plans to play until he's close to 40 years old), he will almost surely retire in the top-3. When it comes to career rushing touchdowns, Peterson is already in the top-10 in NFL history, but the career record is pretty much out of his reach.
He currently has 97 career touchdowns, and the leader in this category, Emmitt Smith, finished his career with 164. We could easily envision a scenario where Peterson would retire in the top-3 in this category — he would need 27 more touchdowns to do so — but we just don't see him catching Smith before he walks away from the game.
Peterson's career postseason stats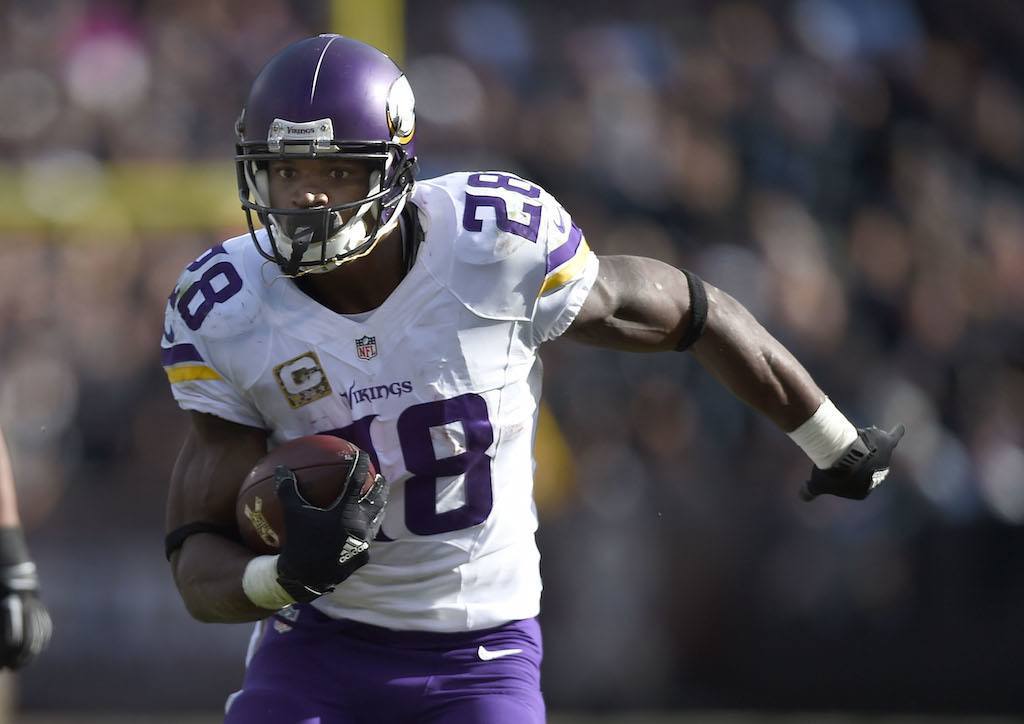 5 starts
116 rushing attempts
412 rushing yards
3.6 yards per carry
5 rushing touchdowns
82.4 rushing yards per game
6 receptions
54 receiving yards
466 total yards from scrimmage
When it comes to postseason rushing stats, Peterson is simply not on the same level as the other all-time great NFL running backs. It's not all his fault, though, as he has played on some bad teams over the course of his career, which has resulted in him only playing in five career playoff games. Nonetheless, it's truly not worth comparing Peterson in this category at this point in time.
Statistics courtesy of Pro-Football-Reference.