Adrian Peterson Just Hinted That the Redskins' $14 Million Man Could Be a Star in 2020
The Washington Redskins were not a good football team in 2019. They ultimately went 3-13 overall. Adrian Peterson played well, though, despite being 34 years old, which is extremely old for a running back. Other players will have to pick it up around Peterson in 2020 if the team wants to improve at all. However, Peterson thinks that the Redskins' $14 million man could ultimately be a lot better in 2020 than he was in 2019. 
Adrian Peterson was still productive for the Redskins at 34 years old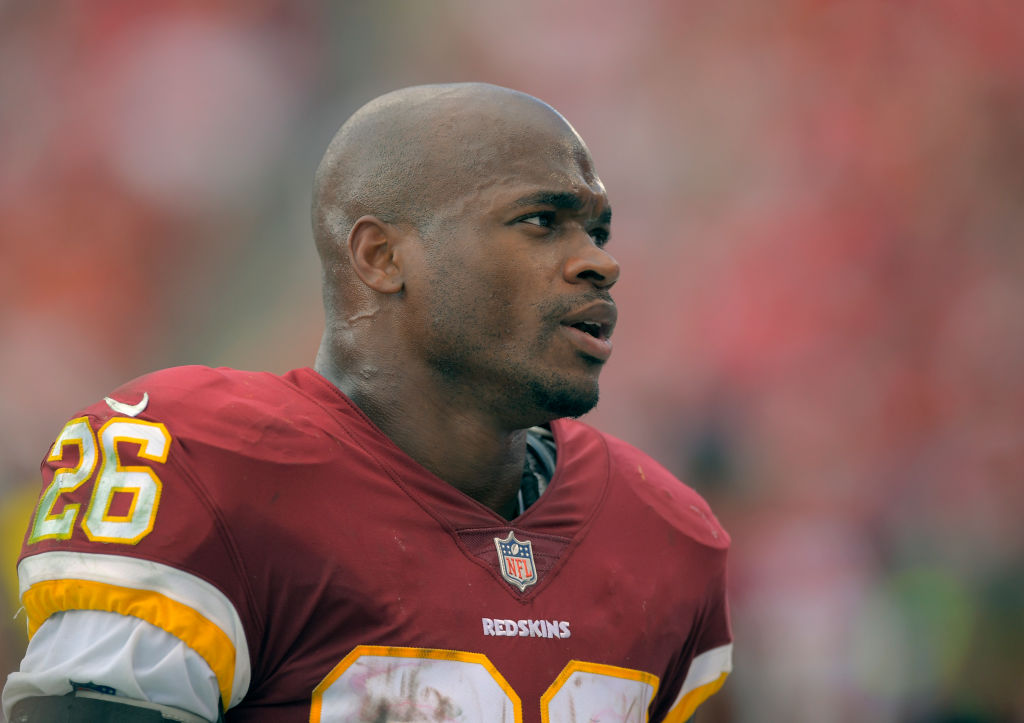 RELATED: Adrian Peterson Eyeing Surpassing Barry Sanders in NFL Record Books
Throughout his career, Adrian Peterson has been one of the best running backs to ever play. This was especially the case when he played for the Minnesota Vikings. From 2007 through 2016 for the Vikings, Peterson led the NFL in rushing yards three times, including the 2012 season where he ran for 2,097 yards. He also earned seven Pro Bowl selections with the Vikings, in addition to four first-team All-Pro honors, and one MVP award.
Peterson only played in three games for the Vikings in 2016 and then played in 10 games for two teams in 2017. However, he has been productive the past two seasons for the Washington Redskins. In 2018, Peterson ran for 1,042 yards and seven touchdowns. In 2019, he ran for 898 yards and five touchdowns.
For his career, Peterson has run for 14,216 yards, which is fifth all-time. He has also run for 111 career rushing touchdowns, which is fourth all-time.
While Peterson was productive last season, the Redskins' quarterbacks were not.
Dwayne Haskins and the Redskins' other QBs struggled in 2019
RELATED: Dwayne Haskins Went All out When Spending His First $1 Million From the Redskins
The Washington Redskins had three guys start at quarterback for them in 2019. Case Keenum started eight games (and played in 10 total), throwing for 1,707 yards, 11 touchdowns, and five interceptions. He went 1-7 as a starter too. Colt McCoy then started and played in one game for the team and threw for 122 yards, no touchdowns, and one interception.
Dwayne Haskins then started seven games as a rookie (and played in nine total) and was never put in a good position to succeed. He ultimately went 2-5 as the starter, throwing for 1,365 yards, seven touchdowns, and seven interceptions.
Haskins, however, played much better in his last three starts of the season. He threw for 564 yards, five touchdowns, and only one interception in weeks 14 through 16. So, could that be a sign of better play in 2020 for Haskins? It's possible.
Peterson seems to think that Haskins will be much better in 2020
RELATED: Kevin Durant Wants to Buy the Redskins After He Retires From the NBA
Adrian Peterson recently talked to reporters about Dwayne Haskins' development, and he seems pretty excited about what he has been seeing. He said that seeing how Haskins has been working out this offseason, that he will be "night and day" better in 2020, according to The Athletic's Rhiannon Walker. Peterson also said that last year was an "eye opener" for Haskins and that he expects "big things" from him, according to The Washington Post's Les Carpenter.
If Haskins ends up being a star for the Redskins this coming season, he would be a bargain, even though he was a first-round pick. His contract with the Redskins is worth just over $14 million, according to Spotrac. He earned an estimated $8.9 million in 2019, but in 2020 Haskins is supposed to make an estimated $1.15 million. The cash he is estimated to earn in 2020 actually ranks really low among quarterbacks, as it will be the 52nd-most among QBs in the league, according to Spotrac.
He will ultimately earn less in 2020 than Mike Glennon, Blaine Gabbert, Cooper Rush, and Matt Barkley, Spotrac estimates. Additionally, his cap hit will be an estimated $3.27 million, which is 34th among QBs in the league, also according to Spotrac. That ranks lower than A.J. McCarron, Tyrod Taylor, and Ryan Fitzpatrick. Yes, this is all because of the way his rookie deal is set up, but if the Redskins only have to pay a limited amount of money for Haskins, and he ends up being a star in 2020, then he could be an absolute bargain.
Dwayne Haskins showed promise at the end of last year. If he can play well in 2020 for the Washington Redskins, then he could be a massive bargain, and some pressure could be taken off Adrian Peterson and the other running backs.
All stats courtesy of Pro Football Reference