Adrian Peterson Spent Nearly $60K on Snowmobiles for His Entire Offensive Line
At the height of his NFL career, you'd be hard-pressed to find a running back better than Adrian Peterson. The Vikings legend entered the league in 2007 and immediately made a difference for the Vikings. Although his career has taken a dive both on and off the field, Peterson was a superstar who was paid handsomely. And he used that money in one peculiar way.
Adrian Peterson's NFL beginnings
Peterson came into the NFL after a star-making tenure at Oklahoma's legendary football program. Entering the 2007 Draft, he made enough noise in college to propel himself to the top of the 2007 draft class. When the seventh overall pick came, however, the Minnesota Vikings called his name. For much of the next decade, Peterson was the franchise's star player. 
Peterson wasted no time making his presence known to the NFL. He began his career coming off the bench but quickly worked his way to the Vikings' starting lineup and received an invitation to the NFL Pro Bowl after his rookie season. While the promise of superstardom was there right away, the next season put away any doubts about Peterson's star power. 
Peterson, the superstar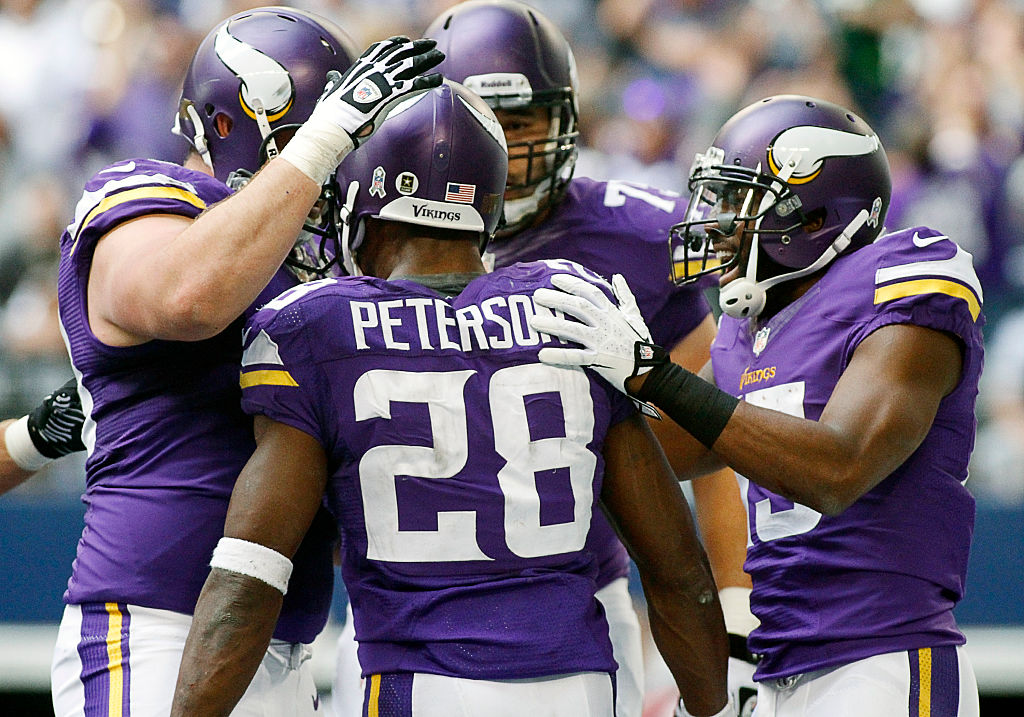 In 2008, Peterson ran for nearly 1,800 yards and 10 touchdowns. The following year, however, the Vikings shocked the world by bringing in their former rival, Brett Favre, into the fold. This saw Peterson's workload go down while his production went up. He ran for 1,383 yards and 18 touchdowns, earning his second All-Pro honor in as many years. 
Peterson maintained this star power off and on over the next few years, including his MVP turn in 2012. But, by 2014, a slew of injuries and a high-profile child abuse scandal took their toll, reports The Washington Post. He played just one game on the season as he dealt with both his health and the media circus. By 2016, however, he was back and playing as well as he ever had., garnering All-Pro honors in a 1,485-yard, 11-touchdown season. 
Peterson only played in three games the following year and has spent the years since traveling around the NFL. He's quietly seen a return of form the last two years in Washington, although his role is much smaller. Thirteen years in, however, his career is still going. 
Peterson shares the wealth
As a top pick in the 2007 Draft, Peterson got paid handsomely from the get-go details Spotrac. His first contract was a five-year, $40 million deal with a $17 million guarantee. His next contract netted him six years and $86 million, with $36 million guaranteed. While the pay has gone way down in ensuing years, at his height, Peterson was making lots of money for a hit and miss position. 
While Peterson enjoyed his wealth, he also enjoyed sharing it with his teammates. Even the best quarterbacks need a good line in front of them to make their jobs more manageable, and Peterson took this to heart. Coming off of his MVP season, Peterson wanted to show appreciation to the blockers who allowed him to rush for over 2,000 yards. He did so by buying them snowmobiles. 
He didn't skimp on the snowmobiles, either. Each snowmobile was worth anywhere from $8,000 to $12,000. The players took to Twitter to express their appreciation for their superstar teammate. Peterson might be a shell of his former self, but there was a time when he was one of the best players in the game. However, despite his stardom, he had no qualms crediting his teammates for everything he accomplished on the field.