Adrian Peterson Has Unsurprisingly Reached the Point of Denial in His Legendary NFL Career
Adrian Peterson has finally found an opponent that he can't stiff-arm to the ground: Father Time.
When the time comes, Peterson will join former teammates Brett Favre and Steve Hutchinson, among others, in the Pro Football Hall of Fame. Unfortunately for Peterson, that induction ceremony is rapidly approaching, even if he wants to think otherwise. 
Adrian Peterson says he's still ready to play if given a chance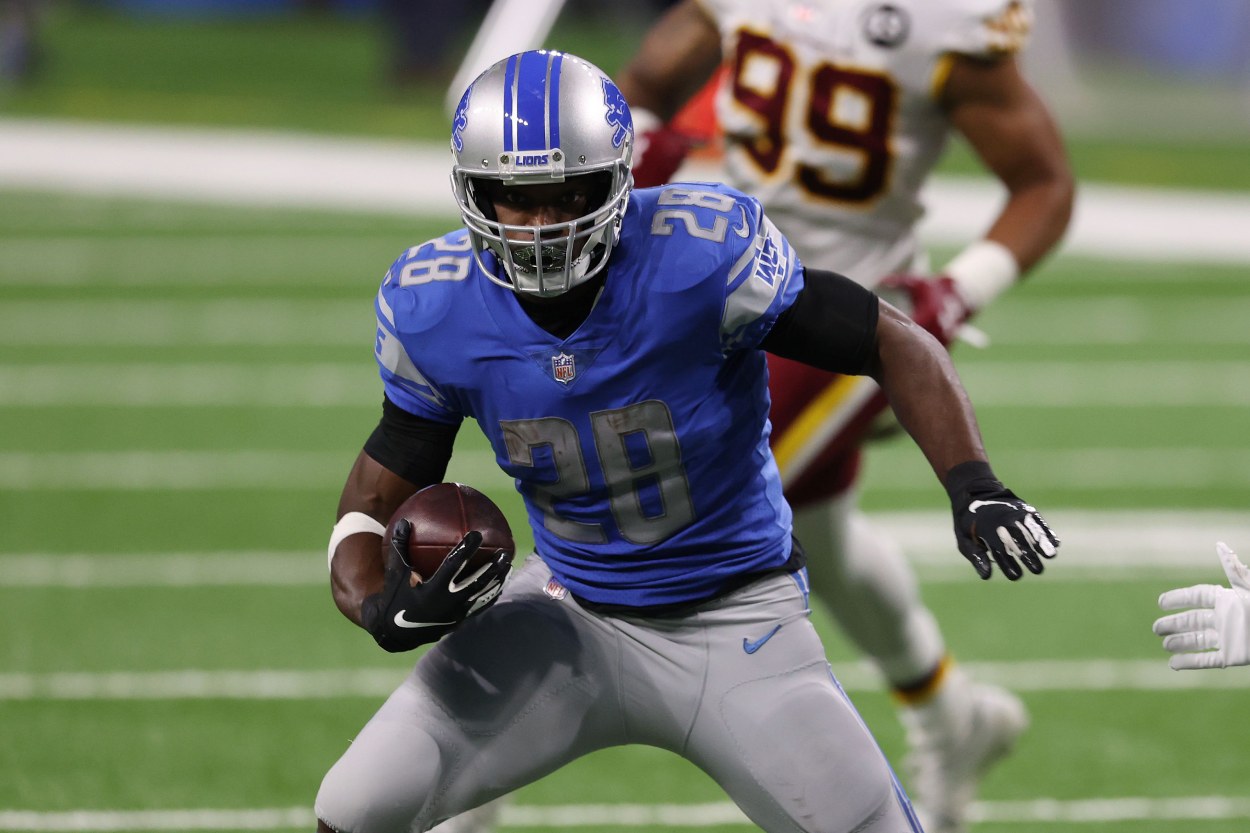 In Peterson's ideal world, he'll be suiting up for a team this fall and juking defenders out of their shoes each Sunday. 
According to Sports Talk 790 in Houston, the seven-time Pro Bowler recently said he is still training in hopes of playing later this year. Peterson, who turned 36 in March, ran for 604 yards and seven touchdowns on 3.9 yards per carry in 16 games and 10 starts with the Detroit Lions last year. 
When he spoke with reporters at a red carpet event for San Francisco 49ers offensive tackle Trent Williams' upcoming documentary, Peterson made it clear that he's patiently waiting for another opportunity. 
"The training is going well, and I'm going to control the things that I can control right now, and, when that time comes, somebody will give me a call. That's all I'm asking for. My body feels good. I came out healthy from last season. My body feels strong. I still feel young. I still feel good. I'm ready to play ball."

Adrian Peterson
Peterson acknowledged he still hopes to win a Super Bowl ring before he finally retires. 
"Yeah, I've been chasing it for a long time," Peterson said. "It would be nice to finally get one."
Peterson is clearly in denial about the impending end of his NFL career
Between his desire for a Super Bowl ring and the simple reality that he doesn't want to retire yet, Peterson has every reason to want to continue playing.
And, unlike Tim Tebow, the recent tape works in Peterson's favor. After looking old in 2017 when he played for the Arizona Cardinals and New Orleans Saints, he ran for 2,544 yards and 19 touchdowns on 4.1 yards per carry over the last three years. He also turned 49 catches into 451 yards and a touchdown in 47 games and 41 starts.
Here's the problem with whatever Peterson wants to do this fall: he's old. He turned 36 earlier this year and has over 3,600 touches on his resume between the regular season and postseason. Why would a team sign Peterson to be the second-string running back when they could give those opportunities to a younger player?
Peterson's comments about how "somebody will give me a call" and "I still feel young" reek of denial. He's suffered two severe knee injuries in the last decade and also missed time in that span with issues relating to his knees, shoulder, and neck. Something tells us that all of those ailments would make it difficult to still feel young.
Even the league's worst teams, whether it's the Houston Texans or New York Jets, have crowded running back rooms right now. If the best teams want another running back, even if it's someone at the league minimum, they will sign someone younger than a 36-year-old. Fair or unfair, that's reality, and Peterson needs to accept it in the coming weeks and months.
Will a team realistically sign Peterson before the 2021 season begins?
Because we don't totally believe in the idea of crushing dreams, let's take a slightly more optimistic point of view for a second. Peterson wants to keep playing, and he likely wants to do so for a team with a realistic chance of winning Super Bowl 56.
The Pittsburgh Steelers' running back room, outside of first-round pick Najee Harris, isn't exactly exciting. However, lead backups Benny Snell Jr. and Anthony McFarland Jr. are each still on their rookie contracts, which might work against Peterson. 
The Tennessee Titans could use another bulky back behind Derrick Henry. Offensive coordinator Todd Downing saw Peterson up close when he served on the Detroit Lions' staff from 2009-13. That'd be an intriguing pairing, at least on paper, and it'd mean Peterson would finally play in the AFC.
Reunions with any of his former teams, whether it's the Vikings or the Saints, seem unlikely right now. But Peterson has certainly surprised us before, so who knows? Maybe he'll wind up in the Pro Bowl and prove his critics wrong in the end. 
Before Peterson does anything, however, he needs to step back and reassess everything. He's had a legendary career and will eventually receive a bronze bust in Canton, Ohio. There's no shame in him announcing soon that he's played his final down and is looking forward to retirement.
Like Sportscasting on Facebook. Follow us on Twitter @sportscasting19.