Adrian Peterson's Father Fired an Unprompted Shot at the Vikings for Not Signing His Son: 'You Go in and Bring in a Guy Adrian Beat out in Detroit'
When it was first announced longtime Minnesota Vikings running back Adrian Peterson was latching on with the Tennessee Titans this season; expectations were optimistically high. The Titans are a run-first team with a glaring hole at the RB position due to Derrick Henry's season-ending injury.
Peterson is getting up there in age. However, he racked up some productive games with the Detroit Lions and Washington Football Team the past few seasons. There was a pathway to success for him in Tennessee.
However, his stay with the Titans was short-lived. Peterson only played three games with Tennessee, racking up 82 rushing yards on 27 carries. He was released on November 23 following the Titans' Week 11 game.
The Seahawks signed Adrian Peterson to their practice squad
Luckily for Peterson, he wasn't a free agent all that long. Peter Carroll and the Seattle Seahawks pounced on the opportunity to sign him.
The Seahawks' 2021 season has been a downright disaster thus far, and they too are operating without their starting running back (Chris Carson). It's hard to imagine Peterson coming in and magically turning the Seahawks' season around. However, Seattle is desperate. It's worth the gamble for them.
With that said, all is seemingly not well in Peterson's camp despite the opportunity to earn first-team reps in Seattle. Peterson's father took an unprompted shot at the Vikings for not expressing interest in his son upon his release from the Titans.
Adrian Peterson's father blasted the Vikings
Similar to the Titans and Seahawks, the Vikings are also dealing with injury issues at their RB1 position. Dalvin Cook suffered a shoulder injury during Week 12 and is expected to miss a few games. The Vikings were in the market for running back help this past week. However, they passed on the opportunity to bring back a fan-favorite in Peterson.
Nelson Peterson was clearly not happy with the organization's decision.
"That's disappointing to me," said (Nelson) Peterson. "He never heard anything from the Vikings & you go in & bring in a guy Adrian beat out in Detroit."
The Vikings ultimately scooped up former Detroit Lions running back Kerryon Johnson, who Peterson did in fact beat out for reps with the Lions in 2020. It's understandable why a move like this could upset some of AP's family members.
The Vikings were correct to pass on an AP reunion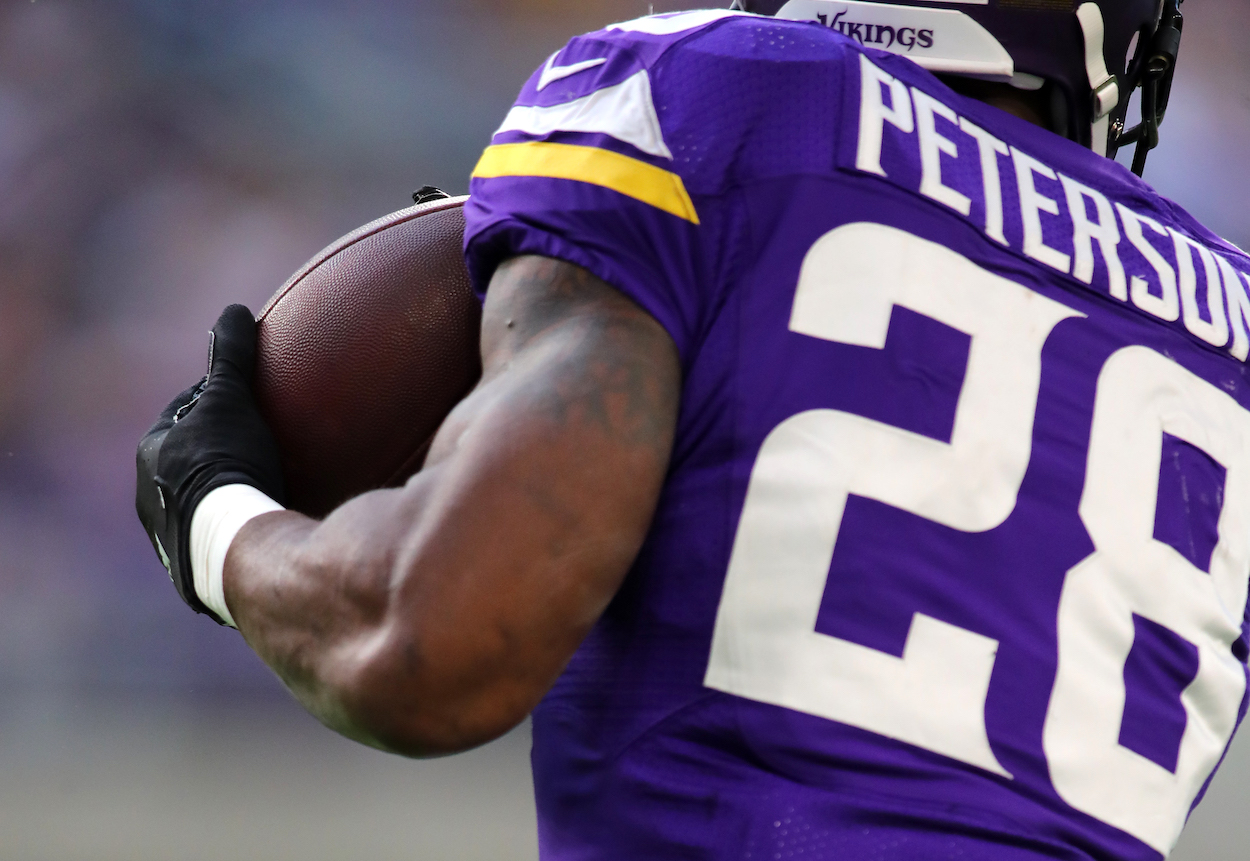 While a last-second return to Minnesota for Peterson during the closing stages of his NFL career would have been an incredible feel-good story, it's essential to acknowledge the state the Vikings are in at the moment.
They're firmly in the NFC playoff race at the moment and roster one of the league's better backup running backs in Alexander Mattison. The last thing they need to be doing right now is taking a gamble on a 36-year-old Peterson.
As much as it may sting for Peterson and his family members, the Vikings simply aren't in a position to be playing the nostalgia game quite yet. If they were 3-8 like the Seahawks, maybe it would have been a different story.
Peterson also gets the opportunity to fight for first-team reps in Seattle. He would've been the unquestioned backup behind Mattison in Minnesota. As upset as AP's dad is, this is the best-case scenario for all parties involved.
All stats courtesy of Pro Football Reference.